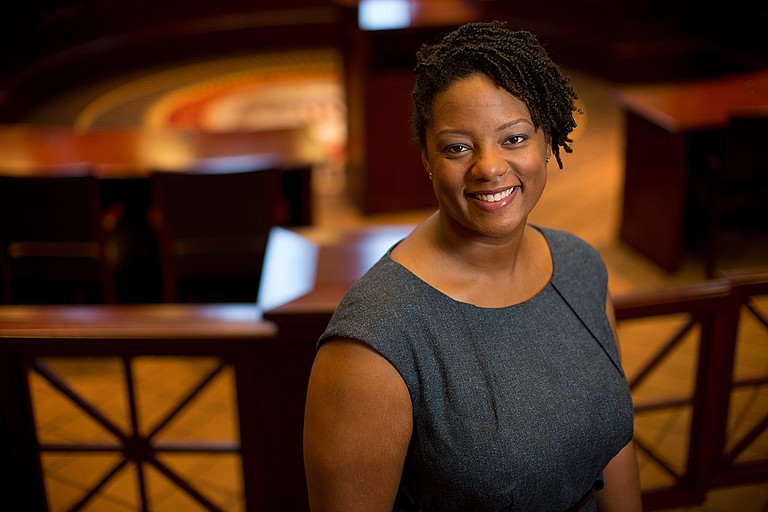 This year's Chicks We Love help our communities in many ways, from giving a smile to every patient at a local women's clinic, to making people laugh with comedy, to playing music and advocating for the metro area's LGBT community, to helping women who are victims of domestic violence. We salute all women who are working to make Jackson, and Mississippi stronger.
Donyale Walls
Although Donyale Walls chose psychology as her focus as an undergraduate student, she didn't let that stop her from pursuing a career in the music industry.
Walls was born and raised in Detroit, Mich., and came to Jackson in 1998 to attend Jackson State University on a band scholarship for the trumpet. She received her bachelor's degree in psychology with a minor in music education in 2003.
"The band program and the Sonic Boom initially attracted me to JSU," Walls says. "I was fascinated with child psychology, yet my love for music never wavered."
A year after she graduated, Jackson State University offered her a job as the administrative assistant for the JSU band, the Sonic Boom, a position that she held for five years.
She currently works alongside JSU alumnus Cortez Bryant, who is also the manager of rapper Lil' Wayne, and coordinates various music events.
In August 2016, Walls moved to Atlanta, Ga., though she still travels to Jackson often. She represents and manages two popular Jackson-based hip-hop artists, Coke Bumaye and Skipp Coon.
She also serves as a coordinator for the annual Jackson Indie Music Week, which is a multi-night, multi-venue music festival that takes place during the second week of January. She is now in the process of planning the 2018 Jackson Indie Music Week.
"I enjoy being present and in the midst of great talent," Walls says.
Aside from her work within the music field, Walls is also a cultural activist, which she defines as "someone who has an idea to effectively and positively make a change, and has the resources to effectively make that change."
Some of her hobbies include deejaying for small intimate events and collecting "dad hats," she says. Walls finds inspiration in God, family and friends, and says that she tries to follow two simple words of wisdom at all times: "Stay focused."
—Maya Parker
Ann Phelps
Faith-based activist Ann Phelps, 32, doesn't shy away from a hard conversation.
She attended a small liberal-arts college, Hastings College, in her hometown of Hastings, Neb., where she created her own major, a bachelor's degree in theology and the arts, which she received in 2007.
"I was interested in how to infuse non-religious and religious society with music, opening people up to new ideas," Phelps says now.
After spending a year studying theology and German in Germany, Phelps attended Yale University, where she earned a master's degree in religion and the arts in 2009. It was at Yale that she met her husband, Kenneth Townsend, a native of Kosciusko, Miss. The duo married in 2010 and moved to Mississippi when Millsaps College President Robert Pearigen approached Townsend about taking in an administrative or teaching position at the college.
"Mississippi kind of stuck with me," Phelps says. "I felt like it was a place I could be useful to the community and be part of something bigger than myself."
Phelps, who was searching for meaningful work and a place to share her thoughts, says she has the opportunity to lead tough discussions in the South.
"I really like to have meaningful conversations, even if they're difficult," she says. "In my small town, the topics of religion, sex or politics were not appropriate. What I found in the South is that there are a lot of struggles here. We can't not talk about race; that's not an option."
She has spent the last year as a chaplain at Millsaps, even though she isn't ordained, living in a home close to campus with her husband and son, William Winter Phelps-Townsend. She also speaks at conferences across the country and performs music at various institutions. She says she is constantly looking for new ways to make herself an asset to the community and a mouthpiece for the unheard.
"Right now, I'm allowing myself to be in a posture of response to emerging needs," she says. "I admit that I'm privileged, but how can I use that privilege to speak back and act towards justice?"
—Devna Bose
Robbie Fisher
Robbie Fisher says that she sees filmmaking as a visual extension of Mississippi's rich literary heritage and mostly focuses her body of work on the state's residents and culture.
As an advocate for the Mississippi LGBT community, a member of the Human Rights Campaign and film producer, her passions often coalesce in the form of documentaries. Fisher says when she sees how people react to her films, she knows it was her calling. 
 While it took several career changes to find her way to films, she says it was always an area of interest. "Even in high school, I not only had an interest in watching films but dreams of filmmaking," she says. "I'd be driving, see a beautiful piece of roadway and think to myself, 'Wow, it would be cool to use this location in a film.' In high school, I didn't know that you could go to school for film."
Fisher graduated from the University of the South in Sewanee, Tenn., in 1986 with a bachelor's degree in political science and French, and then attended Suffolk University Law School in Boston, graduating in 1991. After practicing law out of state for several years, she returned to her hometown, Greenville, Miss., in 1995 to work at Henderson Dantone, P.A., while starting her film career on the side.
Over a six-year period, she worked on "Boogaloo & Eden: Sustaining the Sound," a documentary film that debuted on Mississippi Public Broadcasting in 1999. During that time, Fisher also became worked the state director for the Nature Conservancy, a position that she held for nearly a decade before deciding to focus on filmmaking full time.
"It started dawning on me—I'm a native Mississippian," Fisher says. "I can really tell Mississippi's stories or help others by make films by producing films here."
She launched Fisher Productions, LLC in 2008, and each film that she has worked on has won awards. Her most recent short, "A Mississippi Love Story," follows the journey of Jackson married couple Justin and Eddie Outlaw, and won Best Direction at the 2017 New York Premiere Film Festival. "There's so much more I want to tell, I've only just started," Fisher says. "There are parts of those films that I've made where I know I got it right, and I've seen the power. I want to keep telling stories."
—Cam Bonelli
Carlyn Hicks
A self-described cheerleader for the city of Jackson, Carlyn Hicks has dedicated her life to serving the citizens of her hometown.
The Jackson native graduated from Murrah High School in 2002 and went on to attend Jackson State University, where she earned her a bachelor's degree in business administration in 2006.
Hicks then enrolled at the Mississippi College School of Law in a dual juris doctorate and Master's of Business Administration program there because she always knew she wanted to be in some aspect of public service in order to serve her community. Along in the way, Hicks met her husband, Derrick, while at Jackson State, and they had their daughter, Leigh Marie.
Hicks, 33, has been a practicing, decorated attorney for nearly seven years, and she is known for her work in parent representation in the field.
The Parent Representation Movement began gaining momentum in 2012 through the work of the Administrative Office of the Courts, which emphasizes counsel for parents in difficult situations. After she first learned about the issue of parent representation in 2012, a new and relatively unstudied frontier in law, she says that she couldn't sleep well.
"I could not fathom the prospect of (Child Protective Services) knocking on my door to remove my daughter, and not having anyone to navigate that with me or tell my story," Hicks says.
She began working at the Mission First Legal Aid Office in September 2010, and her position there has evolved from staff attorney to the director of the parent representation program, a division that she developed there.
Hicks is also a self-proclaimed foodie. She created the Facebook group Jackson Foodies to promote the local restaurant industry, and the group has more than 7,000 members today.
She attributes her heart for service and helping the city of Jackson to the way she was raised.
"In the soul and essence of Jackson, we help each other," she says. "You have to love where you live, and there's no place I'd rather be."
—Devna Bose
Maranda Joiner
Maranda Joiner, 35, has made her mark on local radio, but she says that she wants to continue stretching her hand in other areas, as well.
Joiner is a Jackson native who graduated from Callaway High School in 1999. She attended Hinds Community College in Raymond, where she earned her associate's degree in 2001. From there, she attended Belhaven University (then known as Belhaven College) and received her bachelor's degree in mass communication in 2004.
Working in radio wasn't always the goal, she says, but an internship in the midst of a delayed graduation changed her path.
"Initially, I wanted to go into public relations, but I had to stay at Belhaven an extra year for one class," she says. "After that, I received an internship at WJMI (99.7), and after months of being there, an overnight person quit, and (Program and Operations Director) Stan Branson offered me the job on the spot."
That started Joiner on a 13-year career in the radio industry, beginning in 2003. She decided to bring that path to an end this past March. Joiner says that some of her favorite moments from being a radio personality included interviewing people such as presidential candidate Hillary Clinton in March 2016 and hearing peoples' stories.
She is currently working as the public-relations specialist for My Brother's Keeper, but that's only a portion of her work.
In March, she had a poem published in a book titled "Nasty Women Project: Voices from the Resistance," which featured stories from women around the country in response to the 2016 presidential election and President Donald Trump. Her poem "America 'the great,'" is about the experience of being a black woman in Mississippi.
For four years, she has also been the host of Synergy Nights, which is an open-mic event that has music and live painting at the Mediterranean Fish & Grill in Northpark Mall.
Joiner has a blog at "marandom.blog," and also manages comedian Rita Brent, with whom she has been working since 2015.
She has a 12-year-old son, Daniel, and says she enjoys writing and feeding her creativity. She says she lives by these words: "Any 'no' you receive isn't failure; it's God leading you in a different direction. Be patient and trust the process."
—Maya Parker
Jericho Bell
Dr. Jericho Bell, assistant professor of internal medicine and pediatrics at the University of Mississippi Medical Center, says she loves showing residents how take care of people.
Bell, 36, grew up in Clinton and graduated from Clinton High School in 1998. From a young age, she says that she wanted to be a medical missionary, so she decided to attend Evangel University in Missouri to work toward becoming a doctor. She graduated in 2002 with a bachelor's degree in biology with a minor in chemistry.
She met her husband, Eric Bell, during her junior year. As they were both in pre-medical classes, they had every class together and also sang together in choir. "We were the only two in choir getting ready for the (Medical College Admission Test)," she says. "During spring break on a choir trip, we both sat in the back of the bus studying flash cards. ... Sparks started flying, and we fell in love."
The duo married during medical school and both graduated from UMMC, where Eric specialized in emergency medicine, and Bell specialized in internal medicine and pediatrics.
The couple began finally acting on their dream to become medical missionaries this past year, preparing for a move to Litein, Kenya, next spring.
"We always knew we wanted to impact whatever community we were in," she says.
"At UMMC, raising up compassionate doctors to serve the community has been my main goal, and I'm looking forward to this new chapter in my life."
—Devna Bose
Laurie Bertram Roberts
In 2012, Jackson resident Laurie Bertram Roberts was the Mississippi state president of the National Organization of Women, working as an advocate for women and their reproductive rights.
In 2013, Roberts took her advocacy a step further when she co-founded the Mississippi Reproductive Freedom Fund with two of her daughters, Sarah and Kayla Roberts, along with Lori Gregory and Yolanda Walker.
"What we want is everyone to have access to all of their options," Roberts says. "Your poverty shouldn't be a barrier to a service that you want or need."
The fund helps women acquire contraceptives, health care and abortions, and also provides support through avenues such as one-on-one family planning and sex education.
Roberts received an associate's degree human sciences from IV Tech State College of Indiana (now known as IV Tech Community College of Indiana) in 2005. She then attended Jackson State University to study political science, but had to leave school due to health and family issues.
She uses her own experiences in life as a way to relate to women she works with in the organization and during community outreach. "I am a low-income woman of color, who is queer and disabled," Bertram Roberts says. "The people we serve sound like me when they are on the phone. They are me at 25. They are me now."
Roberts, 39, is a mother of seven. She is on Medicaid and SNAP, which she says relates her to the women they help fund.
"I tell my story because I know I'm not alone, and I know other women need to hear it," Roberts says.
—Rachel Fradette