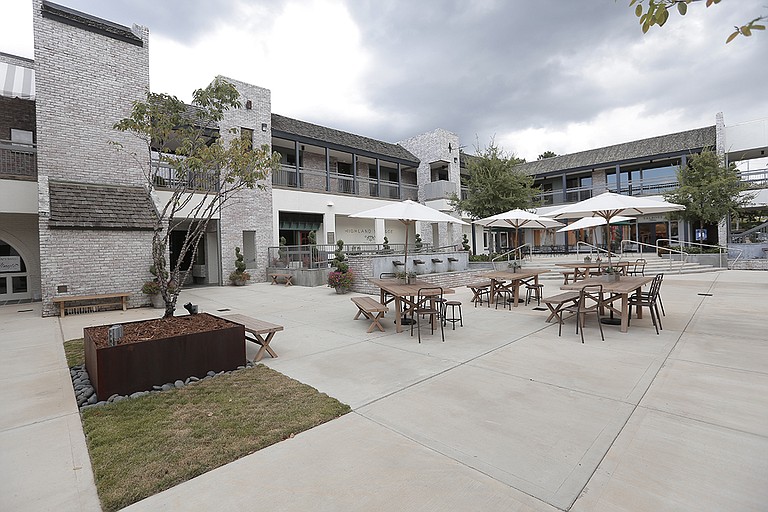 The Nail Lounge, which is a nail-treatment and personal-grooming boutique, opened in Highland Village on June 17. The business occupies a 1,900-square-foot space between Maison Weiss and Red Square Clothing Company near the north-facing end of the shopping center.
Son Nguyen, his sister Jane Nguyen and her husband Bronco Hang are the owners and moved to Jackson from Denver 20 years ago with the Nguyens' parents. The business will employ between six and 10 experienced grooming technicians.
The Nail Lounge (4500 Interstate 55 N., Suite 103) will offer manicures, pedicures, waxing services, and nail, cuticle and eyelash treatments. Customers who get a pedicure will also receive a complimentary bottle of beer or glass of wine while they wait.
The business is open Monday through Saturday from 9 a.m. to 7 p.m. and Sunday from noon to 5 p.m., and accepts both appointments and walk-ins. For more information, call 601-398-4451 or visit highlandvillagems.com.
Cantina Laredo Coming to Jackson
Cantina Laredo, which is a national Mexican restaurant chain, will open a new location in Jackson on Tuesday, July 25.
The menu at Cantina Laredo includes stuffed roasted poblano peppers, grilled chicken breast with chipotle wine sauce, spiced beef tamales with roasted red bell pepper, Portobello mushrooms with sauteed artichoke hearts, and more. Cantina Laredo's brunch menu features items such as crab cakes Benedict, scrambled eggs with Mexican sausage, spinach-and-artichoke-heart omelets.
The restaurant will also feature specialty drinks such as the Casa Rita margarita, which contains Sauza's Giro Silver tequila, Cointreau, and lemon and lime juices, and the Perfect Patron margarita, which contains Patron Silver tequila and Patron Citronge orange liqueur. The bar has both outdoor and indoor seating.
Cantina Laredo (1250 Eastover Dr.) is open Monday through Thursday from 11 a.m. to 10 p.m., Friday through Saturday from 11 a.m. to 11 p.m., and Sundays from 11 a.m. to 9 p.m. For more information, call 601-982-7061 or visit cantinalaredo.com.
Kickstarter CEO Hosting Greater Jackson Arts Council Creative Impact Luncheon
Kickstarter co-founder and Chief Executive Officer Yancey Strickler will speak at the Greater Jackson Arts Council's first Creative Impact Luncheon. Strickler's presentation, which is titled "Resist and Thrive: Creativity, the Public Good, and Making Good Ideas Happen," will focus on alternative solutions to bringing creative ideas to life, establishing a creative environment and how creativity benefits the public.
"The luncheon is designed to bring people into Jackson to offer perspectives, ideas and information we might not have here," Tammy Golden, special events director for GJAC, told the Jackson Free Press. "We're hoping people from artists and entrepreneurs to business people (will) be able to get information on how to launch their own Kickstarter campaigns from this. The beauty of Kickstarter is that you can start with nothing but an idea and bring it to life through community involvement."
GJAC's is a nonprofit that promotes greater access to the arts through grants, special events and exhibitions, venue management and arts marketing.
The Creative Impact Luncheon is Thursday, Aug. 24, from noon to 1:30 p.m. at the Westin Jackson Hotel (407 S. Congress St.). To purchase tickets, visit bit.ly/GJACIMPACT17. For more information and sponsorship opportunities, email [email protected].
Leadership Greater Jackson Becoming Independent Organization
On May 18, the Greater Jackson Chamber Partnership announced that Leadership Greater Jackson, which is a program that the Chamber established 30 years ago to cultivate leadership in the metro area, is becoming an independent organization. The announcement came after a graduation ceremony honoring the 30th class of Leadership Greater Jackson.
LGJ has produced nearly 1,200 graduates and 300 community team projects, including the ongoing Community Foundation of Greater Jackson, which is a nonprofit that helps charitable donors establish permanent giving funds that reflect individual philanthropic interests. The foundation currently has assets worth more than $38 million and has distributed more than $3 million in grants in 2016.
The Chamber released the trademark rights to LGJ after the announcement along with a non-compete agreement to the current Leadership Greater Jackson Board of Trustees, which will still govern the new Leadership Greater Jackson.
For more information, call 601-948-7575 or visit greaterjacksonartscouncil.com.