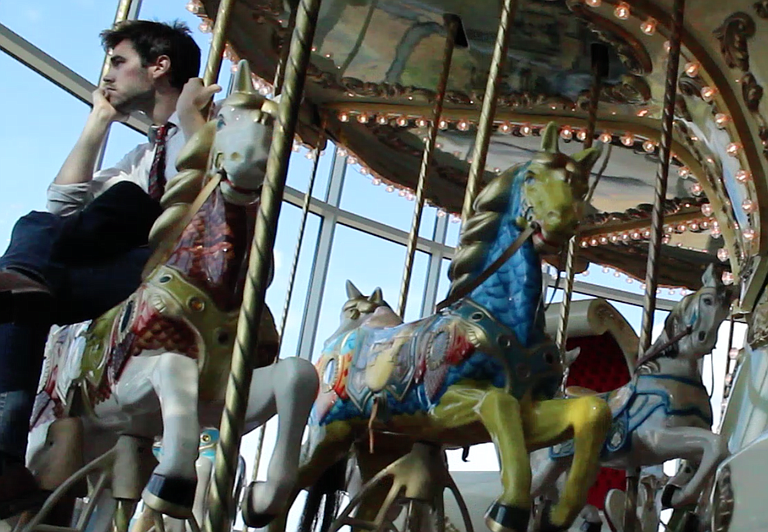 It was a Saturday afternoon in March 2016, and Alex Thiel was bored. During that time, the Jackson-native musician's longtime progressive-metal trio, Carlos Danger, was going through a slow breakup, and he wanted to work on a project that would send his music in a new direction. To do that, he decided to turn to something old.
"I had some bits and pieces and odd ends of electronic, sort-of poppier music that I'd had in a folder for years," Thiel says. "I'd start something, get about halfway done and say, 'Ah, I'll finish it later. I'm busy playing prog-metal.' After Carlos quit being a thing (in summer 2016), I kind of said, 'Well, I've got this. I'd love to finish it. I'd love to get it off my hard drive and out into the world.'"
Over the past year, he began developing that material into his first solo album, "Holiday People!," which he released on June 16, 2017, through Oxford singer-songwriter Ben Ricketts' new independent label, Vanishing Imaginary Music.
Thiel says it was his connection with Ricketts that pushed him to complete the project. Last winter, the two musicians discussed making a split EP together on Ricketts' label, which helped Thiel set goals and finish his solo music. However, it wasn't long before Thiel realized that he was writing for something bigger in scope than an EP.
"I said, 'Listen, man. I think this is more of a full-length,' and he said, 'It's OK. I don't have any material right now for that split,'" Thiel says with a laugh.
For those familiar with the heavy grunge rock of Carlos Danger, "Holiday People!" may come across as an '80s self-reinvention phase, he says, but he has long been a fan of synth-heavy art-pop artists, such as David Bowie, Devo and Peter Gabriel. He had never written or produced in that style before, though, and says it was an itch that he needed to scratch.
"It's stuff that I've always listened to, and I just never had the opportunity to make music in that vein and also just an opportunity to sing a little bit, to actually have melodies and to not blow out my voice every single time I try to track something," he says. "That was another thing I've done where I've kept it to the bedroom. I've kept it to myself over the years, but now, I'm trying to get some of that out there."
While Thiel says that he is proud of "Holiday People!", it isn't necessarily a clear sign of what's next for his music. Recently, he has been working on demos for post-punk songs that are more in line with Carlos Danger and connecting with other local musicians to try more directions, as well.
"It's hard to say because a lot of it depends on the people you play with," he says. "It's all the stuff that you can't really predict. But I've gotten to be better friends with a lot of people in the Jackson scene, and I've hit up a lot of my friends from Oxford who have moved down here about playing some stuff. So what I envision the next project being—I think it will be more melodic, I think it will be guitar-based still, I think it will be fun, I think I'll wear fewer hats than I did in Carlos, and I think that it'll be badass."
Alex Thiel's "Holiday People!" is available for purchase on CD and cassette at Offbeat (151 Wesley Ave.) and for digital download at alexthiel.bandcamp.com.