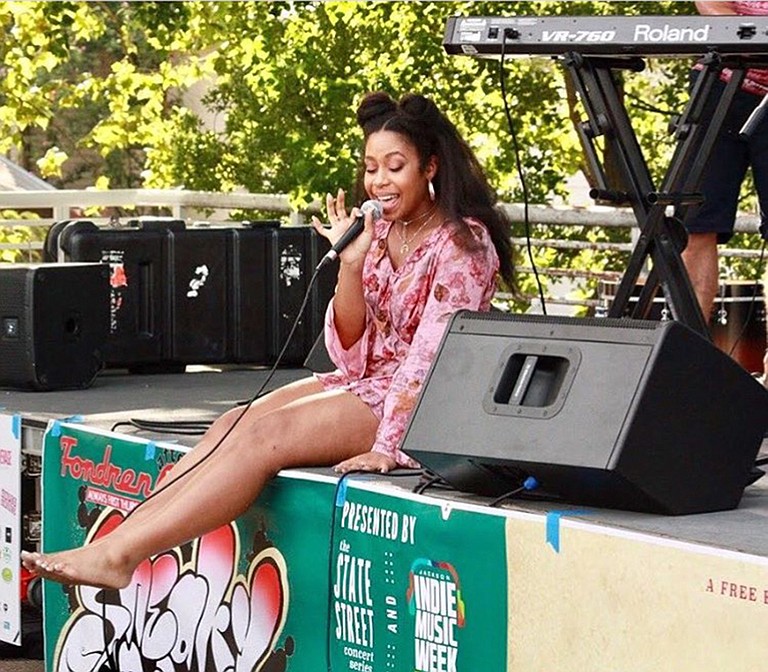 Krystal Jackson, a 21-year-old senior music major at Millsaps College, says she learned to sing before she could talk.
Now, as a performing artist in Jackson under the moniker Krystal Gem, her voice spans an entire octave, and she can sing in 10 different languages.
At shows, Jackson performs a mix of popular covers and her original works along with a three- to four-piece band—guitars, keyboard, drums and bass.
Stylistically, her music lies on the alternative R&B end of the genre spectrum, and she says that her grief often inspires the music she writes.
"My grief comes from being a woman, growing up in the 'hood, being young, being queer, being black and being a victim of different kinds of trauma," Jackson says. "My music comes from historical, personal and familial grief. My music helps me keep myself sane. It's like writing your own narrative. You have to get your art into the universe. Otherwise, you're like a Champagne bottle with a tight-ass cork."
Contemporary music is not her only area of expertise, though. Having been classically trained from age 7, Jackson says that she feels torn between her operatic ability and her proclivity for current music.
"Growing up, Lil' Kim was hot, Lil' Mama was hot, and everybody wanted to be them," Jackson says. "So when I was outside (singing) with my friends, it was like my friends and I were speaking two different musical languages. Having to figure out who you want to appeal to is where it gets hard. Opera isn't necessarily a household music anymore."
Jackson says her long-term goal is to create a full-length album that tells a story about who she is. In the meantime, she is performing at various venues and events around Jackson. Afterward, she says, she'll conquer the world.
"I want 50-year-olds and 5-year-olds to know the words to my songs," she says. "I want that power, but I want to be Krystal. I want to find happiness for myself and solidify who I am. I'm finding this new woman, and I am OK with her."
Jackson says that "new woman" possesses a sense of self-assurance.
"She's sly, she's smooth, she moves how she wants to move, and she sheds her skin when she needs to," Jackson says. "You need to shed your skin periodically—weekly, daily if you need to. This new woman dresses how she wants. We all have to come a long way (to be OK with ourselves)."
Jackson says that she works to present that expressiveness not only in her music but in her daily life, as well. During the week, she works as a visual artist at The Wolfe Studio, which she says is cathartic on days where she is feeling depressed.
"I just come to work," she says. "Not a lot of people can say that."
Jackson says that she previously created paintings that dealt with what she calls "generational curses," including the mistreatment of others based on age, gender, race or sexuality. More recently, her visual art has been focused on complex dynamics between people or animals, something that she also presents in her music.
"I think people are very instinctual and primal, a lot like animals, in the way power structures play out, I've noticed such as in my family and in my own friendships," she says. "Who's the cat, and who's the mouse? Who's the lion, who's the prey? What is this game that we're playing?"
For more information, find Krystal Gem on Facebook, Instagram and Twitter.