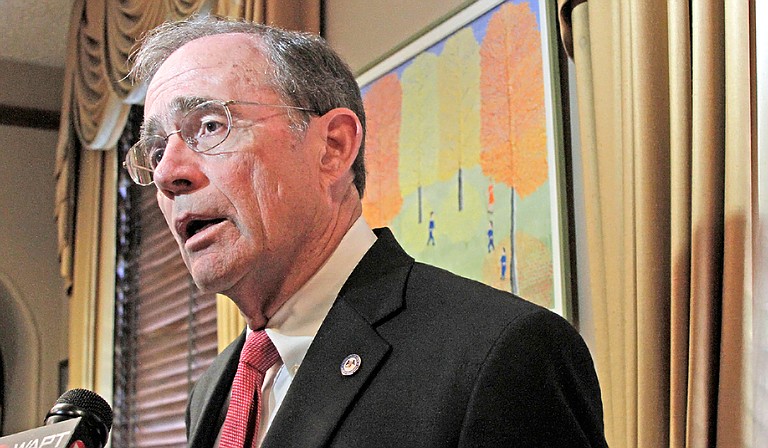 JACKSON, Miss. (AP) — Mississippi's top elections official says he is consistent by sharing some voter information with other states while also telling a national group to "jump in the Gulf of Mexico" as it requests similar data.
Secretary of State Delbert Hosemann told The Associated Press on Friday that Mississippi has participated since at least 2009 in the Interstate Voter Registration Crosscheck Program . Thirty states send voter information to a secure database to see if people are registered to vote in more than one state.
Kansas Secretary of State Kris Kobach is on an election commission appointed by President Donald Trump. Kobach, a Republican, is asking states for voter information, including birthdates, and originally said he would publicly release the information.
Republican Hosemann refuses to publicly release voters' birthdates and said he won't send it to the president's commission, even though he supports Trump.
Hosemann said, though, that birthdates are secure on the interstate crosscheck system. He said there's a significant difference between the interstate crosscheck program, with privacy, and the request from Kobach for the president's commission, without privacy.
"To me, it is daylight and dark," Hosemann said.
Democratic Rep. Jay Hughes of Oxford on Thursday criticized Hosemann for taking a tough public stance against Kobach's national request while sharing information with the interstate crosscheck system, where Kobach is deeply involved.
"A little transparency anyone?" Hughes said in an email. "It's time to put people above parties."
Hosemann said state law stipulates that anyone who pays $2,100 can obtain a master list of Mississippi voters that includes names and home addresses, but no dates of birth or partial Social Security numbers.
"The people in the state of Mississippi have authorized me and asked me every day to protect the privacy of the vote," Hosemann said. "I do that every day. I did this in a controlled environment where I was sure nobody could keep my data and it was encrypted."
After a contentious Republican primary for U.S. Senate in Mississippi in 2014, a Texas-based group called True the Vote and supporters of the losing Senate candidate, state lawmaker Chris McDaniel, filed a federal lawsuit seeking information that included Mississippi voters' birthdates. They sought to prove that some people had voted fraudulently. Hosemann fought that lawsuit and won, based on privacy arguments. The judge said birthdates could be used for identity theft.