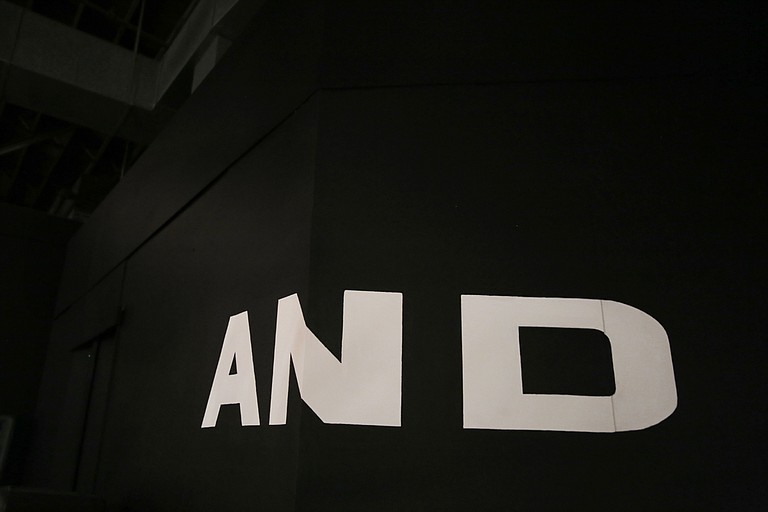 Wednesday, January 11, 2017
A large geometric shield sits in a corner, the word "SUBMIND" projected on it. Local artist daniel johnson, who does not capitalize his name, stands in front of a crowd and warns them that anyone who has epilepsy should not watch the demonstration that is about to happen.
Bold, black lines move across a white background on the shield as a series of loud noises echo out of speakers. A few minutes in, clips of commercials, TV shows and movies project onto the shield, interchanging with the white and black.
The performance-art piece is part of a pop-up collaboration between johnson, Tom Eddleman and Adrienne Domnick, complimenting her latest exhibit, "Hip Hop Show Vol. 2."
The exhibit features Domnick's tributes to music icons, such as Big K.R.I.T. in her piece "King Remembered in Time" and Outkast in "Elevators." The exhibition is also the first held at AND Gallery, a venture from Domnick and artist Tyler Tadlock.
"It's been something that's been talked about for a while as far as what the city needs," Domnick says.
"And what there's room for," Tadlock adds. He says that he and Domnick had been talking about the lack of galleries in Jackson that embrace emerging artists and contemporary art and performance.
"It's my experience that art galleries around the region, apart from New Orleans, ... tend to be lacking in some ways," he says. "I think that probably has to do with the market, probably has to do with who buys art, things like that, but we had a vision for a space that embraces experimental art and experimental stuff."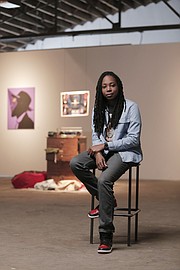 Domnick, 31, grew up in Jackson. She graduated from the University of Southern Mississippi in 2010 with a bachelor's degree in sports education. While she had always been involved in the arts, she first discovered her talent for pop art in 2012 when she did a portrait of the late hip-hop artist Notorious B.I.G. After graduating from college, she began to focus more on her art.
Tadlock, a 32-year-old Jackson native, graduated from Belhaven University in 2008 with a bachelor's degree in fine arts. He says the college was good about getting its students out to experience art across the country and the world.
After graduating, he moved to Portland, Ore., and in 2011, he moved back to Jackson, settling in midtown. By day, he's a freelance graphic designer, but he's also a mixed-media artist and musician, among other things.
Domnick had been renting living space at 133 Millsaps Ave. for about five years, and Tadlock had been renting there for about four years. The two of them and some of the other tenants cooperated to purchase the space in 2011, and Tadlock and Domnick opened AND Gallery in the building's garage in November 2016.
Tadlock says they want AND to be a space where people can learn about new art and developing styles in the larger art world, and they anticipate having more events like the SUBMIND installation. They also want AND to embrace contentious art and work that deals with social-justice issues.
"Art is an ongoing story that keeps changing, and artists are constantly being inspired by new artists and being challenged in those ways," he says. "Just to have a space for that is really important."
Domnick's "Hip Hop Show Vol. 2," will be up until Jan. 25. For more information on upcoming exhibits, visit andgallery.org.
More like this story