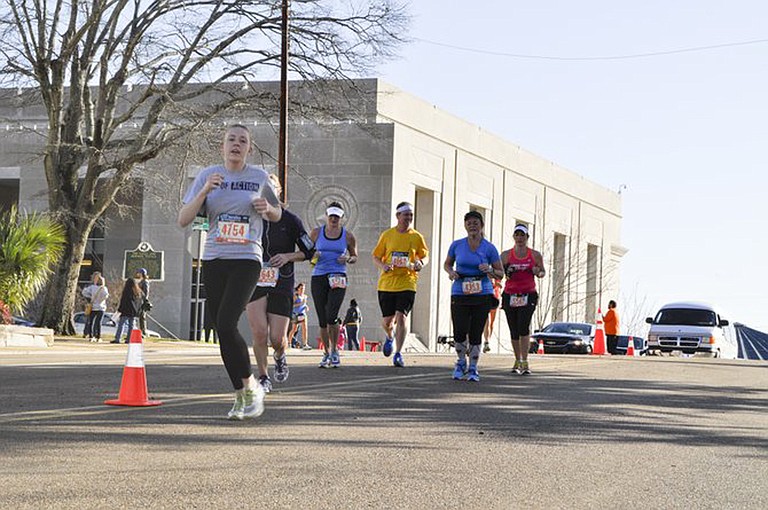 Wednesday, January 4, 2017
It's a well-known fact that Jackson and Mississippi played a huge role in the foundation of the blues, which paved the way for many other genres of music.
As a city and culture steeped in deep musical roots, we find many ways to celebrate it, from Jackson's music scene to The Iron Horse Grill's Mississippi Music Experience museum. Believe it or not, even running plays a part in our musical celebration.
We're at the beginning of the year, so besides making resolutions, that means another thing: It's time for the Mississippi Blues Marathon. This year's event is Saturday, Jan. 7.
The pre-race expo will be at the Jackson Convention Complex (105 E. Pascagoula St.) on Thursday, Jan. 5, from 3 p.m. to 6 p.m., and Friday, Jan. 6, from 9 a.m. to 6 p.m. Runners can also pick up their packets from 6 p.m. to 9 p.m. on Friday.
The race begins at 7 a.m. on Saturday, Jan. 7. Most race events start and end in the Art Garden at the Mississippi Museum of Art. The marathon course is 26 miles and will take runners from the Art Garden to areas of Jackson such as downtown, Fondren, west Jackson and northeast Jackson. The half marathon course (13 miles) will split with the full marathon at Ridge Drive. The "Quarter Note" marathon, which is six miles, will split off at Boyd Street. The fun run begins at ends in front of the Hinds County Courthouse. The fun run is open to runners ages 5 to 13 and is limited to 3,000 participants. The marathon will also have music during and after the race.
At press time, the lineup for the finish line had not been announced.
After participants cross the finish line, they can go to a party at the Art Garden. It will have live music, food, drinks, activities for kids and more.
The night of Jan. 7, runners and locals can participate in the Blues Crawl. Race participants can do the crawl for free, and wrist bands for non-race participants are $10. The Blues Trolley will transport people to locations such as Old Capitol Inn, Fenian's Pub, the King Edward Hotel, Martin's Restaurant & Bar and One Block East. The trolley will run every 10 minutes between 7 p.m. and midnight.
For more information, visit msbluesmarathon.com.
Music at the Mississippi Blues Marathon
Mile 1: JSU "Sonic Boom," 7 to 7:30 a.m.
Mile 5: Louis Gearshifter Youngblood, 7:15 to 9 a.m.
Mile 6.5: Sean "Bad" Apple, 7:30 to 9:15 a.m.
Mile 10: Mark "Mule Man" Massey, 7:45 to 10 a.m.
Mile 11: Lucky Hand Blues Band, 7:45 to 10 a.m.
Mile 12: Music to be determined, 7:45 to 10 a.m.
Mile 15: Chris Gill, 8 to 10:45 a.m.
Mile 18: Roosevelt Roberts Jr., 8:30 to 11 a.m.
Mile 20: Scott Albert Johnson, 8:30 to noon
Mile 23: Bill "Howl-N-Madd" Perry, 9 a.m. to 1:30 p.m.
Mile 25: Terry "Harmonica" Bean, 9 a.m. to 1:30 p.m.