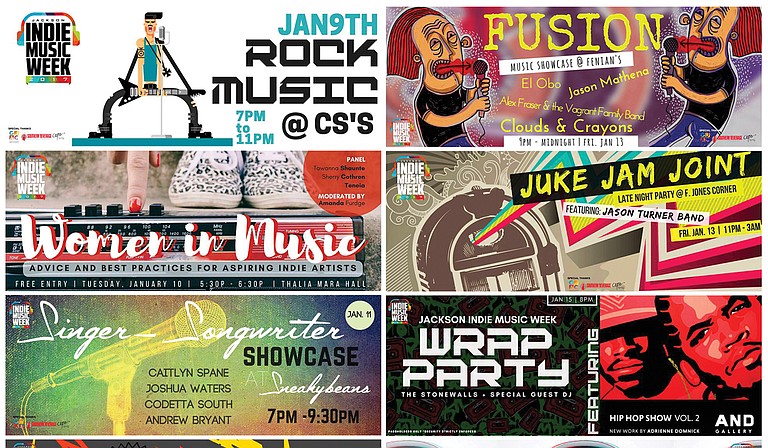 Wednesday, January 4, 2017
The second annual Jackson Indie Music Week is approaching fast, with many concerts, showcases, panel discussions, and other activities that highlight music from around the state, the region and the country.
It can be tough to navigate all the events, and you will want to make sure you aren't on the wrong side of town as your favorite acts take the stage.Here's a handy rundown to help.
Sunday, Jan. 8
This year's Jackson Indie Music Week launches with a kick-off party and bonfire from 6 to 9 p.m. at Lucky Town Brewing Co. (1710 N. Mill St.). Local hip-hop artist Mildred Noor and the Jason Daniels Band, a Jackson-based roots outfit, will perform, and The Iron Horse Grill is catering.
Monday, Jan. 9
Monday features the first "Sophie's Choice" moment for JIMW concert-goers. Hal & Mal's (200 S. Commerce St.) hosts the Central Mississippi Blues Society's Blue Monday at 8 p.m., and CS's (1359-1/2 N. West St.) presents a rock showcase from 7 p.m. to 11 p.m., with music from experimental act The Empty Handed Painters, progressive-rockers Carlos Danger and post-grunge band Spacewolf.
Tuesday, Jan. 10
JIMW delivers two women-focused activities to Tuesday night, and both are worth checking out no matter your gender. For the first event, which takes place at 5:30 p.m. on the mezzanine level at Thalia Mara Hall (255 E. Pascagoula St.), Jackson singer-songwriters Tawanna Shaunte, Sherry Cothren and Teneia Sanders, along with moderator Amanda Furdge, participate in a panel discussion on the current climate for women in the entertainment world.
Then, head over to Hops & Habanas (2771 Old Canton Road) for a women's showcase featuring performances from Brookhaven, Miss.-based singer-songwriter Betsy Berryhill, Jackson hip-hop artist Yung Jewelz and neo-soul-hop act SIKA.
Wednesday, Jan. 11
There is only one JIMW event for Wednesday—at least one in name. Garrad Lee and Cody Cox present the latest installment of their Blender concert series, and this time around, it's a four-pronged attack on downtown.
Jaco's Tacos (318 S. State St.) hosts Clinton-native indie-rock band Fides from and Jackson rockers Throwaways from 
7 p.m. to 9 p.m. Memphis indie-rock act The Ellie Badge, Jackson hip-hop artists Skipp Coon and Coke Bumaye, and rock-'n'-roll band Passing Parade perform at Hal & Mal's from 7 p.m. to 9:30 p.m.
Martin's Restaurant & Bar (214 S. State St.) hosts performances from New Orleans rapper Alfred Banks, Georgia pop-rockers Revel in Romance, Jackson rapper Ray Kincaid, Knoxville, Tenn., rock duo BARK. and Cleveland, Miss., jazz act Betzenzo from 8 p.m. to midnight.
Then, from 9 p.m. to midnight, you can catch local acts, rapper Shawty 4'8" and indie-rock band Dream Cult, along with Oxford, Miss.-based electronic act And the Echo at One Block East (642 Tombigbee St.).
Thursday, Jan. 12
First up for Thursday's offerings is the annual ICON Awards from 7 p.m. to 10 p.m. at Duling Hall (622 Duling Ave). Honorees this year include Jackson Music Awards founders Jesse Thompson and Lee King, rock band Lillian Axe, Hal & Mal's owner and founder of Jubilee JAM Malcolm White, and blues artist Pat Brown. The awards program will also feature a showcase with performances from R&B and soul artists such as JackieJackie, JROC, Los Brown, Rashad Smith and Marc Hughes.
If you're looking for a less formal event, Sneaky Beans (2914 N. State St.) is hosting a singer-songwriter showcase with music from Mississippi artists Caitlyn Spane, Joshua Waters, Codetta South and Andrew Bryant from 7 p.m. to 9:30 p.m.
Afterward, you can head down the hill to Fondren Underground (2906 N. State St.) from 10 p.m. to midnight for the Icon Awards After-Party, where Hattiesburg funk-jazz-fusion band Friends Fly South will perform.
Friday, Jan. 13
With the weekend, Jackson Indie Music Week delivers even more concerts, showcases and other activities. First up is the festival's second music-industry panel, Do the Knowledge, which takes place at Hal & Mal's from 6 p.m. to 7:30 p.m. Entertainment attorney Kamel King, local show promoter Caleb Rowe and touring deejay T-Lewis, along with moderator Garrad Lee, will share their experiences and tips from their trade.
Stay after the panel for the "Live from the Underground" Hip-Hop Concert featuring Meridian native Big Sant, Hollywood Luck, 5th Child, Savvy, Sir Flywalker and E1ght from 8 p.m. to 11 p.m.
For a change of scenery, JIMW will offer a showcase at Fenian's Pub (901 E. Fortification St.) from 9 p.m. to midnight, with performances from Jackson-based artists El Obo, Alex Fraser & the Vagrant Family Band, Jason Mathena and Clouds & Crayons. Night owls can also head to F. Jones Corner (303 N. Farish St.) from 11 p.m. to 3 a.m. for a late-night party featuring the Jason Turner Band.
Saturday, Jan. 14
Start your JIMW celebration early Saturday with the day party at Kemistry Sports Bar & Hookah Lounge (3716 Interstate 55 N. Frontage Road) from 3 p.m. to 8 p.m., with acts such as Tuscaloosa, Ala.-based progressive-rock band Seismos, electronic artist Argiflex from Cleveland, Miss., and Jackson deejay leon grey.
Festival-goers can head to The Reclaimed Miles (140 Wesley Ave.) for a music-video showcase at 6 p.m. with works from Clouds & Crayons, 5th Child, Chief Lion, TDashMo, Yung Cymba and Arab.
From 8 p.m. to 11 p.m., Offbeat (151 Wesley Ave.) hosts a hip-hop showcase with Mississippi rappers devMaccc, Mack Life and Mr. Fluid, as well as Chicago rapper Tiio-Etienne and Baton Rouge, La., hip-hop artist Marcel P. Black.
Saturday's last event is an EDM party at the Russell C. Davis Planetarium (201 E. Pascagoula St.), with DJ Tree, 360 Degrees, DJ Uri, DJ Repercussion, Taboo, DJ Tam, Daphya Selecta, Rob Roy and Monoxide from 10 p.m. to 3 a.m.
Sunday, Jan. 15
Sunday may bring the end of 2017's Jackson Indie Music Week, but the festival goes out with a bang instead of a whimper, starting with the Because Brunch event from 11 a.m. to 1:30 p.m. at Green Ghost Tacos (2801 N. State St.) in Fondren with deejay leon grey.
Afterward, walk a few blocks over to Cups Espresso Cafe (2757 Old Canton Road) in Fondren for "#NEWWAVE: An Under-21 Showcase," from 2 p.m. to 5 p.m. Performers include Tribe 3, Krystal Jackson and Surfwax.
From 5 p.m. to 7 p.m., head back downtown to Russell C. Davis Planetarium for a short-film showcase with works from filmmakers such as Jordan Henry, Ashley Norwood, Isabella Kinder, Thomas Haffey and Charles Jett. And lastly, JIMW closes with its official wrap party from 8 p.m. to 10 p.m. at AND Gallery (133 Millsaps Ave.), with music from Stonewalls with a special guest deejay to be announced.
Jackson Indie Music Week 2017 is from Jan. 8-15. All-event passes are $40, and single-day passes are $15. Individual events are $5, except for the ICON Awards and the "Live from the Underground' Hip-Hop Concert, which are $10 each. For schedule updates, visit jxnindiemusic.com.