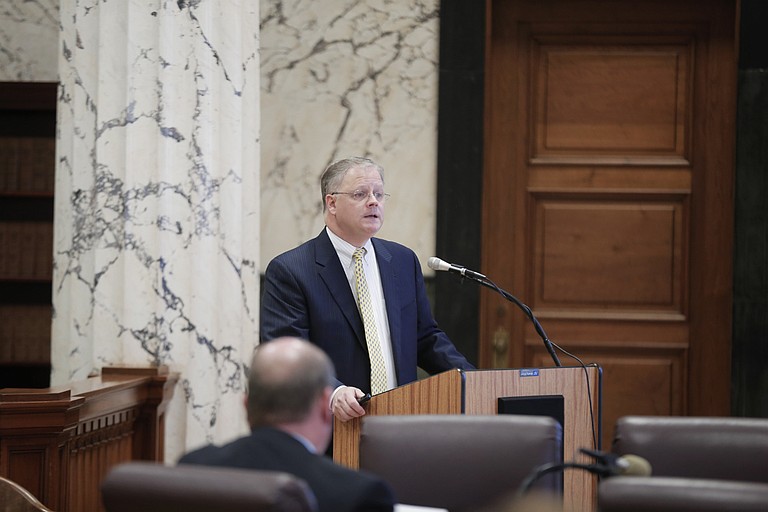 Thursday, February 16, 2017
JACKSON — The U.S. economy may be growing, but Mississippi's revenue is lagging, and the state faces uncertainty over the effect of the Trump administration's policies, especially on trade.
"It's been very discouraging," Webb reported to the Joint Legislative Budget Committee theis morning about the state's current economic patterns. "(It's likely) reflective of slow income growth and a slowing oil industry, and we haven't been helped much by inflation—we do expect some improvement or help once we start getting help from Amazon around March."
Amazon agreed to start collecting use tax in the state on Feb. 1, and the Legislature is considering a bill to force other online retailers to bring in even more revenue.
Most state agencies can expect budget cuts in the coming fiscal year that begins in July, based on initial financial brought out in the House and the Senate this week. Both chambers have both begun work on their appropriations bills, shifting funds around and facing the realities of slow revenue growth in the state.
Webb said Mississippi's economy is growing at a rather modest pace, but that sales-tax collections appear to be weak so far in 2017.
The state is not in recession, Webb said, and despite a rough budget year, 2018 is expected to be a year of growth. Webb said Trump's suggested economic policies could help or hurt the state.
"Some of the things that the Trump administration (is) discussing I think has the potential to boost growth particularly in 2018 ... talking about some of the proposals for decreased regulations and lower taxes. On the other end, the Trump administration is discussing trade agreements that could have negative effects on growth going forward," Webb said.
House Speaker Pro Tempore Greg Snowden, R-Meridian, pointed out that Mississippi is not the only state to experience slow growth and revenue shortfalls, pointing to data from the National Conference of State Legislatures, which shows that Mississippi is one of at least 18 states that dealt with slow and uneven tax revenue in previous years.
Webb said the state's economy should see growth in the second half of 2017, but not at a pace that he or budget writers had estimated.
"Revenues have disappointed in 2017. Right now, I'm not encouraged by what I have seen as far as going forward," Webb said.
Email state reporter Arielle Dreher at [email protected].