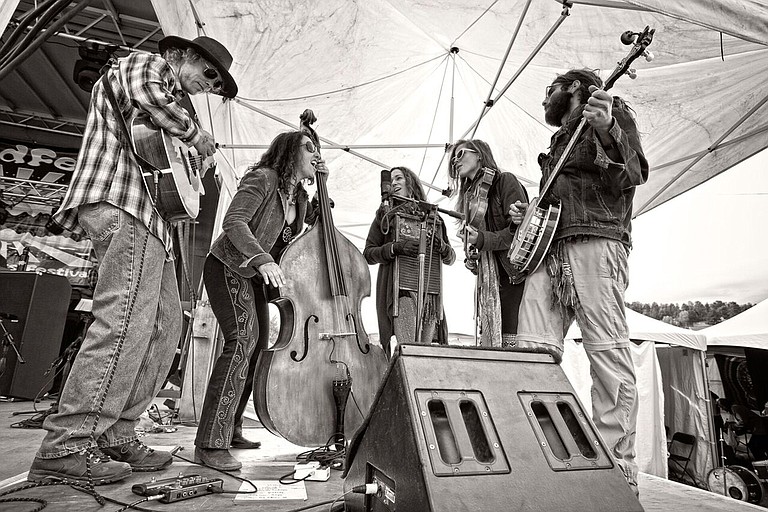 Wednesday, February 15, 2017
Since forming in late 2013, Boulder, Colo.-based Americana act The Sweet Lillies has been working its way around the country, carving a name for itself in the string-band music scene across Colorado and beyond. The band makes its way to Mississippi for the first time on Tuesday, Feb. 21, for a performance at Martin's Restaurant & Bar.
One thing that makes The Sweet Lillies unique is that the band members—bassist Julie Gussaroff, viola player Becca Bisque, banjo player Danjo Lynn, vocalist Melly Frances and guitarist Loren Zyniecki—are all songwriters and bring their own sensibilities, experience and material to the group. Having five songwriters could be tough to navigate, especially because most of the musicians met each other through the band, but Gussaroff says their personalities and shared passion have made it an easier fit.
"Luckily, we have a band full of people that are really team players," Gussaroff says. "Everyone works hard to get along and to be useful, but there are funny things when you don't really know each other that well. There are things you learn as you go, like who needs more leg room, who needs to eat at what time of day, but we've been very lucky that there are such good-hearted people in the group."
The Sweet Lillies are currently touring in support of their debut self-titled album, which the band recorded with engineer Andrew Gragg Lunsford, who has worked with artists such as Tyler Grant, Irma Thomas, John Mahey and Pat Metheny. Lunsford was in Boulder working at Mountain Star Studio at the time and wanted to record a string band in order to get a better feel for the space. He offered to record a full album with the band for free, but that also meant the musicians had to finish everything in two days and record live, save for guitar, which Gussaroff played since Zyniecki hadn't joined yet.
"It has gotten amazing responses across the country," Gussaroff says of the album. "(Lunsford) is so good with everything he does, and our songs are so arranged and put together that it was no problem for us to just sit down and record them. The harmonies were accurate, the parts were accurate, so it was easy, in a way."
With the success of the album, the band is already preparing material for a sophomore release and is considering working with Lunsford again, albeit with a bit more time to spare on the second outing. Gussaroff says one thing that making band's first album cemented for her is the importance of having the songs ready beforehand.
"Do not go in there thinking, 'I'm going to work this out in the studio,' because the stress and the work of recording is so real that you want to have everything done before you walk in the door," she says. "I want the band to be ready to walk in and record those songs."
The Sweet Lillies perform at 9 p.m., Tuesday, Feb. 21, at Martin's Restaurant & Bar (214 S. State St.). Doors open at 8 p.m. For more information, visit sweetlillies.com.