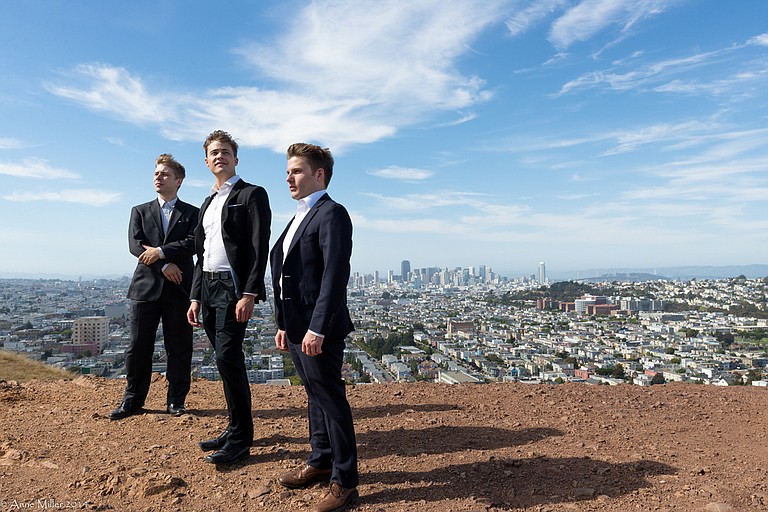 Wednesday, February 1, 2017
Given the positive response to the Mississippi Chambre Music Guild's inaugural Fanfare Festival in 2016, a second installment isn't that surprising. However, the event wasn't always so certain.
When Madison Central High School band director Chuck Reynolds first brought the idea of a weekend-long festival to his friend Royce Boyer, who is the chairman of the guild's board of directors, Boyer's attention was focused on the individual events that the organization presents each season.
Thankfully for Jackson's chamber-music lovers, Boyer and the rest of the MCMG board came together last year to plan and execute the festival's successful first outing. Now, the guild is preparing for an even larger event for this year's Fanfare Festival, which takes place Thursday, Feb. 9, through Saturday, Feb. 11.
"This is a big deal for us, and we think it's quite a big deal for the arts, particularly in our community if not our state," Boyer says.
The festival begins with a guitar master class with this year's featured act, the Mobius Trio, at Belhaven University Center for the Arts (835 Riverside Drive) on Thursday, Feb. 9, at 4 p.m. The trio, which features guitarists Robert Nance, Mason Fish and Matthew Holmes-Linder, formed in 2010 while the musicians were studying at the San Francisco Conservatory of Music.
On Friday, Feb. 10, the Mobius Trio will perform a concert at St. Andrew's Episcopal Cathedral (305 E. Capitol St.) at 7:30 p.m. The group, which will focus on acoustic renditions for the festival, is known for its blending of genres, often tackling styles such as classical, bebop, punk, folk and hardcore in a single performance.
The group has commissioned pieces from many accomplished composers, including Latin Grammy-winning guitarist Sergio Assad and composer and vocalist Nick Vasallo, a founding father of deathcore music.
The festival's biggest day, Saturday, Feb. 11, kicks off with performances from several local school ensembles at Duling Hall (622 Duling Ave.) from 9 a.m. to 11:30 a.m. The event moves to the Old Capitol Museum (100 S. State St.) at noon with the Mississippi College Brass Quintet premiering the bicentennial fanfare, which the MCMG commissioned James Sclater, a former music professor and an ASCAP Award-winning composer, to write.
Boyer and Reynolds, who is no longer on the guild's board, have known Sclater for many years, and Reynolds even took a theory class that Sclater led at MC. When the guild decided to commission an original fanfare piece for the festival and the Mississippi bicentennial, Sclater was an obvious choice, Boyer says.
For those unfamiliar with the term "fanfare," don't expect a lengthy composition. Sclater's new work is about 45 seconds long, which was very much the intent, Boyer says.
"It opens your ears, opens your eyes, and then you play something else, or something else goes on," he says. "You don't want something very long. It's just to draw attention and excite you a little bit."
Even Mississippians who can't make it to the Fanfare Festival will be able to hear it soon, as the MCMG will record the performance and share the composition with schools throughout the state, both in full-band and brass-quintet arrangements.
That afternoon, festivalgoers can stick around the Old Capitol Museum for several events, including performances from the Bicentennial Honor Choir, the Metropolitan Chamber Orchestra's woodwind trio and the Mississippi Symphony Orchestra's horn quartet; and a dramatic presentation from New Stage Theatre. Mississippi Arts Commission Executive Director Malcolm White will also deliver "The State of the Arts in Mississippi" address.
The festival closes Saturday evening with a concert that will feature graduate students and faculty from the University of Southern Mississippi at 7:30 p.m. at St. Andrew's Cathedral. Boyer says the guild has developed a good relationship with USM's School of Music over the past two years and hopes to emphasize it more in next year's festival.
"I don't think Mississippi realizes they've got one of the best music schools in the country, and (USM has) a pipeline of Latino people coming in, probably about 25 students from Guatemala, Venezuela, Cuba even, Mexico and so forth, that are just outstanding performers."
The concert also hints at what's to come thematically, as the guild plans on doing a Latin music-centered Fanfare Festival for 2018's installment, although Boyer says he's focusing on getting year two in the books before setting his sites on the future.
"I don't know what it's going to be yet," he says, "but we've got a lot of time."
The 2017 Fanfare Festival takes place Feb. 9-11. All events are free except for the Mobius Trio and USM School of Music concerts, which are each $10 or free for students. For more information, visit mscmg.net.