Wednesday, December 27, 2017
As this year comes to a close, so will Jackson Police Chief Lee Vance's 30-year career in the Jackson Police Department. Vance announced his retirement on Dec. 20.
"There's an argument that can be made that he's the best police chief the city has seen to date," Mayor Chokwe Lumumba said that day. While the City has no announcement to date about who the next chief will be, the mayor said they won't "substitute making sure we get it right for expediency."
We applaud Vance, who is also a really nice man, for his decades of service. We also urge the mayor to seize this opportunity to take JPD's approach to the next level with innovative leadership that looks for ways for JPD to best use an evidence-based approach to preventing crime. We need smart policing that goes beyond sweeps and that shares leadership with non-law enforcement.
For instance, candidate Lumumba promised to embrace innovative ideas such as training and equipping "credible messengers"—former criminals who work (and get paid) to interrupt violence among young people who will more easily listen to them than police officers. This proven approach needs to happen sooner rather than later.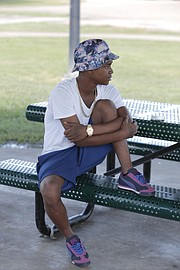 A full archive of the JFP's "Preventing Violence" series, supported by grants from the Solutions Journalism Network. Photo of Zeakyy Harrington by Imani Khayyam.
So far, the mayor and the City approved a new police-academy class and lifted the in-city residency requirement for recruits. He has long said you cannot out-police crime, and that he wants focus on youth programs and creating opportunities by pairing city services with recidivism programs.
He should take real action on those innovative solutions and alternatives now to start the crime-prevention clock. It is urgent that the mayor choose a chief ready to implement evidence-based "community policing" strategies that have more officers walking the beat in crime-prone neighborhoods and getting to know the young people at the highest risk of crime. Lumumba should immediately order the end to perp walks of juveniles and the use of accused children's mugshots unless they are at large and thus pose immediate risks to the community.
The mayor also needs to seriously consider Jackson's role in "Project Eject." The feds' announcement of this Jeff Sessions strategy, with Chief Vance by their side, raised serious questions of legality, constitutionality and the wisdom of packing more Jacksonians into prisons where they are likely to become worse criminals and then come home. The bombastic promise to withhold bail and parole makes no sense. And sending criminals to prisons in other states with no family nearby will increase the likelihood of them forming strong ties with hardened gangs in prison to become a part of a new "family."
The mayor has long preached the gospel of criminal-justice reform. That should immediately mean a thorough review of the City's role in Project Eject and the likely long-term consequences of the approach. Police tend to want to arrest their way of crime, but research shows that is short-sighted.
The new chief needs to seek out and lead sensitive, smart policing strategies that are not designed to rip families apart, and worsen future crime, by using federal dollars and failed strategies of the past.