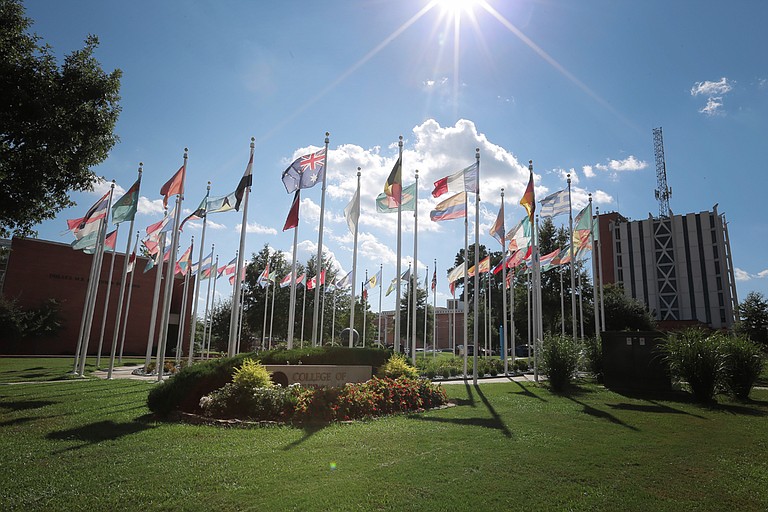 Friday, December 22, 2017
This week, Jackson State University Department of Communications and Marketing team members Charles A. Smith and Kentrice Rush received the Libris Iconic Images Award from the photography website Photoshelter. The award recognizes photos of what the site calls the most memorable moments of the year, such as the Women's March on Washington, D.C., and the aftermath of Hurricane Maria in Puerto Rico. Photoshelter chose 17 images out of the 300 submissions for this year's awards.
Smith, a photographer for the communications and marketing department, received the Libris Award for his photo of the solar eclipse on Aug. 21, which was the first total eclipse in the United States since 1979.
Rush, a social-media associate for JSU, received the award for an image of the university's Sonic Boom of the South marching band playing in the rain before the start of a game against Southern University and A&M College on Oct. 21.
For more information or to view all of the 2017 Libris Iconic Images, visit Photoshelter's website.
Belhaven Receives Grant for Biblical Mental Health Program
Belhaven University's Institute for International Care and Counsel received a $10,000 grant to bring four visiting scholars and educators on campus to address mental-health issues from a Biblical perspective.
The grant comes from Presbyterian Church USA's Teaching the Bible Grant initiative, which supports programs that teach the Bible at Presbyterian-related colleges and universities.
Over the next two years, national scholars and educators will come to campus each semester and deliver a community lecture, present a faculty workshop and host a dialogue with students. The first visit will take place in spring 2018 and will feature the topic "Where is mental health in the Bible?"
Leadership Mississippi Selects USM Staffer for Leadership Program
Leadership Mississippi, an annual program from the Mississippi Economic Council, selected Jenny Tate, the assistant director of university communications and campus communication officer at the University of Southern Mississippi's Gulf Park campus, for its 2018 leadership training program.
Tate, a Gulfport resident, has worked for USM since August 2014. She also served as president of the College Public Relations Association of Mississippi from 2016 to 2017 and as a board member for the Long Beach Chamber of Commerce.
USM's University Communications Department has also received awards from the College Public Relations Association of Mississippi, the Public Relations Association of Mississippi and the Southern Public Relations Federation.
JSU Receives Grant for HBCU Program
This week, the National Science Foundation presented Jackson State University's Department of English, Modern Foreign Languages and Speech Communication with a $443,178 grant. The funds will go toward establishing an online development center to guide faculty from small and midsized historically black colleges and universities in identifying funding opportunities and developing research concepts for grant requests.
JSU's Academy for Research and Scholarly Engagement five-year grant program previously trained 107 faculty members in basic grant writing, and last summer, current and former program participants submitted 170 grant proposals to funding agencies to generate $5,537,000 in funding.
Faculty and research staff with the grant-writing development center will complete a 12-week online course and participate in at least one three-day writing retreat during the program.