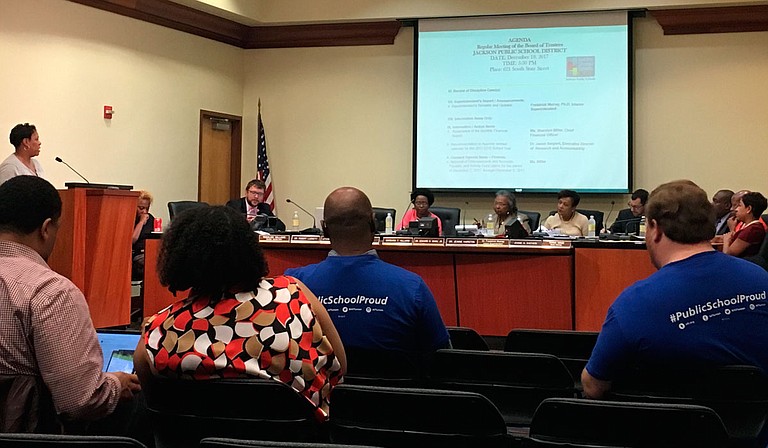 Thursday, December 21, 2017
JACKSON — Jackson Public Schools teachers and students were supposed to be off Friday, Dec 22, but now must go in for a "60 percent" school day (a little longer than half the day) after the district canceled school to make up for the snow day on Dec. 8. The JPS Board of Trustees voted to approve the calendar change at their meeting on Tuesday, Dec. 19, because students must attend Friday to have enough hours of instruction this semester for the district to meet state accreditation requirements.
Akemi Stout addressed the JPS board on Tuesday night about the last-minute change, with a group of teachers in blue #publicschoolproud T-shirts standing to support her from their seats.
"Did it not occur (to the district) that there are persons that work within your district that have planned trips, planned flights, all of these things that they cannot cancel?" Stout asked the board.
She said the inclement weather days for JPS are scheduled for March 30 and April 2, making the last-minute schedule change even more frustrating for teachers and staff. Stout has discussed the district's strained relationship with teachers in previous board meetings, and she told the board Tuesday that JPS is still likely going to lose teachers at the end of the school year. Stout said some administrators told employees they need to be in school on Friday or face consequences.
"How dare you tell them that they must do this, or they will lose their job," she said. "That's not support."
Later in the board meeting, Jason Sargent, executive director of accountability and research for JPS, asked the school board to approve the calendar change, as well as shift the graduation dates from May 21 and 22 to May 23 and 24.
Sargent said JPS students in semester-long courses need to be in class Friday because they need to receive 70 hours of instruction in order to comply with state accreditation standard no. 13, which gives specific limits on instructional time for students and is necessary for graduation.
"If we were to make up the (snow) day within the second semester and not make up the day in the first semester, our students would only receive 68.9 instructional hours, which would make us short by the required 70 instructional hours by MDE," Sargent told the board.
JPS is out of compliance with standard 13, cited in the MDE investigative audit earlier this year for allowing students to graduate without enough instructional hours. The district's schools were originally scheduled to be open for a 60-percent day on Thursday, Dec. 21, but it is now a full school day. JPS administrators left little wiggle room to comply with standard 13, leaving the board no choice but to approve a 60-percent school day for Friday.
"Initially, our superintendent was going to do a survey, but once we did the calculation for the semester hours because of the accreditation requirements, we realized we didn't have a choice," Sargent said. "We would be in violation of process standard 13."
Board members expressed frustration at the poor planning and asked the district about any alternate strategies going forward.
"I think we are all well aware that we need to have better communication between the office here and the board, and better communication with the public, and in this case, the communication was not particularly handled well," school-board member Robert Luckett said.
The board drilled down into what the process is for creating the academic calendar in the district. The calendar committee, which Miller heads, will address the issue going forward, she said.
"We will make sure that we plan for that in the fall in the future," she told the board.
Interim Superintendent Freddrick Murray told the board that there will not be any penalties for teachers or staff members who miss Friday—outside of the district's policy that addresses missing a work day before a holiday.
"Personal leave requests shall not be made for any day immediately preceding or following a holiday or during the first or last day of the school term," the policy says. "However, if an employee's immediate family member is being deployed for military service on those days, the employee may take personal leave."
The policy states that unless staff members have an emergency or deployment to military services, their personal-leave requests "may be denied by the supervising officer if there is reason to believe such leave would disrupt the school or the department program."
Email education reporter Arielle Dreher at [email protected]. Read more about JPS accreditation issues at jfp.ms/jpstakeover.