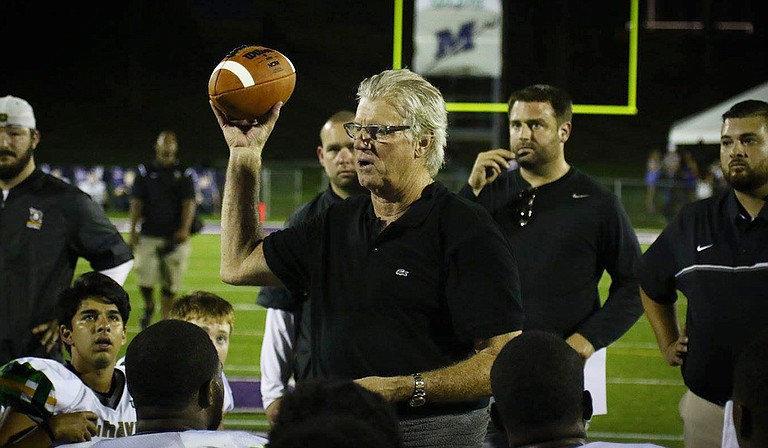 Thursday, December 21, 2017
The Hal Mumme era at Belhaven University ended Nov. 28 when the head coach left to pursue coaching opportunities at higher levels of football.
During his four seasons at the helm of the Belhaven Blazers, Mumme oversaw the program's transition from NAIA to Division III and left with a 8-33 overall record and 3-23 conference record.
On Monday, Dec. 18, less than a month after Mumme's resignation from Belhaven, Jackson State University head coach Tony Hughes announced Mumme as the Tigers' new offensive coordinator.
Mumme is known for his prolific passing offense, often dubbed the "air raid offense." The Blazers amassed 441.8 yards per game in his first year at Belhaven, which was also the team's final season in the Mid-South Conference at the NAIA level. That was good enough for second in total offense in the conference.
The offense slipped a bit in the 2015 season as the Blazers began the transition to Division III, averaging just 361.4 yards per game and finishing sixth in total offense in the American Southwest Conference.
Belhaven got the air raid going again in 2016, though, finishing second in the ASC in total offense with 499 yards per game. This past season, the offense fell to sixth in total offense yet again with 444.3 yards per game.
While Mumme's offense is best known for its passing attack, it struggles at times with the ground game. In 2014, Belhaven led the MSC in passing with 337.5 yards per game but was 12th in rushing with just 104.4 yards per game.
The same formula followed in 2015. The Blazers were at the front of the pack in passing for the ASC with 316.8 yards per game but finished last in rushing with just 44.6 yards per game. Belhaven ended up leading the conference in passing in 2016 at 421.4 yards per game and came in last for rushing yet again, averaging 77.6 yards per game.
This past season, East Texas Baptist University led the conference in passing as Belhaven slipped into second place with 388.2 yards per game. The Blazers finished last in rushing with just 56.1 yards per game.
Under Mumme, the Blazers put up a ton of passing yards but didn't score at a high rate. In his four years at Belhaven, the team averaged 24.3 points per game, finishing near the bottom in scoring in both the MSC and ASC each year. Mumme's highest scoring average came in 2016 at 27.4 points per game, only a year after his low of 18.9 points per game in 2015.
Last season, Jackson State had one of the worst offenses in the Southwestern Athletic Conference. The Tigers were last in scoring offense at just 12.7 points per game and in total offense with only 231.8 yards per game.
JSU finished ninth in rushing offense with 103.7 yards per game and ninth in passing yards per game with 128.1. The Tigers only scored 14 touchdowns on offense, with nine from rushing plays and only five passing touchdowns all season. It will be Mumme's job to turn around one of most anemic offenses at the Division I level.
The coach might be best known for his time at the University of Kentucky from 1997 to 2000. While coaching the Wildcats, Mumme brought in quarterback Tim Couch, who was the No. 1 pick in the 1999 NFL Draft.
Mumme was the passing coordinator under head coach June Jones at Southern Methodist University and has been a head coach at the Division I level at New Mexico State University and Southeastern Louisiana University. He was also the head coach at Valdosta State University in Division II, at McMurry University in Division III and at Iowa Wesleyan University at the NAIA level.