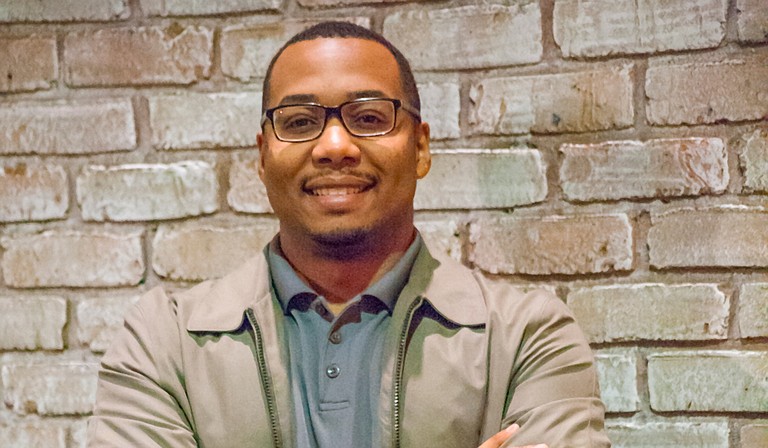 Wednesday, December 20, 2017
Darius Williams, 27, says he has always been interested in information technology.
As a child, the Greenwood native says he didn't always know what he wanted to do when he get older, but he knew he wanted to help people and wear suits.
"A lot of people are led to believe that four years of college equals a degree, a job with income and a quick way to pay off student loans, but I think that can be proven to not be true in our current climate," Williams says. "I recognized early on that I wanted a tangible skill that no market could dictate whether or not I should be employable."
His passion for IT went from being a hobby to a means of additional income during college.
After receiving his bachelor's degree in public administration from George Mason University in 2012, Williams went on to join the Air National Guard, where he gained his background in information technology and currently serves as a cyber systems administrator.
"Once I realized that my need was to have a decent and sustainable income, I put my effort into getting a skill, which the military definitely offers," he says.
Williams says the main factor that led him to this career path was his 
love for people.
"People tell me I'm not like the typical IT guy because I always want to listen and understand what the actual problem is and work with people to provide an actual solution," he says. "That's what got me into this career field."
He has also been a technical engineer at the Bomgar Corporation in Ridgeland for almost two years.
Williams says being in the Air Force has helped him succeed at Bomgar because it taught him to take pride in his work.
"(There are) core values at Bomgar, and there are core values in the Air Force as well," he says. "Integrity first, service before self and excellence in all we do. Those core values dictate how you act toward people externally, but they can be applied to you and how you respect yourself."
In his spare time, Williams collaborates with two of his friends for their podcast, "Token Talk." The podcast, which launched in April 2016, does social commentary from the perspective of black men in the South. 
 The goal is to bridge the gap in cultural understanding.