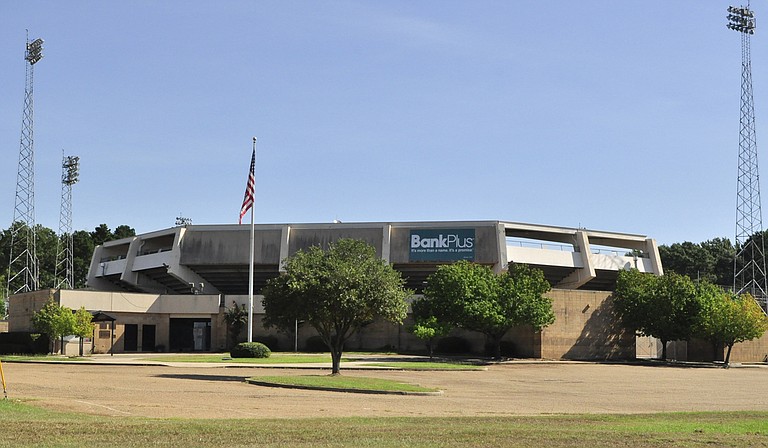 Tuesday, December 19, 2017
The City of Jackson's Winter Wonderland ice-skating rink will begin Dec. 22, 2017, through Jan. 4, 2018, in the parking lot of Smith-Wills Stadium. The rink is made from synthetic ice that will not melt, even in the unpredictably mild winter days, the City's Parks and Recreation Department said.
Skaters are encouraged to call Parks and Rec to reserve a time slot, as only 50 people can be on the ice at a time in the two-hour sessions taking place throughout the day. Admissions for patrons 17 years old and younger is $7 and $10 for those who are 18 and older. The venue only accepts cash, and the fees include equipment rental.
Visitors are also welcome to try their luck by showing up without a reservation. Angela White, recreation supervisor for Parks and Rec, said their phones have been "ringing off the hook this past week" since people have seen the digital billboards advertising the rink.
"We're definitely excited, and everyone is happy to see what it is," White said. "They see ice-skating rinks on TV, and they know about the one in Pearl, but maybe they're not able to go out that far." White added that through departmental research, it might have been as far back as two decades ago that the City provided an ice rink, but they she would not confirm.
White said the City is not looking to compete with the ice-skating rinks in suburbs around Jackson, but would still like for people to come to Jackson to partake in the "Winter Wonderland."
The Jackson City Council emphasized that this rink is more than a nice recreational service for families—it's representative of a Jackson-first mindset that anchors many council discussions on how to revive the city.
"There's no need for anyone in Jackson to go to Flowood to go ice skating," said Ward 6 Councilman Aaron Banks at the Nov. 21 meeting. "They can go right here to Jackson, and I want to just thank the administration for pushing this forward. This shows that we have a variety of things to do during the Christmas time."
The number to call for reservations is 601-960-0819.
Ice Skating Operational Hours: Dec. 22, 2017—Jan. 4, 2018
Sundays
Session I: 2 p.m. — 4 p.m.

Session II: 4:30 p.m.— 6:30 p.m. 

Mondays — Thursdays
Session I: 10 a.m. — 12 p.m.
Session II: 2 p.m. — 4 p.m.
Session III: 6 p.m. — 8 p.m.
Fridays — Saturdays
Session I: 10 a.m. — 12 p.m.
Session II: 2 p.m. — 4 p.m.

Session III: 6 p.m. — 8 p.m.

Session IV: 8:30 p.m. — 10:30 p.m.
December 25, 2017

Session I: 3 p.m. — 5 p.m.
Session II: 5:30 p.m. — 7:30 p.m.
Email city reporter Ko Bragg at [email protected].