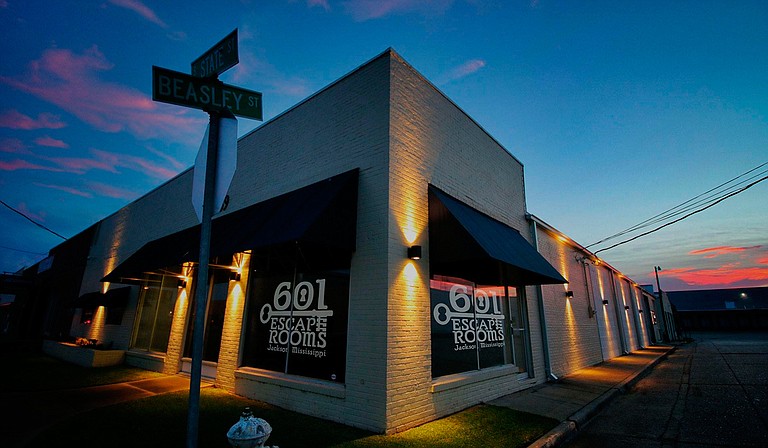 Tuesday, December 19, 2017
Britny and Trey Hester, owners of 601 Escape Rooms (839 S. State St.), held a ribbon cutting for their business on Monday, Dec. 11. The business first opened in August.
An escape room is a live-action game in which a group of people enters a closed room and must decipher clues to "escape" within a time limit. Staffers monitor the game from inside a nearby office and provide hints if needed.
Britny works for Southern Ag Credit, and Trey owns an electrical supply company called Hester's Electrical Services. After experiencing escape rooms while vacationing in New Orleans, La., the couple decided to open 601 Escape Rooms inside a remodeled 4,000-square-foot office building that belongs to Hester Electrical that was not in use. The Hesters' daughter, Brianna Shack, is the game master for 601 Escape Rooms, and Britny Hester's sister, Jennie Bailey, is the manager.
"People say there's nothing to do in Jackson, so after we fell in love with escape rooms, we decided to open one ourselves," Hester told the Jackson Free Press. "It's been fantastic since we opened, especially because of our large lobby that we use to accommodate things like birthday parties and events for all ages."
601 Escape Rooms currently has three scenarios available with two more set to open early next year. Each scenario has a recommended age range, player-count limit and a difficulty rating out of 10. "Lost Teddy" is for children ages 6 to 12, accommodates four to 10 players and has a 30-minute time limit, while all other scenarios have a one-hour time limit. "Lost Cabin" is recommended for ages 12 and up and accommodates two to eight players. "Prison Break" is recommended for ages 12 and up and accommodates four to 10 players.
"Swan Song," a music-themed scenario, will open in January 2018 and will be 601 Escape Rooms' most difficult room to date, Hester said. "Carver Cemetery," a horror-themed scenario for two to five players age 16 and up, will open in February 2018. The business will swap out the current scenarios for new ones in the future when booking for current scenarios slows down.
Admission is $14 per person for "Lost Teddy" and $25 per person for all other scenarios. Guests can also book the whole building for two hours at a time for birthdays and special occasions. Guests renting the building can choose their own caterer, and beer is also available for events by request.
For more information, call 601-260-3334 or visit 601escaperooms.com.
Chef David Raines Names Sous Chef for Dave's Triple B
This week, David Raines, owner of The Flora Butcher (4845 Main St., Flora) announced that LaTasha Simmons would be the sous chef for his upcoming restaurant, Dave's Triple B: The Butcher, The Baker, The Barbecue Maker. The restaurant is set to open in January 2018 and will be inside the former location of Chimneyville Smokehouse (970 High St.), which closed in November 2017.
Simmons moved to Jackson from Alabama five years ago to work at Reunion Golf & Country Club in Madison. She next worked at Shea's on Lake Harbor before Raines brought her onboard when he was the chef de cuisine at Seafood R'evolution in Ridgeland. While there, she honed her skills at fine-dining cuisine alongside chef Daryl Maloney. Raines, Simmons and Maloney will all operate the Dave's Triple B kitchen together when it opens.
The menu at Dave's Triple B will use locally sourced ingredients and will offer burgers, salads, blue-plate specials, hot and cold sandwiches, sausages, cured meats, pastries and chicken-fried steaks made from a special type of beef called Wagyu that Raines sources from Raines Farm in Monroe, La., which his father, David Raines Sr., has operated for 15 years. He plans to use Wagyu and other meat from The Flora Butcher for Dave's Triple B.
For more information, call The Flora Butcher at 601-509-2498 or find The Flora Butcher's Facebook page.
Mississippi Museum of Art Cafe Reopens
The Museum Cafe, which temporarily shut down in October while the Mississippi Museum of Art (380 S. Lamar St.) prepared its bicentennial exhibition, "Picturing Mississippi: Land of Plenty, Pain, and Promise," reopened on Dec. 9, the same day the bicentennial exhibit opened.
Preparations to take down the museum's permanent-collection exhibit, "The Mississippi Story," to make way for the bicentennial exhibit began in late August. The museum suspended operations for both The Museum Store and The Museum Cafe during the months that followed except for special events, in order to update and renovate both.
The Museum Store reopened on Nov. 28 for its holiday open house and the lighting of the "Bethlehem Tree," and features new inventory and a new interior layout. The museum had planned renovations and other changes to The Museum Cafe following the recent departure of Executive Chef Nick Wallace, but the renovations are still in progress for now, Director of Marketing Stacy Clark told the Jackson Free Press.
The Museum Cafe's menu features sandwiches, salads and soups, as well as a blue plate special that includes spaghetti, fried chicken, meatloaf or fried catfish that is available Tuesday through Friday.
The Museum Cafe is open Tuesday through Saturday from 11 a.m. to 2 p.m. For more information, call 601-960-1515 or visit msmuseumart.org.