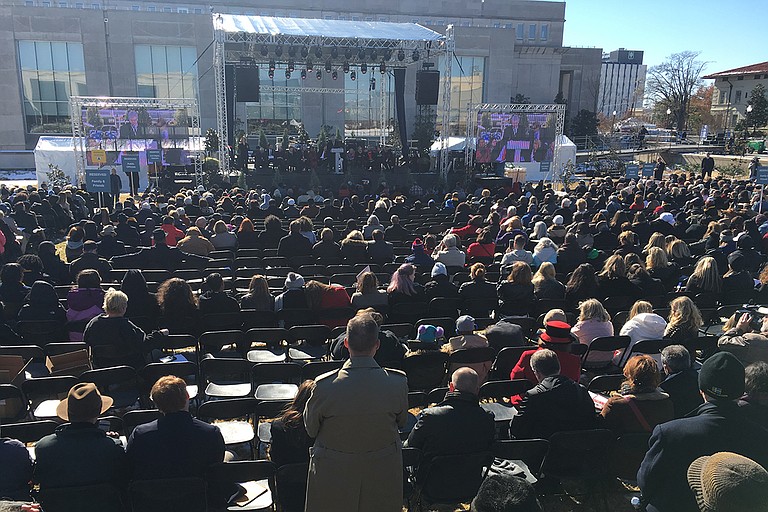 Wednesday, December 13, 2017
When the 90-year-old man slipped into the open seat next to me, the opening ceremony for Mississippi's duo of history museums was about to start. Mr. Otha Drake is a slight African American man who uses a silver cane and, on Saturday, was wearing a light pink and white shirt, light-colored jeans and a black jacket, topped with a blue knit cap.
As the pretty language of hope and reconciliation filled the air, I would glance at Mr. Drake. He didn't clap, his right hand leaning on his cane, his left holding the program over his face to shield out the sun.
Mr. Drake listened intently as eight men and three women—only three of them black—talked mostly about the Mississippi Civil Rights Museum. I, though, winced at the proclamations by white Republicans about the lessons of history, knowing that each one up there actively supports policies that prolong, rather than reverse, the residual effects of racial oppression here.
None is actively trying to change the state flag; all were against fully funding even adequate public education that would especially help re-segregated black districts after whites fled; they support policies that increase income inequality; they oppose ensuring that every Mississippian has access to health care in the state that again ranked 50th in health quality this week. And they all tucked little epistles into their remarks, along with myriad cliched Faulkner references, so their more "state's rights" supporters would know they hadn't left the farm.
Gov. Phil Bryant was especially tough to hear up there going on about grace and civil-rights history. He, after all, annually proclaims Confederate Heritage Month and had invited Donald Trump to desecrate the grounds of what should have been a packed, glorious, diverse opening. Bryant brought up former Gov. Haley Barbour—who helped lead the "southern strategy" of pushing crime fear and other race rhetoric to bait former Dixiecrats to the GOP and, now, to Trump—telling him the civil-rights museum is "something we must do."
Bryant quoted "Amazing Grace," adding, "Mississippi was once lost, now we are found. We were blind and now we see."
Then came the insidious part. "From this day forward, let all our transgressions be left to the past," proclaimed the man who ensures that the state celebrates the Confederacy every April and allows the symbol of maintaining slavery to officially fly.
Seeing Lt. Gov. Tate Reeves—who was invited to speak even though black Jackson Mayor Chokwe Lumumba despicably was not—wasn't much better. Reeves, who yearns to be the next governor, routinely employs rhetorical pages from the racist playbook of the 1960s, blaming the push for a more respectful state flag on "outsiders and media elites," thus ignoring the diverse coalition of native Mississippians trying to change it. In 1964, Klan apologists likewise dismissed three murdered civil-rights workers—two from New York and one from 90 miles from here—as "outside agitators." Reeves just can't be ignorant enough to choose this coded language by accident. If he is, he should spend real time inside the museums learning the history of his state.
Reeves also openly and proudly declares that the school districts that do better, including on test scores—the wealthier and whiter schools, like during segregation—should be rewarded with more resources transferred from struggling (poorer, blacker) schools. That's not just a racist dog whistle; it's a frontal attack on poor, black residents.
Then, U.S. Sen. Roger Wicker name-checked Confederate President Jefferson Davis in the most bizarre wink-and-nod to the old Dixiecrats ever. Wicker included Davis among "heroes": "Like Jefferson Davis who before he would leave Washington, D.C., forever made sure our nation's capitol building was truly magnificent." Before secession, as secretary of war, Davis oversaw the enlargement of the U.S. Capitol.
After the South lost the war over slavery, the U.S. indicted Davis for treason, but didn't bring him to trial. Mississippi gifted a statue of Davis to the Capitol in 1931; it's now in Statuary Hall. Rep. Bennie Thompson, D-Miss., is among black lawmakers who asked that Confederate statues be removed from the Capitol. He was scheduled to speak at the opening before Wicker but boycotted due to the Trump invitation.
Notably, Davis spoke nearby at the old Mississippi Capitol in 1862 during the Civil War, slamming the northern "miscreants"—a "traditionless and a homeless race," he said. In the building where Mississippi seceded using the words you can hear Morgan Freeman repeat inside the Museum of Mississippi History—"Our position is thoroughly identified with the institution of slavery"—Davis warned Mississippians to stay the Confederate course. "Will you be slaves; will you consent to be robbed of your property; to be reduced to provincial dependence; will you renounce the exercise of those rights with which you were born and which were transmitted to you by your fathers?" Davis demanded.
The "property" was slaves, of course.
Davis added about the country that now pays Wicker: "Were it ever to be proposed again to enter into a Union with such a people, I could no more consent to do it than to trust myself in a den of thieves."
In August, Wicker defended Trump's widely panned weak response to the violence by white supremacists and Nazis in Charlottesville, Va., which left a woman dead. The press had been "overly harsh," and the nation "needed to move on," the U.S. senator from Mississippi said then.
When the ceremony ended, Mr. Drake and I chatted. The son of Delta sharecroppers, he spent his childhood near Greenville until his family moved to Jackson in 1942. He attended Lanier High School, then joined the Navy and served in a segregated unit. He had driven to the opening alone; his wife, Mary, stayed home. "I remember it all," he said about the intense and violent segregation of Mississippi. It was a closed society, he said. "It was, it was."
Still, much is different now. "Oh yeah, it already has changed," he said, adding that the museums are a good step forward. I asked what needs to happen to complete the change for black Mississippians.
"Jobs," he said quickly. "Better schooling." I thought of Reeves' rewards for wealthy districts with fewer needs, and felt a wave of exhaustion wash over me.
Hours later, after I toured the Mississippi history museum, I found Mr. Drake sitting on a bench in the museum atrium, leaning forward on his cane, people-watching. "You're still here?" I asked.
"Yes, yes, I am," he said, grinning as I walked to the civil rights museum.
Suddenly, I didn't feel quite so tired.
Follow Donna Ladd on Twitter @donnerkay.