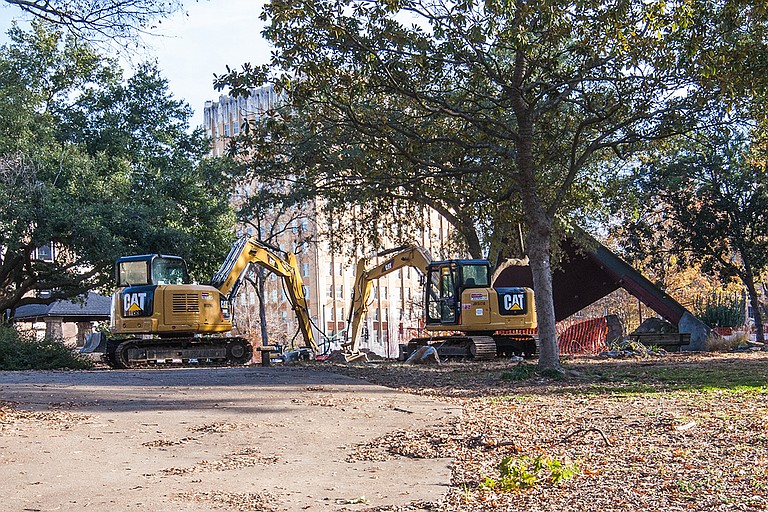 Wednesday, December 13, 2017
JACKSON — On a cold Friday night, the snow still dusting the trees from the snowfall that morning, Bilal Qizilbash set up his weekly station where he offers food to those in need free of charge. The only qualifying question he asks is, "Are you hungry?"
This event normally takes place in the Smith Park pavilion in downtown Jackson, but the green fence around the park to protect the construction underway meant they had to move.
Qizilbash set up tables with food, hot soup, and assorted donated clothing and shoes in the parking lot of the Mississippi Republican Party headquarters. Someone from the party called the police between 6 and 7 p.m. to complain and requested the operation be moved out of that lot immediately. The officer on the scene said Qizilbash and other volunteers could stay that evening, but that next week they would need to find a new location.
"I don't know what's going on with the humanity," Qizilbash said after all the food had been handed out for the evening. "Isn't 'Republican' supposed to be like representative of the people?"
People huddled together in the cold as they ate, their breath visible in the air converging with the steam from the food in a larger cloud. That evening only about 30 people came out in the cold and snow; Qizilbash estimates that they usually feed 90 every Friday.
Among the group was Chris, 20, from Booneville—he didn't give his last name. Chris said that the renovations at Smith Park have not had a huge effect on where he and others sleep, as he usually sleeps near the planetarium. But, he said it angered some when a convenience disappeared.
"In my opinion (the temporary closure) will make people appreciate it more now that they've started renovating it," Chris told the Jackson Free Press.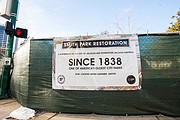 Qizilbash said that Smith Park's downtown location makes it one of the safest places for people who take shelter outdoors. The people he feeds weekly warned him against using Poindexter Park and Battlefield Park because of violence and drugs.
"(Smith Park) at least provided some shelter; now they're more exposed to the elements than ever before," Qizilbash said, referring to the tunnel-like structures in the park. "The problem that concerned me most was sleep; where are these guys now sleeping?" Qizilbash pointed out little alcoves down the street where people will sleep to guard themselves against the wind. It is not uncommon to see people in sleeping bags posted up against downtown buildings or on church steps.
Smith Park is undergoing a three-phase renovation process. The first phase began last year with removal of decaying trees, costing around $10,000. Phase two, costing around $100,000, is currently underway as construction workers remove the concrete waterways, level the hills of dirt, flatten the park, replace the rotten wood on the stage, and put down new sod by early 2018. Phase three would be the largest and most costly—stakeholders are hoping to raise $2.5 million to create a "top-notch" park with a splash pad and playground for kids as well as a brand new stage.
The City of Jackson, Downtown Jackson Partners and a group called Friends of Smith Park are all working together to upgrade one of America's oldest parks, while saying they are sensitive to the fact that homeless people also use it.
Impossible Without 'The City'
A copy of the Smith Park rendering rests on an easel in the boardroom that leads into Mayor Chokwe Antar Lumumba's office. Lumumba is excited about turning the park into a welcoming space that groups can use for events.
Michael Rejebian, the manager of Underground 119 and a member of the Downtown Jackson Partners advisory council and the Smith Park committee, said this project would not have been possible without the City and the mayor's help.
In his research, Rejebian found that Smith Park was one of the earliest parks opened to African Americans in the late 1800s. "When you look at other parks around the South in that period of time, in New Orleans for example, those parks were closed to African Americans," Rejebian told the Jackson Free Press. He said he found minutes detailing that Smith Park was indeed open to African Americans, although it was segregated within the park.
"What that told me was that Smith Park has always been a park for everybody," Rejebian told the Jackson Free Press. "That's what we want to try to make it again."
But, in recent years, not many people used the park beyond those who rely on it for shelter and refuge because they have nowhere else to go. Neither Rejebian nor Lumumba want to send the message that they intend to displace people.
"I've heard people question whether this was an effort to move homeless populations out of the park—that's not what this was about," Mayor Lumumba said in an interview. "This is about the park being able to better facilitate the needs of the community at large."
Behind the Name
Rejebian wants Smith Park to become symbolic of downtown's larger revitalization. He hopes private donations will help Smith Park come back to life, which would mirror how the park came to fruition back in 1884. 
Smith Park is the only surviving "public square" from the original city plan by Peter Van Dorn in 1822. Smith, a Scotsman, came to Jackson in 1832 and opened a hardware store on State Street.
In 1854 Smith met Jefferson Davis, then the U.S. secretary of war under President Franklin Pierce who later served as president of the Confederate States of America from 1861 to 1865.
During the Civil War, Smith sent cannons, rifles and other forms of ammunition, and even flew the Confederate flag in his London office. Smith's brother died in a Civil War battle in 1862.
"This loss deeply affected James and cemented his allegiance to the Confederacy," reads Downtown Jackson Partners' "Smith Park Renaissance" plan.
Smith and Davis remained friends, visiting each other throughout their lives.
In 1976, Smith Park was listed in the National Register of Historic Places. The historical marker now in the park calls Smith a "manufacturer, Confederate benefactor and Jackson resident."
In 1884, Smith donated $100 for a fence to be erected around the park.
Rejebian acknowledged the pain that monuments of Confederate leaders cause and supports them coming down. But, he feels that Smith's legacy differs, and he hopes that removing Smith's name from the park does not emerge as an issue.
"He did give money to support the Confederacy like most people who had the means did during that war," Rejebian said. "(H)e wasn't an officer in the Confederate army. He was primarily a businessman who believed in Jackson."
Rejebian said that when Jackson was reeling financially from the effects of the Civil War and had little money, just like it does now, the City looked to the private sector to finance the park. Now, Rejebian hopes a corporation will come forward to donate a new stage in their name.
The mayor said that no one has presented him ideas for a name change to date. "Let's get the park set up first, and then we'll have those discussions," Mayor Lumumba said.
Email city reporter Ko Bragg at [email protected].