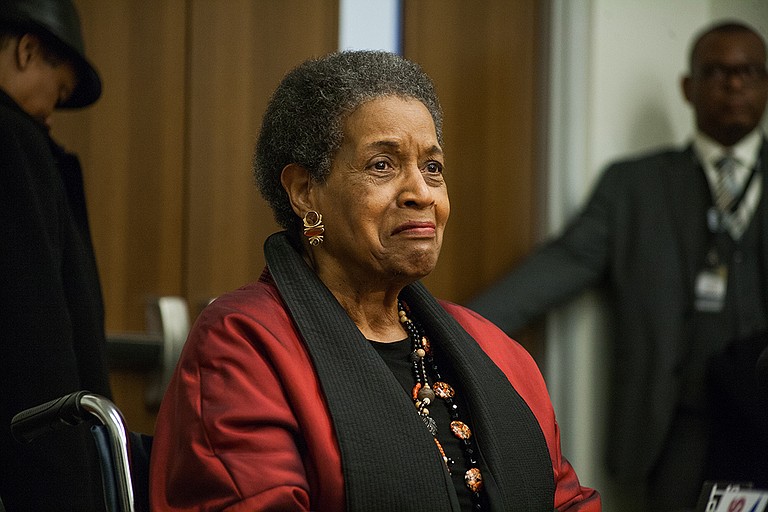 Wednesday, December 13, 2017
Kids bundled up in parkas, one wearing a red "Make America Great Again" cap, leaned against the railing at the Allen C. Thompson Field Air National Guard base; another read Harry Potter while she waited for President Donald Trump to touch down in Jackson. Family and friends of Mississippi National Guard and government workers gathered to greet Trump. Snow still glistened in the sun in fields beyond the runway as snipers climbed up the sides of two of the hangars on the base. Two of Trump's schedulers climbed up on the reporter hitch.
"Looks good, looks really good," one of them said, surveying the tarmac.
Gov. Phil Bryant, first lady Deborah Bryant, Sen. Roger Wicker, Rep. Gregg Harper, Vicksburg Mayor George Flaggs, Pascagoula Mayor Dane Maxwell, and Medgar Evers' brother and Trump supporter Charles Evers arrived at the tarmac at 10:05 a.m. to greet the president.
At 10:13 a.m., Air Force One landed. Trump emerged from the plane to the sound of muffled cheers from the supporters over the sound of the plane's engine.
Trump waved, then fist-bumped the air a few times before descending the stairs. The president spent a little more than two minutes working his way down the line of greeters. Trump then blew a kiss, threw up a fist and got in the car with the Bryants to ride downtown to the two museums.
A 'Full-fledged Agitator'
Across town at the Smith Robertson Museum and Cultural Center, formerly Jackson's first public school built for African Americans, Mayor Chokwe Antar Lumumba and the national president of the NAACP, Mississippian Derrick Johnson, hosted an alternative event to honor civil-rights veterans in the wake of Trump's intrusion. They followed the lead of U.S. Rep. John Lewis, D-Ga., and Rep. Bennie Thompson, D-Miss., who were scheduled to give public remarks, but refused, seeing Trump's attendance as an "insult," their joint statement said.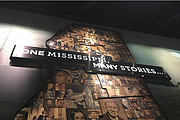 A collection of stories about the Mississippi Civil Rights Museum and the Museum of Mississippi History opening in December 2017.
Civil-rights veterans remained on the stage throughout the event. Dr. Robert Smith, who cared for movement activists and others who had no access to health care, took the stage. So did Amos C. Brown, the president of the San Francisco branch of the NAACP, whose words brought people to their feet.
Brown, a Jackson native, attended Smith Robertson for elementary school. During his remarks, he read from the file the Mississippi Sovereignty Commission kept on him that labelled him as a "full-fledged agitator." He said seeing the mutilated head of Emmett Till in Jet Magazine in 1955 launched him into a life of activism. He ran to Medgar Evers, the newly appointed field secretary for the Mississippi branch of the NAACP, who encouraged Brown to organize a youth council for the NAACP, the first for the association.
In 1956, Evers drove Brown to the NAACP national convention in San Francisco where he met Dr. Martin Luther King, Jr., Rosa Parks, A. Philip Randolph and many other iconic civil-rights leaders, he said. Brown shared a line of King's speech at that conference: "I have a dream that the day will come that all of God's children, from bass black to treble white, will be significant on the Constitution's keyboard."
"Unfortunately, since one Donald Trump made it to that White House, we are not experiencing concord, we are not experiencing harmony," Brown said. "But, we have experienced the jangling discords of hate, discrimination, misogyny, and all of the '-isms' that have divided this nation."
Lumumba said that he had been invited to the opening ceremony, but not allowed to speak, and that he would not be a part of a photo opportunity with Trump.
The mayor characterized himself "as a child of the movement." He thanked Brown for reading from the Sovereignty Commission files, which also kept documents on his father, Chokwe Lumumba.
"When I was 5 years old, when we first moved back to Mississippi," Lumumba told the crowd, "we received death threats on our phone, and I remember hiding in the closet with my sister with a knife. So, once again, Mr. President, we don't need you to tell us in Mississippi what a civil rights movement is about."
Trump's 'Very Big Words'
It was just about as cold inside the Mississippi Civil Rights Museum as it was on the tarmac. Republican lawmakers, museum donors and a sprinkling of civil-rights veterans sat inside its auditorium awaiting Trump. Myrlie Evers, the widow of Medgar Evers, slid into the room at the last minute before remarks began. Charles Evers and Flaggs arrived just before her. Reuben Anderson, the first black judge on the Mississippi Supreme Court and former NAACP defense counsel, opened the private ceremony, and delivered shortened remarks so as not to keep the president waiting. He took the president on a brief tour of the museum and showed him the photograph of Vernon Dahmer's four sons looking at his burned-out home after their father was murdered by Klansmen who firebombed his home when he and his wife were inside. Vernon was a civil-rights activist.
"That story, as I told the president," Anderson said, "tells a lot about Mississippi. We've been through a whole lot, we've seen a whole lot, but we're a forgiving and loving state."
Anderson thanked Bryant for supporting the museums and for inviting the president. Anderson was the only black person to speak to the overwhelmingly white audience inside of the museum.
In his remarks, Bryant expressed how proud he was that the president as well as Ben Carson, secretary of Housing and Urban Development, had come to the private event. In his White House-appointed position, Carson has referred to poverty as a "state of mind" and called people stolen and sold in the transatlantic slave trade "immigrants."
Bryant then brought out "his friend," the 45th president. Trump entered the room to enormous applause and a standing ovation as "Hail to the Chief" played. He first expressed his love for Mississippi, "a great place," and thanked the governor for the invite. He thanked Anderson, "a great man with a great reputation, even outside of the state of Mississippi," Trump said. Then he shifted back to praising Bryant.
"It was hard work, it was long hours," Trump said. "It's a lot of money, and I know the governor helped with that, and that was a great thing you've done. That's a great legacy, Phil, right there."
The president continued with a quick overview of Mississippi history.
"The Civil Rights Museum records the oppression, cruelty and injustice inflicted on the African American community, the fight to end slavery, to break down Jim Crow, to end segregation, to gain the right to vote, and to achieve the sacred birthright of equality here," the president said, reading from prepared remarks. "And that's big stuff. That's big stuff. Those are very big phrases. Very big words."
Listening were John Perkins, a black preacher who organized store boycotts near Jackson in the 1960s and was arrested and beaten by white officers in a Rankin County jail, and Rev. Ed King, a white man who organized the kneel-in movement with Medgar Evers to desegregate churches in Jackson when he was the Tougaloo College chaplain. The president also explained the legacy of Medgar Evers to the woman who knows it better than anyone.
"We are deeply privileged to be joined today by his incredible widow—somebody that's loved throughout large sections of our country—beyond this area," Trump said. " So I just want to say hello to Myrlie. Myrlie. Where is Myrlie?" He paused to search the crowd for her, while the audience applauded and stood for her.
After his speech, Trump shook people's hands in the front row before being whisked away barely one hour after touching down in Jackson to return to his resort in West Palm Beach, Fla.
Somewhere between Bryant's tweet that Trump "agreed to speak at the opening" and the announcement of Thompson's and Lewis' boycott, the plan shifted to Trump staying out of the public eye, while people waited for the ceremony to start outside.
'Journey of Redemption'
While Trump left out a back entrance, Boy Scouts lined up in front of the two museums, creating a makeshift runway for speakers to walk around the perimeter of the courtyard to get to the stage. Two Trump supporters cheerfully took photos and did interviews with national reporters.
Bryant, House Speaker Philip Gunn, Lt. Gov. Tate Reeves and private ceremony attendees went outside for the public one. There were plenty of seats to choose from in the audience, and many never filled even once the ceremony got underway.
Former Gov. Haley Barbour, who convinced Bryant to commit to the project, was also absent. Mississippi Department of Archives and History Director Katie Blount said Barbour was stuck in Atlanta due to the snow. Anderson continued as master of ceremonies, introducing predominantly white speakers, including five Republicans.
Bryant, the first speaker, closed his remarks by reading from "Amazing Grace," which he said was "so fitting for these times, written by a former slave trader in 1773, it records a spiritual journey of redemption."
Former Gov. William Winter, a long-time proponent of racial reconciliation and public education, also spoke. He said he had looked forward to that day for a long time and was elated to see all of the schoolchildren in the crowd. In just a few months, Winter said, he will turn 95. "Obviously, I've seen a lot happen in those years. We've gone from some very dark times, but today I must tell you I have never been prouder to be a Mississippian," he said.
Then Myrlie Evers, the only civil-rights veteran to speak during the opening ceremonies, stepped to the microphone.
The regal Evers thanked the people who "walked hand-in-hand" with her through stress, turmoil and her period of hatred for her home state of Mississippi.
Initially, Evers said, hearing that there would be two museums, she worried that Mississippi was going back to its old practices of having "separate but equal" venues. But she said Winter had assured her that the two museums, joined by mere steps, are not complete without one another.
"I thought I knew the state of my birth," Evers said to the crowd. "Going through the museums of my history, I wept, because I felt the blows, I felt the bullets, I felt the tears, I felt the cries."
Evers revealed a sense of weariness, despite her making peace with Mississippi.
"Today we are being challenged almost as most as we were when Medgar Evers was alive," Evers said. She encouraged the audience to visit the museums and learn the history of those who cared enough to put their lives on the line.
"Stand tall, be a Mississippian," Evers said. "Stand tall, be an American. Stand tall, in the belief that we have justice, equality, regardless of race, creed or color."
'Keep Living, Keep Living'
After Evers helped cut the ribbon and walked through the museum doors with Winter and a group of schoolchildren, she, Anderson and others spoke to reporters. Anderson said the effort to get a civil rights museum started for him in 1981 at Tougaloo College. He struggled to go through the Mississippi Civil Rights Museum.
"I hate to say this, but I told my grandson this, I can't go through it. It's difficult for me because it's not history. I went through today with the president, and it's unpleasant," he said. "... I am going to get through every bit of it, I've got an exhibit in there myself, but it's not history for me."
Anderson said his perspective on the civil rights museum is different from most Mississippians. "I think these museums are for young people, for my grandson, and what it will show them is separate-but-equal doesn't work. It will show them why Mississippi is 50th in every category. That museum explains Mississippi and where we are today," Anderson said.
Ahead of the bicentennial celebration, many black lawmakers introduced legislation to change the state flag, which contains the Confederate battle cross in its canton. Gunn supported legislative action but did not bring out a bill, saying he did not have the votes. The ceremony was devoid of any banners, save one person who held a Stennis flag throughout the ceremony. There are no flagpoles outside the new museums, which are on the MDAH campus.
"The flag poles are in front of the Old Capitol down the street," she said.
John Dittmer, author of "Local People," dispelled ideas that state funding meant that state leaders sought to intervene with the content. Dittmer said there was never any word from above telling historians and scholars working what to do.
"I don't know of any museum that hits racism so straightforwardly and so hard. When you walk in and see the names of people who were lynched, this is not trying to cover anything up," he said Saturday.
Evers never mentioned Donald Trump by name but said that she sees prejudice, hatred and negativism today she never thought she would see again.
"I'm a little bit weary at this point, but (there is) something about the spirit of justice that raises up like a war horse," Evers told reporters. "That horse that stands with its back sunk in and hears a bell, and I like to say, the bell of freedom, and all of a sudden, the horse is straight and the back becomes stiff and you become determined all over again. And I have to fight for the future of this country, my children."
Evers said she came out of the civil rights museum a changed person.
"I felt the pain all over again. I felt the hope all over again. I felt the determination all over, again, and I came out renewed. ... And if it can happen to me, it can happen to anyone or shall I say almost anyone—and you can take that any way you want," Evers told reporters.
Evers confessed to media that she has fantasized about striking back and getting her hands on a machine gun. "It's not pretty, but it's the truth. ... We can, and we do overcome," she said.
A reporter from Ireland at the opening asked Evers how she learned to forgive.
"It's very difficult—I'm speaking for myself—but I had a great teacher in my husband. We had a discussion one night about some event. ... I never shall forget, I said to him, 'I hate those people.' Medgar gave me one of his looks that could have run chills through your body. And he told me, 'I'm disappointed in you. You should learn to rise above your hatred, and turn it into something positive,'" Evers said.
"My question to him was, 'How dare you say that to me when I see pain and suffering...?' I recall vividly he gave me a look that I would not want to see, and he simply shook his head then walked away, turned around and said something that my grandmother used to say: 'Keep living, keep living, and you will understand. Work for the future. Work for the children.'
"I will never forget that," she said.
CORRECTION: A previous version of the story mistakenly listed Vernon Dahmer as a lawyer. We apologize for the error.
Read more about the new museums at jacksonfreepress.com/2museums.