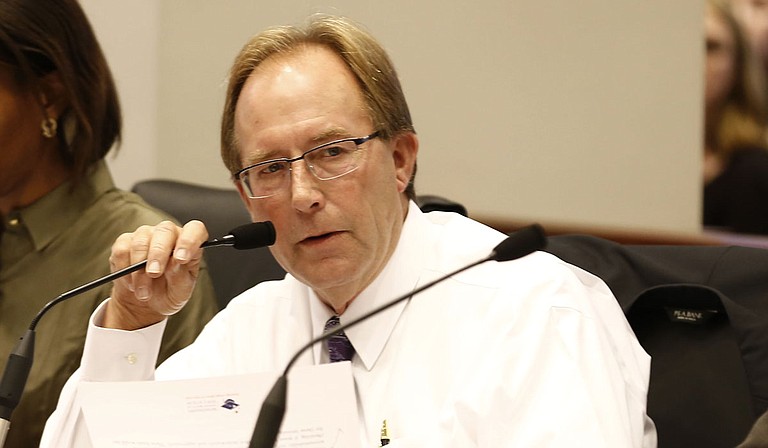 Monday, December 11, 2017
JACKSON, Miss. (AP) — A key Mississippi legislator who resigned Sunday was facing sexual harassment allegations, the state's House speaker says.
Speaker Philip Gunn said Monday that multiple women had complained about John Moore, who resigned from a House seat in Rankin County. Moore, 63, had chaired the House Education Committee for six years.
Moore, who underwent heart bypass surgery earlier this year, cited health reasons in his resignation letter Friday. The Brandon Republican said Monday that he knew of no complaints against him and was "blindsided" by the claims.
"(Gunn) told me something about complaints — or a complaint — I don't know who would make a complaint, much less multiple," Moore told the Clarion Ledger.
Gunn, though, said Moore knew about the investigation.
Since a spreading nationwide reckoning with sexual harassment and misconduct began in October with allegations against movie studio boss Harvey Weinstein — who was fired from the film studio he co-founded — this is the first such case to touch the Mississippi Legislature.
Other prominent figures have recently faced allegations of sexual misconduct. TV news hosts Matt Lauer and Charlie Rose were fired. In Congress, U.S. Rep. John Conyers of Michigan and U.S. Sen Al Franken of Minnesota have announced their resignations.
Mississippi's executive branch has wrestled with sexual harassment allegations in recent years. Last January, Gov. Phil Bryant ordered all state employees to take a 30-minute online sexual harassment prevention course. Bryant did so after former employees sued the Bureau of Narcotics and the Office of Homeland Security alleging sexual harassment. Those suits were settled for $25,000 and $75,000, respectively.
Gunn's spokeswoman, Meg Annison, said Monday that an investigation was "imminent" before Moore resigned. House rules say the body's Ethics Committee can receive written complaints from "any citizen" about "improper or unethical conduct" by any legislator, officer or House employee. House officials won't discuss how many people filed complaints, when they filed them or the nature of those complaints. The Legislature is not subject to Mississippi's public records law.
"These women have shown great courage, and I respect their concerns for their privacy," Gunn told the Clarion Ledger. "We operated with the comfort level of the accusers in mind and moved at a pace they were comfortable with, and at the same time followed advice of counsel."
Gunn said Moore's resignation ended the House's inquiry which lawmakers had intended for lawyer Timothy Lindsay to handle. Any further claims would have to be pursued in court, Gunn added.
Lindsay provided sexual harassment prevention training last year to House members and staff. Gunn said the training will be offered again when the upcoming legislative session begins Jan. 2
Gunn said he has not received and is not aware of any other complaints of sexual harassment in the House since he became speaker in 2012.
Kelly Riley, executive director of teachers' group Mississippi Professional Educators, said it's only fair that Moore face scrutiny, noting that Mississippi public school teachers are subject to investigations and possible loss of their teaching license
"Just like teachers being accountable, legislators should be held accountable," Riley said.
Moore adamantly opposed Initiative 42, which would have required legislators to follow state law and fully fund the Mississippi Adequate Education Act. He told the Jackson Free Press in February 2016 that public-school teachers who supported the initiative, which failed after a contentious campaign, were used by MAEP supporters "like a cheap rug."
The allegations were first reported by Mississippi Today, a website based in Ridgeland.
The Jackson Free Press contributed to this report.