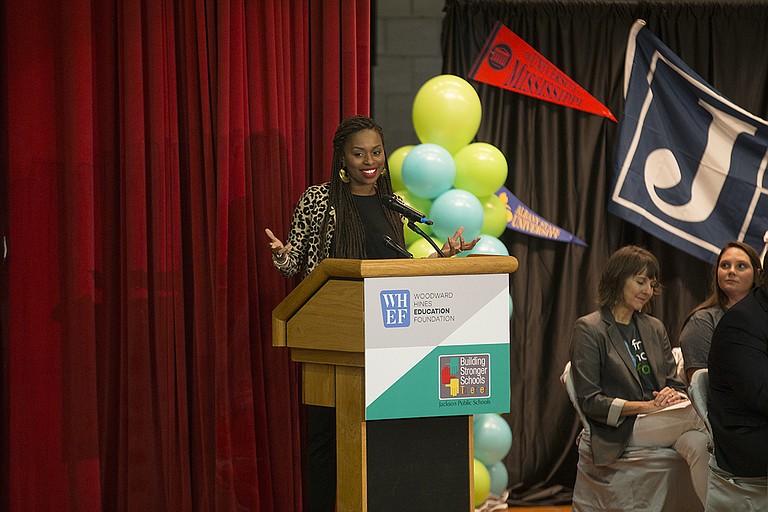 Thursday, August 31, 2017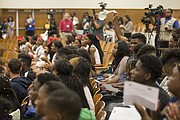 JACKSON — Jackson first lady Ebony Lumumba spoke to Provine seniors on Wednesday morning, encouraging them to pursue their further education and prepare to be the change agents in the world.
"While you are making plans to further your lives as adults, be very clear that there are others making plans as well. Some are planning white-supremacist protests. Some are planning in session right now to prevent your access to health care and education and housing," Lumumba told the seniors on Wednesday.
Lumumba was at Provine to praise high-school seniors for their high rate of federal student aid applications in the 2016-2017 school year. Provine seniors had the highest increase in FAFSA completion for all students in the district.
Murrah, Provine and Calloway High Schools all received $1,000 rewards for their FAFSA completion accomplishments.
"Some are planning to prevent the way you get to spend your hard-earned money," Lumumba said while praising the students for their win. "Some are planning to attack your freedom and your civil rights so regardless of what you plan to do when you graduate from this wonderful institution, you will be graduating into a world that needs serious change. You will be graduating into a world that needs you."
The Woodward Hines Education Foundation received a $55,000 grant last year to boost the "Free Application for Federal Student Aid," or FAFSA, completion among Jackson Public Schools seniors. Get2College, a program of the foundation, partnered with several state agencies and local nonprofits to implement the grant and increase financial-aid applications.
FAFSA completion went up by 7 percent district-wide as a result of the grant.
Kierstan Knaus, assistant director with the Get2College program, said Murrah High School seniors completed the highest total number of applications in the district, while seniors at Callaway High School had the largest increase in FAFSA completion for seniors by the grade date.
"The FAFSA is an extremely important tool to help students get access and money to go to college," Knaus said. "(S)tudents who complete the FAFSA are three times more likely to pursue education after high school."
Seventy-five percent of all seniors across JPS completed the FAFSA in the 2016-2017 school year, which is higher than the state average, Knaus said.
Ann Hendrick, director of Get2College, said the FAFSA is important because it breaks down barriers to getting financial aid for college by meeting important early deadlines so they can get not only federal but also state and university aid.
"It's really important for us to recognize all the partners that participated that we can join together and make Jackson Public School District a true success," she said.
Lumumba challenged the students to plan and prepare for the future.
"Prepare to be the change we desperately need to see in this country and in this world," Jackson's first lady said. "Prepare to fight for what you deserve; prepare to demand that your rights and the rights of others are respected."
Correction: An earlier version of this story said the grant for Woodward Hines Education Foundation was $1.6 million, but that number included all 22 cities who received the grant, including Jackson. The foundation received $55,000 for Jackson Public Schools. We apologize for the error. Email reporter Arielle Dreher at [email protected] and follow her on Twitter @arielle_amara.