Wednesday, August 23, 2017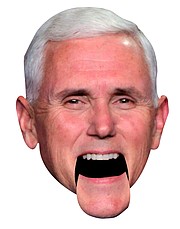 "I'm someone that believes in more monuments, not less monuments. What we ought to do is we ought to remember our history. But we also ought to celebrate the progress that we've made since that history."
—Vice President Mike Pence to "Fox & Friends" on the future of Confederate statues in the U.S.
Why it stinks: Pence's incredibly tone-deaf response about wanting "more monuments" is about as vague as the infamous "all sides" comment. Celebrating the progress the country has made with erecting "more monuments" completely ignores the fact that white supremacy is exactly what has preserved Confederate statues and inspires those that rally around them in the first place. Pence directly benefits from white supremacy, like all white people, but his side-step stance on "remembering" instead of clarifying what should be remembered, like how slavery continues to affect people of color today, is a scapegoat.
Read JFP's archives of historically factual stories about slavery, secession, the Civil War in Mississippi, Confederate monuments, the state flag and more at jfp.ms/slavery.