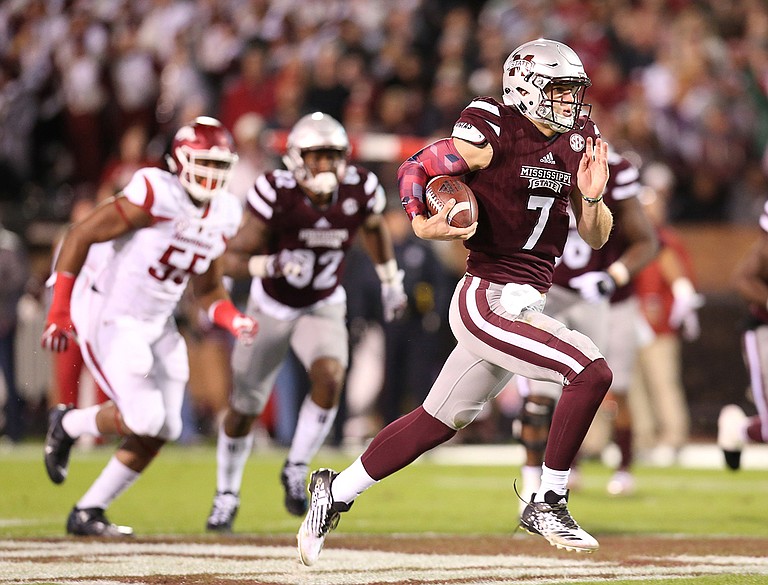 Wednesday, August 23, 2017
Head coach: Dan Mullen (61-42 at MSU, entering ninth season)
2016-2017 record: 6-7 overall, 3-5 SEC record
Radio: 105.9 FM
Stadium: Davis Wade Stadium at Scott Field
2016 Recap
While a good academic progress rate got Mississippi State into a bowl game, the team left wins on the table last season. MSU lost against the University of South Alabama on a missed field goal and to the University of Kentucky when the Wildcats made a field goal as time expired. The Bulldogs lost in double overtime to Brigham Young University, and a slow start cost the team a chance to defeat Louisiana State University.
MSU struggled in pass coverage, the kicking game and trying to get new quarterback Nick Fitzgerald in the groove. But everything seemed to click in the Egg Bowl. The Bulldogs won, which allowed the team to go to a bowl game. The victory also denied their arch-rivals a shot at one.
Season Overview
After Fitzgerald's 1,375 yards last season, there is no question about his running ability. What everyone will question this year is whether or not he can throw the ball after completing just 54.3 percent of his passes.
Fitzgerald will look to returning wide receiver Donald Grey to get the passing game going. If Aeris Williams picks up some of the rushing production, he can help Fitzgerald.
Todd Graham is now the fourth new defensive coordinator in the last four years. But no matter who the DC is, the Bulldogs must do better in pass coverage or produce a pass rush that covers up any deficiencies in the secondary.
2017 Outlook
With just two starters returning, the Bulldogs' offensive line needs to be reworked, but plenty of offensive fire is returning this season, with its top-two leading rushers from last season and all of the receivers except Fred Ross, who graduated.
Graham has plenty to work with on defense, with potential breakout stars in defensive lineman Jeffery Simmons and linebacker Leo Lewis. J.T. Gray could be a major part of the defense since he can play safety and linebacker much like University of Michigan star Jabrill Peppers did last season.
MSU has to find a new place kicker after Westin Graves' career ended due to back problems. His injury led to him missing several big kicks last season, including the game-winning one 
against USA.
The Bulldogs have enough talent to win plenty of games, but only if the quarterback play and pass coverage improves.
Prediction
Some prognosticators think the Bulldogs will be a dark horse in the SEC this year. That seems like a stretch to me, but the team getting enough wins to go to a bowl game is well within reach.
Winning away games against the University of Auburn and to the University of Georgia might even mean that a run for the SEC West title is possible.
This team feels like its ceiling is eight wins and would majorly over-achieve with nine wins. Anything less than six wins means this team is not living up to its potential. Overall, it looks like a 7-5 season.
Schedule
Sept. 2 Charleston Southern; Sept. 9 @ Louisiana Tech; Sept. 16 LSU; Sept. 23 @ Georgia; Sept. 30 @ Auburn; Oct. 14 BYU; Oct. 21 Kentucky; Oct. 28 @ Texas A&M; Nov. 4 UMass; Nov. 11 Alabama, Nov. 18 @ Arkansas; Nov. 23 Mississippi
Find links to the rest of JFP's 2017 College Football Preview here.
More like this story