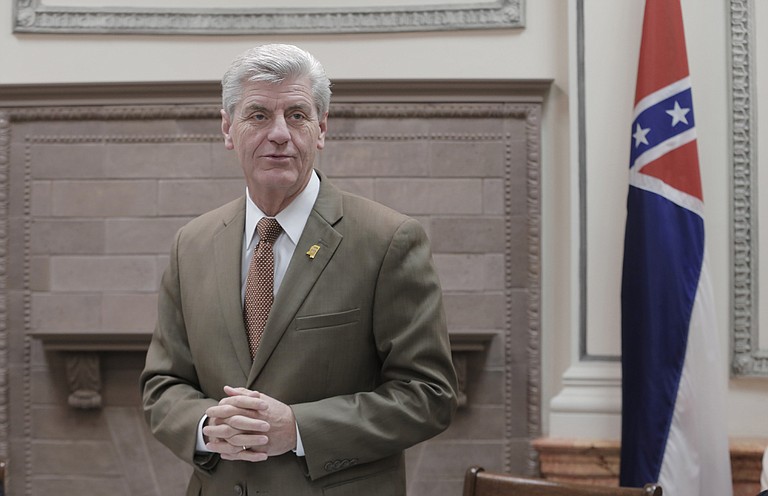 A previous version of this story incorrectly named the UMC Chancellor as David Vitter. His name is Jeffrey Vitter. The error has been corrected.
JACKSON, Miss. (AP) — Physician-starved Mississippi can expect more doctors, more room for medical training simulations and a permanent home some once-scattered resources because of a new building at University of Mississippi School of Medicine, school leaders said Friday.
And med students are happy about it too.
"This is going to be amazing," said Andrew Strachan, a second-year student.
Gov. Phil Bryant, University of Mississippi Chancellor Jeffrey Vitter and others gathered to dedicate the five-story, $74 million structure at the University of Mississippi Medical Center in Jackson.
"The expanded facilities will allow us to continue to grow the class size, which means more doctors for Mississippi," said Dr. LouAnn Woodward, vice chancellor for health affairs and dean of the medical school.
The medical school will expand to 155 incoming first-year students when class starts Monday, growing to 165 students in 2018. But the building has space to grow more, maybe as high as 200 students in each class. The student mailroom has 783 mailboxes, but only 489 currently have names on them.
The Republican Bryant said the new building and expanded classes would be part of his legacy.
With a push to use multifunctional electronic mannequins and other methods to simulate hands-on medical procedures, the medical school's simulation area will burst out of a series of closets and converted classrooms into an entire wing, including an operating room that could actually be used for real patients in a disaster.
Simulation technician Jonathan Sanders said the goal is to increase students' experience before they start operating on real patients.
"If you've done it 10 times on this one, you've got a really good base to roll with," he said, pointing a mannequin that simulates birth.
The school's operations had been scattered across the mazelike facilities of the 10,000-employee medical center. For example, student lab space had been in an old hospital wing. Now the 96-seat lab is the same building as new lecture halls, and is configured to allow for other uses, such as testing.
Plus, there are group and individual study spaces for students, especially those in their first and second years who are trying to gulp down vast amounts of scientific and medical knowledge.
"Before, we always struggled to find a quiet space to study," said Brent Necaise, a fourth-year student who grew up in Kiln.