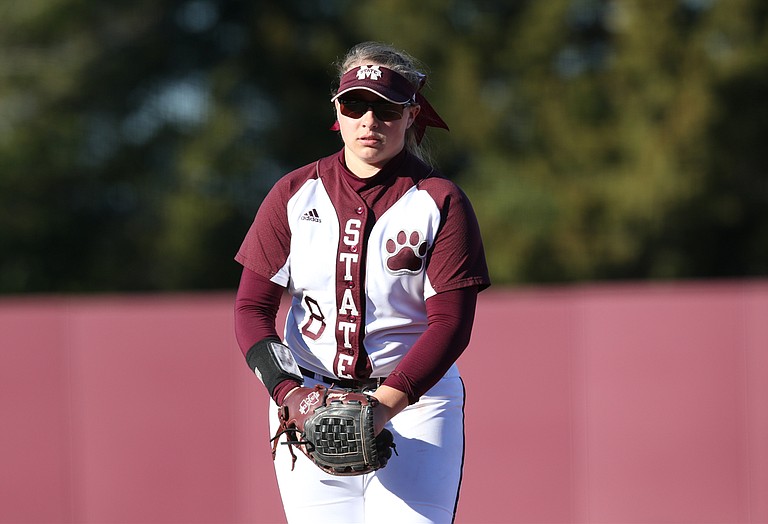 Performing at a high level in college sports is no easy task. It is even harder knowing that, at the same time, your future in the sport is in the balance.
The 2017 National Pro Fastpitch Draft took place on Monday, April 24, the same day as Mississippi State University's third and final game in a series against the University of Arkansas. MSU pitcher Alexis Silkwood didn't let that distract her from painting a masterpiece on the mound.
After the teams split the first two games, Silkwood took the mound and went seven innings with two strikeouts. She limited the No. 24-ranked Razorbacks to just eight hits, helping the Bulldogs pull out a 4-3 victory.
The win moved the senior from East Alton, Ill., to a 14-5 record for the season, as she pitched the 50th complete game in her career. MSU also won three consecutive SEC series for the first time since 2014.
While Silkwood pitched the Bulldogs to a victory, the Akron Racers selected her with the 24th overall pick in the fifth round. She is one of seven SEC players that teams drafted this year, and is the 13th MSU player that a team has drafted. Iyhia McMichael became the school's first NFP-drafted player in 2004, also playing for the Akron Racers.
Silkwood made her way to Starkville after an impressive career at Marquette Catholic High School. She left the school as the career leader in wins with 124, strikeouts with 1,907, shutouts with 100 and no-hitters with 54, and was second in perfect games with 15.
As a freshman in 2014, she made an instant impact, finishing second on the team with 167 strikeouts and 153.1 innings pitched. Silkwood appeared in 36 games with 20 starts and threw nine complete games.
She added more to her duties during her sophomore season and appeared in 47 games with 35 starts as pitcher. She spent time in right field for the MSU defense, as well, and became a dangerous hitter, posting a .341 batting average with 28 hits and 17 runs scored. 
The 2016 season was a struggle for the Bulldogs, as they went 21-36 overall and 3-21 in SEC play. Silkwood made 24 appearances with 20 starts but only posted four wins with a 3.10 ERA.
However, MSU bounced back in her senior season with a current record of 34-15 and 8-10 in SEC games. Silkwood boasts a 1.59 ERA, 11 complete games and five saves in her 36 appearances with 16 starts. She has a .342 batting average with 10 hits, three doubles, two RBIs and two runs scored in her limited plate appearances.
Silkwood is putting her name all over the MSU record books in her final season. She has set the school's all-time record for wins with 58, strikeouts with 542, innings pitched with 642.2, appearances with 139 and complete games with 50.
Next, Mississippi State will try to win its fourth-consecutive series as the team travels to face No. 7 Auburn University. The three-game series begins on Friday, April 28, and ends on Sunday, April 30, with every game streaming on the SEC Network Plus.
Silkwood's new professional team, the Racers, will begin their season on June 1 against the Chicago Bandits. The pitcher will have to put her pro career on hold for a moment if she can help lead MSU to the NCAA Women's College World Series, which also begins on June 1.
More like this story