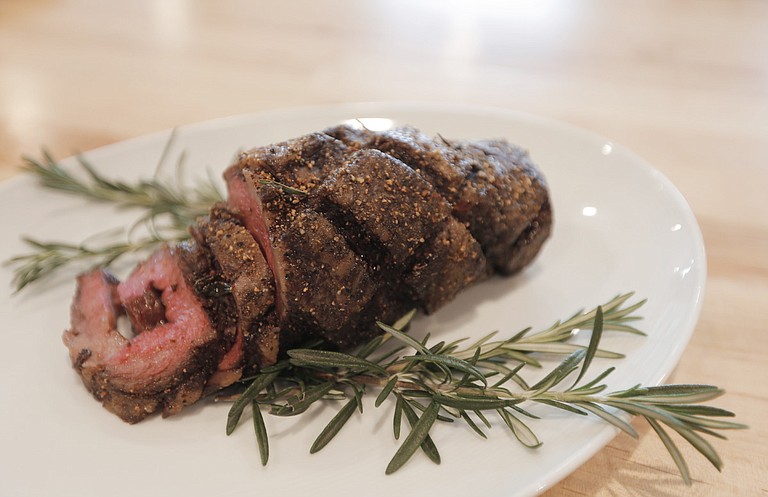 Wednesday, September 28, 2016
David Raines says rain and heat make for great mushrooms.
"In fact, there's a lot of local things in Jackson that a lot of people probably aren't aware of, like pigs, farm-fresh eggs, pottery, artisan sauces and plenty more," he says.
He wants to use all of those elements in his business, The Flora Butcher.
Raines, a professional chef in Madison with more than 14 years of experience in restaurants around the United States and the world, decided to go into business as a butcher with the opening of The Flora Butcher on Aug. 1.
The Flora Butcher is dedicated to locally sourced meat, a variety of hot dishes and a special type of beef called Wagyu that Raines sources from Raines Farm in Monroe, La., which his father, David Raines Sr., has operated for 14 years. Wagyu is a type of beef known for its intense marbling and fat content.
Since opening, Raines says The Flora Butcher has had tremendous success. He says that the shop's blue-plate lunch specials, which feature a different selection of two hot dishes available to-go every day, are especially popular, along with items such as sausage-stuffed chicken, handmade sausage, the Wagyu beef, and the eatery's selection of local ingredients and other items.
"Everybody in town has been appreciative to have us in their backyard, and people from all over Jackson, Brandon and surrounding neighborhoods have been coming in every weekend," Raines says. "We've been doing more take-home food lately than we were at the start, and people have been really drawn to things like our locally foraged chanterelle mushrooms."
Raines' earliest cooking experiences came from feeding friends on hunting and fishing trips, and it eventually became something he fell into doing naturally, he says. While he initially only intended to learn about cooking as a hobby, Raines eventually found that no other profession appealed to him as much as cooking did. He decided to study the art professionally, getting his start at Johnson & Wales University in Denver in 2004. He received an associate's degree in culinary arts in 2006 and went on to ItalCook, a culinary school in Jesi, Italy, that is dedicated to that country's slow-food movement.
Raines says a group of Romans were upset about a McDonald's being built near the Spanish Steps in Rome and the potential loss of old cooking traditions to fast food. "So they started a movement to slow food down instead, and set up ItalCook as a school that would focus on traditional dishes, ingredients and methods, and the idea of knowing exactly where your food comes from," he explains.
Raines then took an international bread-making course at the French Culinary Institute in New York City in 2008, followed by an introductory sommelier course with the Guild of Master Sommeliers in New Orleans in 2010. He also took a butchery and advanced sausage-making course with 4505 Meats, a San Francisco-based company. That course was taught by Ryan Farr, a professional chef, self-taught butcher, author of the book "Whole Beast Butchery: The Complete Guide to Beef, Lamb and Pork" and owner of 4505 Burgers & BBQ restaurant in San Francisco.
"Chef Ryan learned everything he knows through hands-on experience, and he was a great mentor to me," Raines says about the class that changed his approach.
"I had spent time in Australia in 2009 and got the chance to see whole Wagyu cattle brought in to work with, which was one of my first experiences with it. I took Chef Ryan's course later because I wanted to know more, and what I learned from him played a big part in my decision to open The Flora Butcher this year.
"I told my dad about Wagyu beef and suggested he make the switch from regular cattle because I thought Wagyu would be the future of prime beef and something special to bring to the U.S."
Raines has worked at 17 different restaurants in the United States and abroad over the course of his career. It was at a restaurant in Sydney, Australia, called Tetsuya's, owned by Japanese native Tetsuya Wakuda, where Raines first experienced Wagyu beef. He also worked at the three-star Michelin chef Alphonso Iaccarino's Don Alphonso 1890 in Sant'Agata sui Due Golfi, Italy, and celebrity chef Emeril Lagasse's NOLA restaurant in New Orleans. He was the chef de cuisine at R'evolution in New Orleans for two years and at Seafood R'evolution in Ridgeland for a year.
"I'd say the biggest thing I picked up from the really big chefs I worked for over the years, the famous and most successful ones, is just how different they all are from each other, and how each one of them does things their own way and gives it a personal touch," Raines says. "They all personally manage every aspect of their business—the layout of their restaurants, the refrigerators they use, the product they use and how it's delivered, the farmers or hunters they source from—down to the smallest detail, and that makes a big difference.
"It's much harder working for the big guys, but it's worth it because of how much you can learn from them. I've learned to appreciate the ingredients you use and their quality, and to appreciate the sacrifice someone made to get them to you. I learned to appreciate things like molecular gastronomy techniques and traditional cooking methods, and I'm putting it all to use at The Flora Butcher."
The Flora Butcher (4845 Main St., Flora) is open from 10 a.m. to 7 p.m. Monday through Friday and 10 a.m. to 5 p.m. on Saturdays. For more information, call 601-509-2498 or find The Flora Butcher's Facebook page.