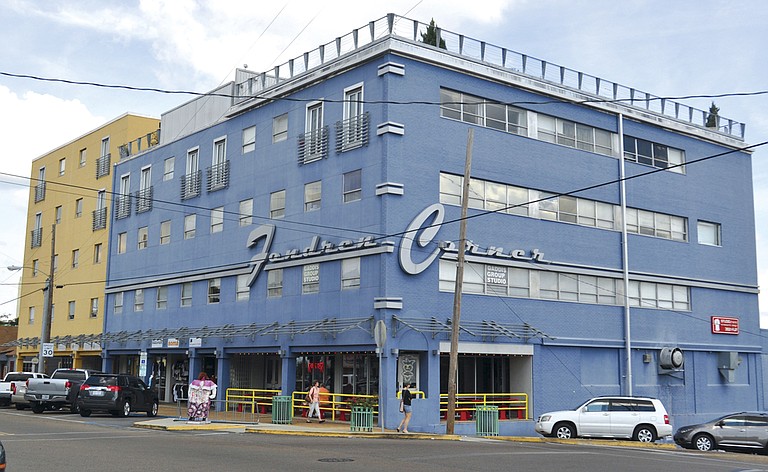 Wednesday, September 21, 2016
The Jackson Free Press has officially been in business for 14 years this week. Yay, us! A lot has changed for the JFP since the early days in a one-bedroom apartment on Fortification Street, and much has changed in Jackson since our first issue celebrating the "Rise of the Creative Class" here. Here are 14 of the best things that have happened in Jackson. We can't include everything we've seen spring up over the years; add yours at jfp.ms/14thbirthday.
Co-working and Business Incubator Spaces
Creativity is abundant in Jackson, and we aren't just talking about the art scene. Some Jacksonians have stepped up to provide spaces for artists and business people alike. Midtown has business incubators The Hatch (126 Keener Ave.), which is home to Mississippi Cold Drip Coffee & Tea Co., and The Hangar (140 Wesley Ave.), which is home to businesses such as the Reclaimed Miles (formerly known as Storied Salvage) and creatives such as fashion designer Kamilah Grim. The Mill (3002 N. Mill St.) in Fondren is home to creatives such as Darrell Trouth, who owns Hard Knocks Revolution, and sports-media production company The Bash Brothers. North Midtown Arts Center is home to creatives such as photographer Charles Washington and claymation artist Azod Abedikichi. The Wonder Lab in Fondren is home to Justin Ransburg, Michaela Fisk and other artists who like to share resources and have a place to work outside the home.
In downtown Jackson, Coalesce (109 N. State St.) is home to business such as The Podastery and Sadie Allen's Apps, and it also hosts 1 Million Cups and other community events. Technology and business co-working space Mantle Co.working (422 Duling Ave.), which is above Duling Hall, is the newest space. If you haven't seen the inside yet, you probably should soon. It's old-school-house cool.
—Amber Helsel
An Arts District, Downtown
Years ago, the downtown arts scene wasn't what it is today. But like downtown itself, the art scene is growing. For one thing, the Mississippi Museum of Art, which was in the Arts Center of Mississippi building back then, Thalia Mara Hall (255 E. Pascagoula St.), Jackson Convention Complex (105 E. Pascagoula St.) and the Arts Center of Mississippi (201 E. Pascagoula St.) are now clustered together in one big artistic explosion. Almost every street in downtown Jackson has some type of public art, from statues to sculpture to painted traffic boxes, which keep multiplying. And even though the arts center is experiencing city-budget shortfalls, like many programs in the city, it is still a great place to host an event.
Thalia Mara was renovated a couple of years ago, adding more seating and pulling in performances from musicians such as Band of Horses, Broadway acts and more, between the every-four-year USA International Ballet Competition (the next one is in 2018) that Jackson is lucky to host. Downtown even just got financing for the Capitol Art Lofts, which will have 31 affordable apartments for artists and creatives in the 200 block of Capitol Street, across from the King Edward Hotel.
—Amber Helsel
Fondren on Steroids
A lot has changed in Fondren over the years, and the JFP had a front-row seat for much of it during the near-decade in our former location, the Fondren Point building (2727 Old Canton Road) building. Wier Boerner Allin Architecture purchased the building in November 2015 and held a groundbreaking ceremony Feb. 18 for the firm's future location. With a fancy new BancorpSouth building going up next door, and needed parking improvements, that part of Fondren is catching up fast to the snazzy developments on the other end of it.
Fondren Corner (2906 N. State St.), a building on the corner of North State Street and Fondren Place that housed the old Mississippi Department of Wildlife, Fisheries and Parks building back when we were writing our business plan, has served as a combination retail and living space since 2003. The building houses Rooster's and Basil's, in addition to businesses such as La Brioche and Swell-O-Phonic. Nearby, two hotels are going in; we're especially excited to see architect-turned-developer Roy Decker's The Fondren, which is being built behind and preserving the retro look of the old Kolb's Cleaners. And over near UMMC, The Meridian apartments are in the process of opening their doors, providing more cool places to live right here in Jackson.
—Dustin Cardon
The District at Eastover
Construction on the complex of shops, lofts and office space continues at The District at Eastover (1250 Eastover Drive) development project this fall; the most recent addition to developer Ted Duckworth's vision is the Residence Inn by Marriot, a 95-suite hotel. It joins the One Eastover Center, new home to the Baker Donelson law firm, Ross and Yerger insurance, and Cosmich Simmons & Brown law firm, a five-floor, 115,000 square-feet office space and accompanying 400-space parking garage, a press release on its website states. In the next several months, developers will add residential loft space, commercial retail areas and even a promised new movie theater to the District, located off Interstate 55 near the Meadowbrook Exit.
We applaud new development and office space so close to downtown and in the open space along the interstate. This is a smart way to keep tax base in the city, and encouraging to see firms relocate within the city limits.
—Tim Summers Jr.
Foodies Unite!
Jackson's food scene is getting more stellar by the year. Of course, that's no secret to those who live in the Jackson metro area and benefit from the wide range of cuisines offered in so many different local spots, including Vietnamese, Indian, Thai, Mexican, Italian, Greek, barbecue, seafood and yes, soul food by the barrel.
From biscuits and fried chicken at Two Sisters' Kitchen (707 N. Congress St.) or rib-tips and oxtails at Bully's famous restaurant (3118 Livingston Road), Jackson has as much soul as the next southern city. If you're into a restaurant's aesthetic, Fondren has got you covered with the animated Babalu Tacos & Tapas (622 Duling Ave.) dining room or the hip interior of the CAET Wine Bar (3100 N. State St., Suite 102).
For authentic Vietnamese hot pots or pho, head to Saigon off of Lakeland Drive, and if you're looking for good Thai, Thai Tasty (5050 Parkway Drive, Suite 7) off Old Canton Road deserves your attention. If you want to try something a little different, go to raw-food restaurant Liquid Light Cafe (224 E. Capitol St.).
But these are just a few favorites: go to jfp.ms/menus and jfp.ms/food for much more foodie news.
—Arielle Dreher
Midtown Rising
After a spike in the arts scene there in the late 1980s, Midtown went into decline, but these days, it's rising again as a small-but-vibrant art mecca. Organizations in the area are also focusing on advancing the quality of education through avenues such as locally run Midtown Public (301 Adelle St.) and neighborhood redevelopment through low-income housing. The neighborhood even has a master plan for its future, which includes reducing the number of through streets (we all know there's a bunch). Find the master plan at midtownpartners.org.
An increasing number of local businesses are located in the area, like Mississippi Cold Drip Coffee & Tea Co., Pearl River Glass Studio (142 Millsaps Ave.) and Offbeat (151 Wesley Ave.). 
 The last Friday of each month, businesses and people in Jackson gather for Final Friday, adding another fun night to monthly festivals such as Fondren's First Thursday and Third Thursday at the Mississippi Museum of Art.
—Amber Helsel
The Music Scene
Quite a few things are inextricably linked to Jackson, for better or for worse, but few are as pronounced as the culture of music the city has long cultivated since Farish Street's heyday as a center of the blues- and soul-music industry in the state.
The current music scene has something for everyone, whether you want rock 'n' roll, folk, country, hip-hop, alt-anything or, of course, the blues and soul that rivals any city in the country.
Local musicians have an array of venues more than willing to host their talents, from venues such as Duling Hall (622 Duling Ave.), Hal & Mal's (200 S. Commerce St.), Fenian's Pub (901 E. Fortification St.), Martin's (214 S. State St.), Offbeat, The Hideaway (5100 Interstate 55 N.) and Big Sleepy's (208 W. Capitol St.) to restaurants such as The Iron Horse Grill (320 W. Pearl St.).
And speaking of Farish, the street has yet to see the full renaissance we've all long dreamed about, but F. Jones Corner (303 N. Farish St.) and Johnny T's (538 N. Farish St.) are important venues that have found a footing there, bringing more life back to the street that was once the center of Jackson's music world.
We look forward to see what Farish becomes in the next 14 years.
—Tyler Edwards
Back to Life Downtown
Upon squeezing through the King Edward Hotel's boarded-up entrance around 14 years ago, I found a dilapidated realm ready for my cautious exploration. Homeless people scurried into hiding as we curious ascended the darkened main stairwell, stopping on every floor, each of which had its own unique color and character, rooms drenched in sunlight through broken windows. It was the perfect place to take photos.
But this was long before iPhones, and analog cameras seemed appropriate for capturing such compelling squalor—and the ghosts of a distant past, the heavily rusted King Edward sign looking out over the city. Other landmarks such as the Standard Life and The Iron Horse Grill weren't much better.
The Standard Life—the best building in our skyline—was coming apart at the seams, and after two fires, the Iron Horse was a burnt-out shell of itself.
In the past 14 years, all those buildings have come back to glorious life after important renovations that have singlehandedly helped downtown Jackson turn a corner. The past is new again.
—Stephen Roach
Art of the Streets
Fourteen years ago, Jackson wasn't as colorful as it was today. William Goodman's mural at the Mississippi Museum of Art (380 S. Lamar St.) wasn't there. The art garden wasn't there; it was a parking lot. Many of the murals in Fondren weren't there. Some of the traffic boxes in downtown and south Jackson hadn't yet become street art in their own right. The mural on the back of The Hatch in Midtown hadn't been 
painted yet.
Fast forward into the late 2010s, and art is everywhere on our streets and in our parks. Fondren has murals such as the one at Walker's Drive-In (3016 N. State St.) and the astronaut and cat mural on top of Montgomery Ace Hardware (2801 Old Canton Road).
The parking garage at City Centre (220 S. Lamar St.) has a mural inside of it, and some artists were recently commissioned to paint more traffic boxes downtown.
Art grows more contagious everyday in Jackson. We like that. A lot.
—Amber Helsel
Loving Our HBCUs
It's a bit hard to believe now, but when the Jackson Free Press launched 14 years ago, Jackson State University didn't feel like the beautiful, open campus it is today.
That has changed dramatically in the years since. The historically black university—and one with a rich history in Mississippi—has built itself into an impressive campus. Start with the multi-level student center (complete with its own Apple store) to impressive co-working spaces in the library outfitted by Barefield Workplace Solutions (251 W. South St.), an actual locally owned place to get cool office furniture and order your supplies.
Across from the student center is One University Place (1100 J.R. Lynch St.), which houses businesses such as The Penguin (closed for renovations right now), Gallery1 and Royal Bleau Boutique, and also has 78 apartments.
It took a bit to come to fruition, but we like what Jackson State has helped do with the Mississippi e-Center (1230 Raymond Road) in south Jackson. The mass communications department moved there, as did Edward St. Pe and WLEZ studios, setting up a collaborative media learning lab with JSU students. The building also has one of the best meeting rooms in the city in its executive conference center. The room is set up for two-way video and data conferencing and presentations and is perfectly set up for panel discussions.
We also like what we see at the private and equally historic Tougaloo College (500 W. County Line Road) on the north edge of the city. In addition to its lovely grounds and historic Woodworth Chapel—the site of so many activities and community building since 1901—we also are impressed with the newer and sleeker Bennie G. Thompson Academic & Civil Rights Center, designed by Duvall Decker Architects and honoring one of the college's more noteworthy graduates.
—Donna Ladd
Maywood Mart/Highland Village
When the JFP started in 2002, many businesses and people were headed for the city's exits. A huge part of that flight was economic—with too many residents of the metro spending their money in big-box stores and proliferating shopping centers surrounding the city, costing the capital city in vital tax dollars.
That's still happening, of course, but now Jackson is pushing back. Hard. The area in north Jackson around Maywood Mart (1220 E. Northside Drive) and Highland Village (4500 Interstate 55 N.), the city's first and historic upscale outdoor-shopping complex, is exploding with businesses. Yes, there are chains, but they're the kind that can bring people into the interesting local businesses near them, rather than allowing customers to buy office supplies, underwear and cereal all in the same store to hurt locally owned businesses.
Whole Foods, of course, was a boon for Jackson in many ways (even though its presence means doubling down on support of local grocers like Rainbow Co-op (2807 Old Canton Road) in Fondren and McDade's locations (including across the street in Maywood Mart and other spots). Whole Foods draws locals back into Highland Village, who will then sample wonderful restaurants like BRAVO!, Char and Beagle Bagel, rather than driving to the suburbs to find a gourmet grocer and then sticking around to eat dinner.
And across Northside Drive, Maywood is more active than ever with McDade's flagship store and its fine liquor/wine store next door, the best local drugstore in town in Beemon's, and lots of other local shops. A Petco is coming in—yes, a chain but better than driving to one in the burbs—and everyone's favorite burrito chain, Moe's Southwest Grill, is ready to open any time.
This commerce inside Jackson is good for the city, and we're thrilled to see it. Don't forget to take care of your locally owned businesses first, though. They're the heart and soul of what makes Jackson authentic, and they invest more locally.
—Donna Ladd
Look Westward
West Jackson celebrated its culinary culture on Sept. 10 with a "Taste of West Jackson" competition, gathering together a host of restaurants that dot the area.
But one business was missing. Koinonia Coffee House (136 S. Adams St,), a local spot known for its popular "Friday Forum" that spotlights local politicians, officials and other speakers, closed in August, but in its place, owner Lee Harper said during her announcement, will be a business that keeps the same community-centered feel. And the weekly must-visit forums where big ideas are shared and hatched. 
 In July, the city also celebrated the completion of one of its rehabbed houses as a part of the Gateway Housing Initiative, an effort that will see more homes renovated in the area of Claiborne Street, Ellis Avenue, and Holland, Houston, Jayne, Macy and Moss streets.
These days, the Jackson Zoo, which is also facing budget issues, is working on fundraising and executing its master plan, just like west Jackson.
For more information, visit westjxn.com.
—Tim Summers Jr.
Spengler's Strip
Speaking of Coalesce, the business is also part of a recent influx of business in the historic Spengler's Corner, which is the oldest commercial building in Jackson. In 1840, Joseph Spengler opened the Spengler Hotel on the corner of Capitol and State streets.
The property stayed in his family for most of the next 100 years. These days, the hotel is gone, but in its place is a growth of local businesses. Eaves Law Firm (101 N. State St.) is located on the corner of Capitol and State. Other businesses in the growing block include Thimblepress (113 N. State St.) and Seabold Architectural Studio (111 N. State St.)—and watch for an exciting new announcement this week.
Considering that you look out across State Street at the Old Capitol Museum (100 S. State Street)—yes, the building where Mississippi seceded to join the Civil War—it's hard to find a more historic strip in the state. It's a nice face-off of the old and the new.
—Amber Helsel
TEDxJackson
If you're ever lacking in ideas or just want to discover new ones, TED Talks are a great way to find one. TED came to be in the '80s as a platform to discuss topics ranging from relationships to art to mindfulness to smart design.
Two years ago, Mississippi got its own version in the form of TEDxJackson, an independently organized event in the spirit of TED. The first year focused on the state's creative economy, and last year's focused on ideas that can help launch Mississippi into the future. Both featured great topics for Jackson and Mississippi, though only time will tell if some of those ideas will come to fruition.
This year's event is different: It's TEDxJacksonWomen, and the theme is "It's About Time." The conference will focus on the demand for women's time and attention, time-sensitive issues that interest women and the urgency needed to bring about positive change. For more information, visit tedxjackson.com.
—Amber Helsel
Coming Soon: The Good, The Bad and the Shameful
Mississippi's history has often been somewhat elusive to residents of the state, often not faced or discussed, shameful as much of it was. Now, though, the state is finally owning its past enough to put it into two museums and open the doors to the good, the bad and the extremely ugly—the state's history.
The Museum of Mississippi History and the Mississippi Civil Rights Museum will open in December 2017 next door to each other in the block between Jefferson and North streets, near the Old Capitol Museum and the civil war monument and the state archives. These museums, which curators promise will not pull any punches, are a major step for Mississippians and visitors alike to better understand the state and, thus, the nation. We can't wait.
Add your own to jfp.ms/14thbirthday.