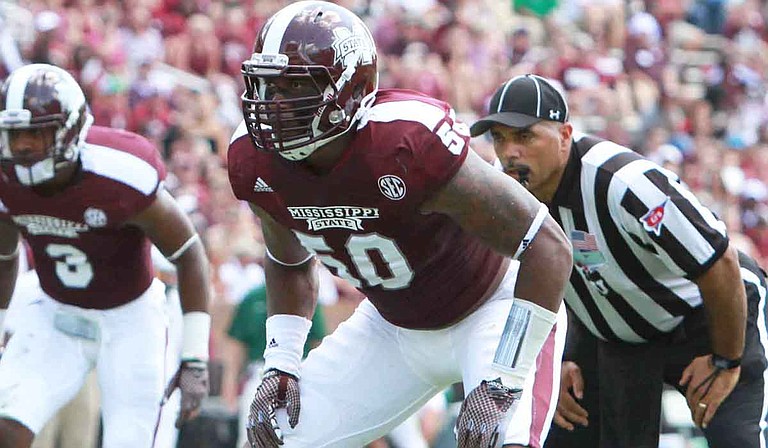 During this NFL season, a ton of attention has been on Mississippi's adoptive son, Dak Prescott. What Prescott has done in six starts for the Dallas Cowboys deserves all the coverage that it is getting right now.
At the same time, a native Mississippi son and another former Mississippi State University player, Houston Texans linebacker Benardrick McKinney, is blossoming into a star on the defensive side of the ball.
The Texans drafted McKinney with the 43rd overall pick in the second round of the 2015 NFL Draft. In his rookie season, McKinney saw action in 14 games and made 11 starts, notching 63 total tackles, 37 solo tackles and one sack.
Anyone who thought the former MSU star would have a sophomore slump made a major miscalculation. In just six games and six starts this season, McKinney has 60 tackles, 29 solo tackles, three sacks and one forced fumble.
In week seven of the NFL season, McKinney is fourth in the league in tackles. He ranks ahead of every linebacker to make the 2016 Pro Bowl except Carolina Panthers linebacker Luke Kuechly.
Before his time with MSU and the Houston Texans, McKinney was the top defensive high-school recruit in the state of Mississippi while playing for Rosa Fort High School in Tunica.
He was more than just a defensive star, though. During his senior season, McKinney played quarterback for RFHS and led his team to a 3-3 record in Region 2 play and the 4A state playoffs. He passed for 1,334 yards and rushed for 702 yards with 2,034 all-purpose yards and 22 touchdowns. He also threw 15 touchdown passes, rushed for seven scores and had 60 tackles on defense.
After high school, McKinney accepted a scholarship with the Bulldogs, becoming the first Rosa Fort player to sign with a SEC school since 2001. He also participated in the North/South All-Star game as a linebacker. MSU redshirted McKinney in his true freshman year in Starkville.
He burst on to the national scene in 2012 as a redshirt freshman. He finished second in the FBS and led the SEC freshmen with 102 total tackles, placing him at sixth in the SEC overall. The Tunica, Miss., native also had 4.5 tackles for a loss, four pass breakups, a fumble recovery and a sack. He earned first-team All-Freshman honors from CBS Sports, College Football News, FOX Sports Next and Phil Steele.
In his sophomore season, McKinney led the Bulldogs with 71 total tackles, seven tackles for a loss of 44 total yards, 3.5 sacks for a loss of 36 total yards and two fumble recoveries. He was named to College Football News' All-Sophomore team.
In his final season as a Bulldog, the linebacker put together his most complete season in college football. McKinney started all 13 games as he again led the team with 71 total tackles, with eight tackles for a loss, four pass breakups, three sacks, three fumble recoveries and one forced fumble.
McKinney earned first-team All-American honors from ESPN, Phil Steele, Sports Illustrated and the Football Writers Association of America. He earned second-team All-American honors from Walter Camp, Sporting News and the Associated Press. Coaches selected him for first-team All-SEC, and the Associated Press selected him for second-team All-SEC.
The linebacker finished as a semifinalist for the Chuck Bednarik Award, the Butkus Award and the Rotary Lombardi Award. After three stellar seasons on the field, McKinney decided to forgo his senior season and enter the NFL Draft.
He left a legacy as one of the best linebackers to play at MSU, finishing his career having played in 39 games with 36 starts in just three seasons. In that time, he had 244 total tackles, 19.5 tackles for a loss, eight pass breakups, 7.5 sacks, six recovered fumbles and one forced fumble. He was also the first MSU linebacker to earn first-team All-American status since Barrin Simpson in 1999.
If you haven't seen McKinney's work on the field, watch the Houston Texans take on the Denver Broncos this coming Monday, Oct. 24, at 7:30 p.m. on ESPN.
More like this story