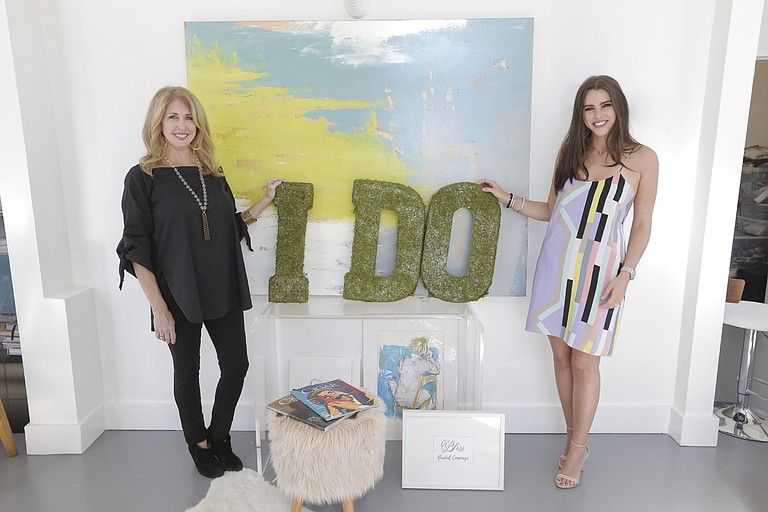 Wednesday, October 12, 2016
Stressed brides may find needed help on the third floor of Banner Hall. There they'll find Bliss Bride, the newest endeavor of Bliss Gift & Home (4465 Interstate 55 N., Suite 102, 601-326-3337).
Bliss Bride is the business' wedding-concierge service. Though the company has always done wedding registry, owner Cathy Joyner decided to take it a step further earlier this year.
"I just saw a need with the brides and their moms," Joyner says. "They get so frazzled looking for all this stuff, and there are so many moving parts to a wedding. We really, from day one, had a mission to make the wedding-planning process as simple and easy for them as we could."
Joyner says Sophie Lampton, who runs Bliss Bride, had essentially a fairytale wedding, so she knew the ins and outs of planning. "She was the best person to do this because she can visit with brides and just ask a few questions and instantly get a feel for the tone they want for their wedding," Joyner says. "... She can help steer them toward options that fit the occasion—(for example), the bachelorette party ..."
"Without making it stressful," Lampton adds. When Lampton attended the University of Mississippi to study psychology, she worked summers for a wedding-dress store in New York City. She graduated from UM in 2013 with a bachelor's degree in psychology. She married Patrick Lampton, whose family was friends with Joyner's family, in December 2015. When Joyner decided to expand Bliss' wedding services, she says Lampton was the perfect fit. Lampton says that she had a great experience in her wedding planning and wanted to show people that it could be fun.
When brides come in for their registry, Lampton introduces them to the Bliss Bride packages, which include discounts on in-store items. The amount, which is anywhere from 10 percent to 20 percent, depends on the level of the package, and the more packages a bride orders, the bigger the discounts. Lampton finds out what the clients want and their price range and then works with them on their options.
The business can do wedding registries, and can also help with gifts for hostesses, bridesmaids and groomsmen, bachelor and bachelorette party gifts, wedding favors and welcome-bag gifts. Some brides can also get custom-designed jewelry from designers in Atlanta and Dallas.
Lampton has done packages for brides and grooms such as a bachelorette-party package with items including a hurricane glass with beverage mix and Mardi Gras beads and a bachelor-party package with items such as a burlap flask and bottle opener.
Joyner says Bliss Bride strives to be a one-stop shop for wedding gifts, but she adds that Banner Hall is essentially a Mississippi wedding headquarters. The Bridal Path, Barnette's Salon and Bliss Gift & Home are on the lower floor; and Tuxes Too and Fresh Ink, which does wedding invitations and gifts, are on the next level.
Lemuria Books, also in Banner Hall, has coffee-table books that make great gifts. For catering, Mangia Bene is also in the building.
For more information, visit blissgiftandhome.com.