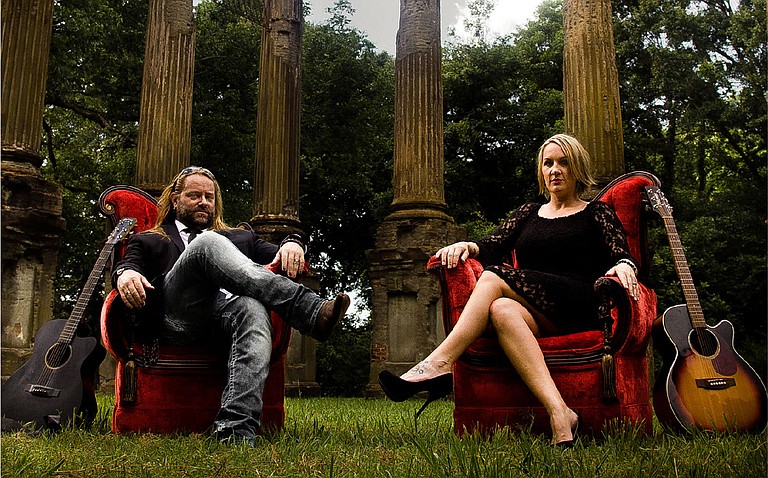 It's been about three years since Brandon, Miss., residents Stace and Cassie Shook began performing as husband-and-wife singer-songwriter duo Stace & Cassie, performing original songs along with a healthy dose of material from popular artists.
However, with their debut album, "The Ruins," which they released Sept. 30, the musicians decided to forgo covering the hits in favor of recording hits of their own. The couple is celebrating the new album with a release party at Pelican Cove Grill in Ridgeland today, Tuesday, Oct. 4.
Cassie says: "We didn't really start playing music full-time until a couple years ago, and that opened the opportunity for us to focus solely on that, and I mean, we love doing cover songs, but we don't just want to be a cover band. We wanted to write our own material and let people see what we have to offer."
The final push to open the door came in September 2015 when Stace stopped by the studio at Malaco Music Group to hear the latest recordings from his friend and fellow Jackson musician Jason Turner. While there, he met Malaco President Tommy Couch Jr.
"We talked for a while, and I asked if I could send some demo stuff, just to get his opinion about it because Malaco is traditionally blues and gospel, and we're not blues or gospel," Stace says. "But that's how the relationship with Malaco started."
A few months later, the Shooks signed a publishing deal with Malaco that would allow them to record an album for the purpose of licensing, ad-placement and shopping the material around to other artists. As they went about recording with engineer Kent Bruce, Couch Jr. informed them that Malaco was launching a new roots-focused imprint label called Old Trace Records. "The Ruins" became the first album out on Old Trace.
"We're just honored to be the first artists to get out the gate there," Stace says. "He signed other people—Ron Etheridge is recording there now, and of course, Jason Turner, and Mark Rodgers, I think—but we were lucky enough to get our CD out the gate first."
Recording the album also opened up more opportunities for the duo to collaborate with some of its favorite musicians from around the Jackson area, including slide guitarist Chris Gill, organ player Scott Turner, pedal-steel guitarist Jay Wadsworth, violinist Ty Maisel (who plays cello on the album), bassist Michael Thorn and drummer Jonathan Alexander, who most local music fans know for his solo acoustic performances.
The process also allowed Stace and Cassie to work with longtime friends Sid Grosshart, Glen Gaines and Katie Boyer, who sang together as trio Grosshart, Gaines & Boyer before Boyer to Nashville.
"They were kind of our first real music family around town, to be honest with you, to the point that on the day they all came and did their vocals, we all went and got matching tattoos afterward," Stace says.
The concept that binds the music on "The Ruins" together arose from the album's visuals. After a series of shoots at old churches and cemeteries throughout Mississippi, the Shooks and photographer JB Lawrence visited Windsor Ruins in Port Gibson, Miss.
Cassie says: "Being at the ruins and seeing them, it just kind of made sense that, at one time, it was such a beautiful mansion, and even though it burned down and all that was left was the columns, it was still beautiful."
It was a concept that applied to their lives, as well, she says. They wrote several songs on the 11-track album years before meeting each other—one song was even 20 years old—and the lyrics often deal with things that she and her husband faced in life that had broken them down. Yet here they were together, stronger for it.
"This being our debut album, introducing ourselves to the world or however far it goes, these are very personal songs, and they're probably our favorite songs that we've written so far," she says. "They all tell stories of how we got to where we are, and how we became the ruins that we are."
Stace & Cassie's "The Ruins" is available now. Stream it on Spotify. For more information, visit staceandcassie.com.