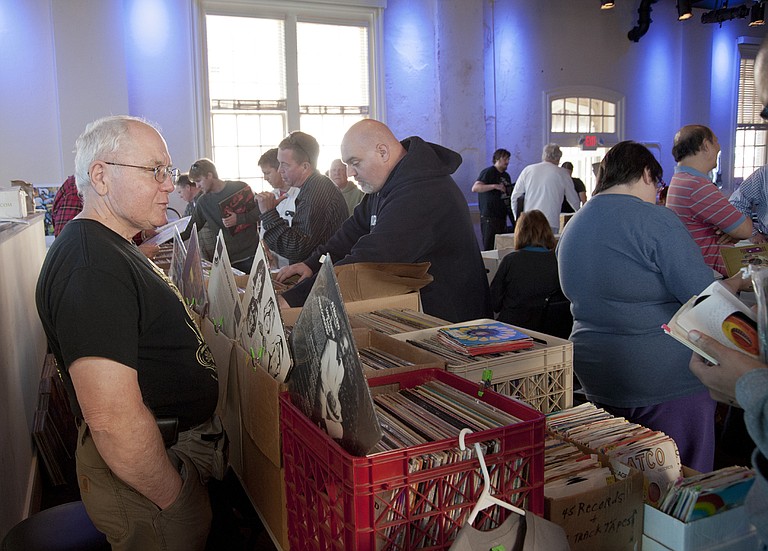 Wednesday, November 30, 2016
When Jay Ferchaud returned my call on a Friday in October, he was equal parts apologetic and ecstatic.
Just before our scheduled interview, he learned that a store in Arkansas had purchased a record collection that one man amassed over 30 years, and there was a lost gem that Ferchaud just couldn't pass up.
"I've been looking for this one for a while," he said after calling back a few minutes later. "It's a band called Toe Fat. They were a British hard-rock band, and they had connections to another band called Uriah Heep. I had a sealed copy of their second album, and I've been dying trying to find their first one."
Collecting vinyl has been Ferchaud's passion for most of his life, starting when his grandmother would buy him Beatles records from the train station growing up. In the late 1960s, his family moved from Chicago to Pascagoula, Miss., where he got a job in high school to continue building his collection of rock albums.
"Whoever knew they would turn out to be a love and a hobby in a big way?" he says. "I don't have as many records as a lot of these guys do. I probably have 3,000 or 4,000 in my collection, but you hear of these collections with 15,000 or 100,000, and it's like, 'Wow. How do they even have room for this?' But I love music, I've always loved music, and it's fun to do research on these bands and find out what other bands (musicians) have been in."
For several years, Ferchaud and his friend Dale Nutt attended Offbeat owner Phillip Rollins' record swap series, 4 the Record, at the North Midtown Arts Center until Rollins discontinued it in 2014. After a year without a record show in Jackson, Ferchaud and Nutt decided to organize their own, launching the inaugural Central Mississippi Record Convention in December 2015.
Following a successful first year, the convention is growing even larger for its 2016 iteration. About 20 vendors from all around the South will be rolling into Duling Hall on Saturday, Dec. 3, bringing vintage vinyl, cassettes, CDs and other assorted products for music fans to check out.
Even with the popularity of shopping online and downloading music, Ferchaud says record shows like CMRC are still valuable as a unique shopping experience and an opportunity to unite people with a shared passion.
While many attendees are on quests to find original vinyl pressings of their favorite albums, he says hundreds of young collectors and first-time vinyl buyers come out to the convention, as well.
"You can find anything at the show from a dollar on up to what I collect, the more expensive stuff," Ferchaud says. "For anybody who wants to hold and have the real thing, you don't have to spend a lot of money to do it."
The Central Mississippi Record Convention is from 10 a.m. to 4:30 p.m., Saturday, Dec. 3, at Duling Hall (622 Duling Ave.). Admission is $3 per person. Early-bird admission is $5 per person and allows patrons to enter at 9 a.m. For more information, visit ardenland.net.