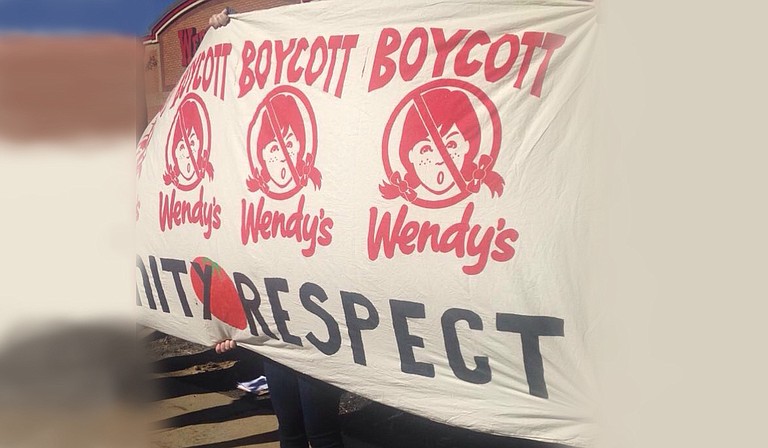 Monday, November 21, 2016
Wendy's on High Street got traffic from more than just the lunch crowd this week. The Mississippi Sustainable Agriculture Network and the Florida-based Coalition for Immokalee Workers brought dozens of activists from around Mississippi and as far away as Florida together at the Mississippi Farmers Market Saturday at the biannual Mississippi Food Summit and Agricultural Revival, and then marched to the nearby fast-food restaurant. The march was in protest of the world's third-largest fast food chain's refusal to participate in the Fair Food Program.
"We're here in Mississippi today joined by dozens of allies here locally to educate people about the conditions in which Wendy's brings the tomatoes that it sells to its customers," said Lupe Gonzalo, a member of the Coalition of Immokalee Workers.
Founded in 1993 and led by farm workers, the human-rights organization spearheaded the Fair Food Program in 2011, which asks corporations to buy "exclusively from suppliers who meet a worker-driven code of conduct, which includes a zero-tolerance policy for forced labor and sexual harassment," a Mississippi Sustainable Agriculture Network press release says. Corporations must also pay a penny more per pound of tomatoes they purchase from their suppliers, which helps pay workers better wages.
Since 2011, buyers have paid more than $22 million into the program.
Gonzalo said Wendy's participation would show commitment not only to better wages for workers, but also respect for the people who farm their tomatoes.
"(Joining means) committing to a code of conduct in which the workers' rights are respected and which has zero tolerance for the worst of abuses including sexual harassment and modern-day slavery, and that the voice of the worker is respected throughout the supply chain, she said at the Jackson protest. She added that farm workers must have the right to speak out against abuses they face without fear of retaliation.
Fourteen major corporations, including Walmart and McDonald's, participate in the program; Wendy's, however, hasn't yet budged, which the CIW says creates a market for less reputable growers. Instead of joining the Fair Food Program, Wendy's left the Florida tomato industry after it signed a Fair Food Agreement, and drafted its own code of conduct for protecting workers that the Alliance for Fair Food called "completely void of effective enforcement mechanisms to protect farmworkers' human rights."
Harper's Magazine wrote this year that Wendy's purchases from Mexican agribusiness giant Bioparques de Occidente, which was the subject of a slavery prosecution in 2013. The magazine reported that workers worked in deplorable conditions without pay, and were "beaten when they tried to quit."
Farm workers are vulnerable to a variety of injustices, especially if they are immigrants, some of whom may not be legally authorized to work. Farmworkers make very low wages; many of them live in poverty. Women, especially, are subject to sexual harassment, but may be too intimidated to stand up for themselves.
Representatives at the Wendy's on High Street declined comment for the story. Wendy's corporate office was not immediately available for comment, but Wendy's did respond to CIW's efforts in June of 2013 with the statement below:
"Wendy's is being targeted by an activist group called the Coalition of Immokalee Workers (CIW) and its allies at other activist organizations.
CIW demands we make payments to employees of the companies who supply our tomatoes from the Immokalee area in Florida — even though they are not Wendy's employees. CIW is demanding an added fee on top of the price we pay our suppliers. However, because of our high standards, we already pay a premium to our Florida tomato suppliers.
We believe it's inappropriate to demand that one company pay another company's employees. America doesn't work that way.
Our responsibility to Wendy's customers is to negotiate directly with our suppliers - not third-party organizations — to ensure our product specifications are met at a competitive price. If our suppliers incur additional labor costs, we would expect them to pass them on to us over time."
Actions by Our Florida Tomato Suppliers
All of the Florida tomatoes purchased by Wendy's supply chain cooperative come from suppliers who participate in the Fair Food Program, which means they have:
Adopted the Fair Food Code of Conduct
Agreed to implement a system of health and safety volunteers, which affords workers regular and structured input into the safety of their work environment
Agreed to an independent and verifiable complaint investigation and remediation mechanism
Agreed to have compliance with the program independently monitored
Agreed to a worker education program conducted on company premises and company time Wendy's supports ongoing efforts by Florida tomato growers to improve working conditions for their workers."
Sierra Mannie is an education reporting fellow with the Jackson Free Press and The Hechinger Report. Email [email protected].