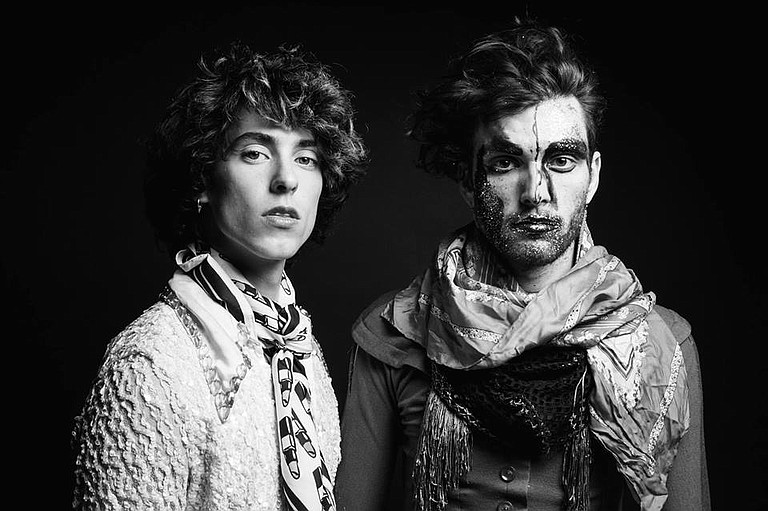 Thursday, November 17, 2016
Ben Hopkins was eating spicy shrimp pasta in a van when a handful of protesters began organizing in front of Big Sleepy's, an all-ages music venue in downtown Jackson. The venue was in the middle of prepping for a much-anticipated show last night, Nov. 16, featuring headliner PWR BTTM, the Hudson, N.Y.-based queer-punk act that the guitarist and vocalist fronts with drummer-vocalist Liv Bruce.
"I saw the tops of their signs, and I said, 'There's no way this is actually happening,'" Hopkins told the Jackson Free Press. "I threw my shrimp pasta to the wayside and proceeded to charge at these men, like, 'Listen, motherf*ckers. You're not going to come into our godd*mn show and do what you want to do.'"
The protesters held signs with phrases such as "You will be cast into the lake of fire," and wore Go-Pro cameras, which Hopkins said is a good sign that someone is hoping to take a punch and file a lawsuit. While some patrons confronted the protesters, others began taking photos and lightening the mood. Local comedian Patrick Jerome, for instance, made a sign of his own that read, "GALGERAN SEES ALL (but he's not a d*ck about it)."
"What was really amazing is that everyone at Big Sleepy's was so rad," Hopkins said. "We ripped up a bunch of garbage bags and f*cking boarded the door over so they couldn't look into the venue. And after we proceeded to collectively, as a populace, read these motherf*ckers to filth, we moved the entrance of the venue to the back. Then, they were just four dumb, stupid guys standing on the street with bad signs and ugly sweatshirts."
The political face of PWR BTTM has always come with the intent to be visibly queer and unafraid in the face of opposition, but Hopkins said they've been privileged living in the Northeast, not having to deal with these situations. However, the protests didn't dishearten the band.
"It's emboldening because it verifies the need to go places and play shows," Hopkins said. "To have queer communities in places like Jackson, which is a dope city, it makes it—like, we could just be preaching to the choir all day in New York or wherever. But there are gay and queer people every single f*cking place in the whole world you go to, no exceptions and bar none. It is a natural thing of humanity, and to play in Mississippi is as natural for us as playing in New York."
For more information on PWR BTTM, visit pwrbttmband.com.