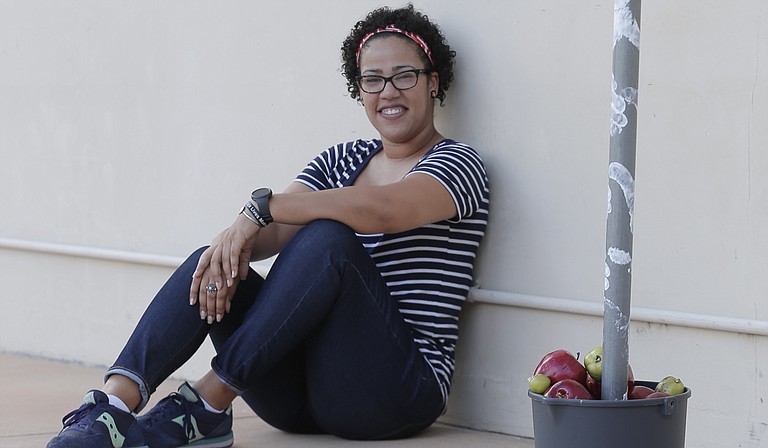 Wednesday, November 16, 2016
Even if you aren't yet familiar with found-object artist Lesley F. Collins, your kids might be.
Since summer 2015, she has been a museum schoolteacher for the Mississippi Museum of Art and helps organize the C3 community art projects. For three years, she also worked as the assistant director of children's services at Stewpot Community Services following many years as a counselor with the organization.
She recently left Stewpot to take a full-time position as an artist at The Wolfe Studios. However, a career in studio art wasn't always the path she planned for herself.
"I actually wanted to be a journalist," she says. "My father was in journalism his entire life, and I just knew that's what I wanted to do. I went to the University of Missouri, and I was like, 'Yes, this is my life. I can't wait.' I got there, and I hated it."
In 2004, after a short time at Missouri, Collins moved back to Jackson, where she had lived while her father, Corrice Collins, worked as a producer for WLBT before relocating to Chicago in 1998.
Leslie decided to attend Jackson State University, but while she knew that journalism wasn't for her, she hadn't figured out what was. Then, one day, her mother, Rebecca Collins, asked if she had considered studying art, and it clicked. She did have one major worry, though. "I went up to the floor where the art department was, and I said, 'Listen. I can't really draw,'" she says.
The art department accepted her anyway, and over the next few years, she honed her skills as an artist and discovered a passion for working with found objects. Collins says that it was a matter of pragmatism at first—"Why buy an 18-inch-by-20-inch canvas for $60 when she could find a door to work on for free?" she asked.
Now, those found objects add to the narrative of her pieces, she says. For instance, one of her recent series centered on political rights. Among other materials, she used soap in reference to the Jim Crow-era literacy tests that white southerners used to keep African Americans from voting. One test question asked the potential voter how many bubbles were in a bar of soap.
Although her jobs with Stewpot and MMA kept her busy, Collins says they also taught her important lessons that she applies to her artwork, such as the patience to wait until a piece is truly complete.
"There's art everywhere," she says. "One of my professors once told me, 'You'll have jobs, and you'll have jobs that help you make the work you want to make.'"
To learn more about her art, email 
[email protected].