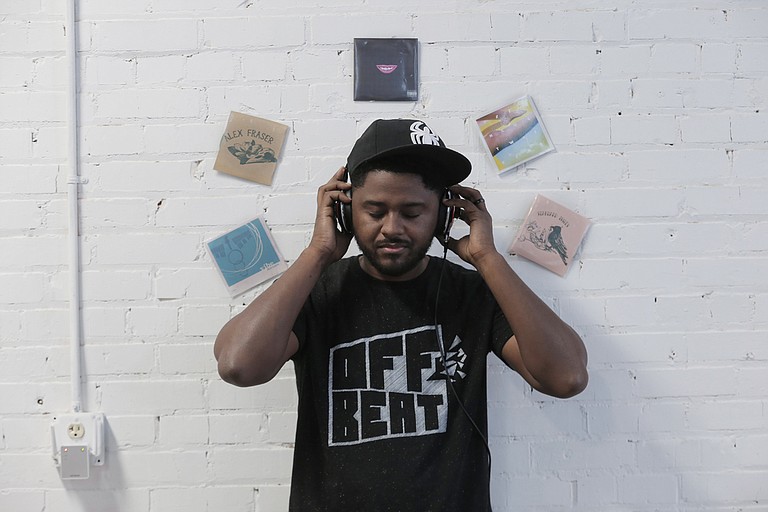 Wednesday, November 16, 2016
Stepping inside midtown-based record, comic-book and collectibles store Offbeat, you'll notice plenty of products that come from all over the United States and from different corners of the world, including Japanese manga and toy kits, and paperback comic collections from Marvel Comics in New York and DC Comics in California.
However, Offbeat owner Phillip Rollins has always made a point to provide products coming from closer to home, as well. Patrons can purchase clothing from local t-shirt company Donnie Wahl, artwork from up-and-coming local creatives, and CDs and records from a local-music section.
On many days, customers can catch him playing tracks from Mississippi musicians over the store sound system, and outside of standard store hours, he also hosts live performances to promote regional and touring acts. Unfortunately, playing music doesn't come cheap.
In the United States, copyright laws require businesses and venues to pay fees to licensing companies such as ASCAP and SESAC in order to play music from their recording artists. As ASCAP and SESAC charge Offbeat as a store and a venue, and the prices are rising in the new year, Rollins' fees became overwhelming. The solution would be to buy a subscription for a radio-esque, selected playlist. But that would mean playing local music was off the table.
"I'm all for making sure that artists get paid," he says, "but the long and short of it, the fees are so extravagant that it's like, 'Hell, I can't support the artists locally that are trying to do their thing.'"
Although he was able to negotiate a reduced cost with ASCAP on Oct. 20, the increased fees for both will still compound with the debt that Rollins accrued within his first year of business. When opening the store in 2014, he was working with a business partner, and both owners would have taken equal shares of the operation costs. About six months after Offbeat opened, though, Rollins' partner left the venture, saddling him with far more expense than he had prepared for.
"It put me into a really tight position to where, by accounting and financial people's positions, it's not super bad, but in my eyes, I don't like being in debt at all," Rollins says. "It has me really worried and nervous, and I want to nip it in the bud before it gets to the point where, 'Well, doors are shut down.'"
After weighing his options, Rollins decided to reach out to his friend and fellow deejay, Garrad Lee, to ask if he would organize a fundraiser to relieve some of the financial pressure on the store. As more supporters became aware of the event, "Damn the Man, Save the Offbeat," it grew from a small benefit show to a full-fledged festival.
The fundraiser will showcase local talents in a variety of art forms, from visual to musical to culinary, all in support of Offbeat. Comedian Merc B. Williams will host the evening, with musical performances from hip-hop artists Mr. Fluid, Sir Flywalker, Ray Kincaid and Yung Jewelz, deejays Skratchin' Jackson and DJ Sandpaper, and rock acts Passing Parade and Surfwax. Comedian Patrick Jerome will also perform with special guests.
Beyond music, attendees can expect live artwork from light-graffiti artist T.J. Legler and painter Justin Ransburg, food from chef Tom Ramsey and Jackson State University professor Noel Didla, and a raffle for art pieces and products from local creatives, such as Adrienne Domnick, Eli Childers, Will Brooks, Kira Cummings and Jason Daniels.
"It's kind of amazing to me," Rollins says. "I'm an only child, but I was by no means spoiled. My mom busted my ass to make sure I earned everything, so I was always hesitant to ask for help or ask for money, stuff like that. So when I did, I said, 'All right, I'm going to see what happens.' I don't expect much, but seeing the support that I'm getting is overwhelming to me."
While he says he is grateful to the people offering their time, talent and financial support, he wishes it hadn't come to that point for his small business. He is hoping to improve Offbeat's standing as a safe place for the community and a support system for the arts, but there's only so much he can do to promote it alone, he says.
"With this city, what I've learned is that people take things for granted," Rollins says. "We took Bebop for granted, we took Morningbell for granted, and we lost them. Even when we had Star Comics back in the day, that's gone; the Metrocenter deteriorated for numerous reasons; and these are things that in the back of our heads, we said, 'Oh, these things are going to be here forever,' not realizing that we need to at least visit and buy a Coke or something.
"It's the little things like that that make a huge difference."
"Damn the Man, Save the Offbeat" is from 7 to 11 p.m., Saturday, Nov. 19, at Offbeat (151 Wesley Ave.). Admission is based on donations, with a $10 suggested minimum. Those not attending can still donate at gofundme.com. For more information, visit offbeatjxn.com or find the event on Facebook.