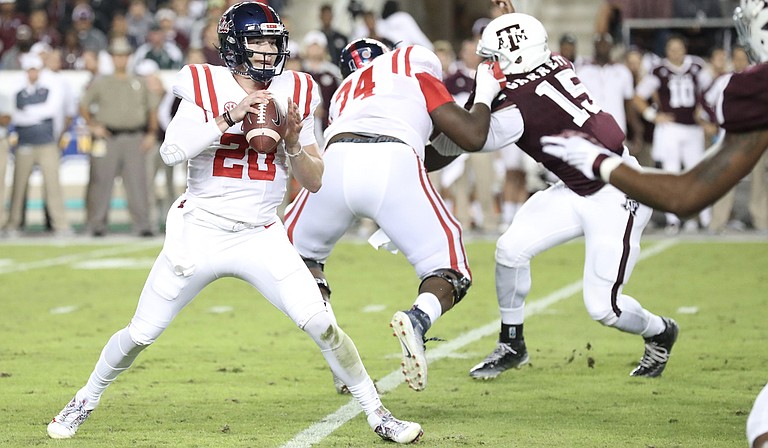 Monday, November 14, 2016
COLLEGE STATION, Texas (AP) — When Mississippi coach Hugh Freeze saw Shea Patterson win a state championship as a high school junior he walked away with a "man crush" on the quarterback.
Safe to say he's still crushing on Patterson after his performance Saturday night.
Patterson threw for 338 yards and two touchdowns in his debut and Gary Wunderlich made a 39-yard field goal with 37 seconds left to lift Mississippi past No. 10 Texas A&M, 29-28 on Saturday night.
The Rebels pulled the redshirt off Patterson, the highly regarded recruit, to start in place of Chad Kelly, who suffered a season-ending knee injury last week.
"I've recruited this kid since he was a ninth-grader and I've kind of always known that he has that 'it' quality," Freeze said. "The guy just makes plays. He doesn't get rattled a lot."
Mississippi (5-5, 2-4 Southeastern Conference) trailed by 15 entering the fourth quarter before Patterson got going.
A 13-yard touchdown reception by Josh Reynolds put A&M up 28-19. Patterson then connected with Van Jefferson on a 32-yard reception for his second TD pass of the quarter to cut the lead to 28-26 with 5:17 remaining.
A&M (7-3, 4-3) had to punt and Patterson moved the offense into position for Wunderlich's winner.
The Aggies had a chance to win it late, but Jake Hubenak had a pass intercepted by Deontay Anderson to secure the victory. Hubenak was making his first start this season in place of Trevor Knight, who injured his shoulder last week.
"I put it on me," Hubenak said. "I think it didn't do a good enough job in the second half."
Early in the fourth quarter Patterson looked like he was channeling A&M Heisman Trophy winner Johnny Manziel when he scrambled to one side, avoided the rush and ran the other way before launching a 6-yard touchdown pass to Damore'ea Stringfellow to get Ole Miss within 21-13.
"It's crazy, my first start — Johnny Manziel was my favorite player growing up," Patterson said. "It's ironic that I get my first start at Kyle Field. It's awesome."
On their next drive Stringfellow reached out with his right hand and tipped the ball with his fingertips before reeling it in with one hand for an eye-popping 40-yard reception.
"There were several key points but that was certainly one," Freeze said. "He's one of the most talented kids I've ever coached ... it was a phenomenal catch."
Akeem Judd's 21-yard run made it 21-19, but the two-point conversion failed.
The Aggies led 21-6 at halftime thanks to two touchdown runs by Keith Ford.
The Rebels had turnovers on their first two possessions of the second half, but Texas A&M couldn't convert either of them into points. Patterson threw an interception on the first one and Jason Pellerin was sacked and fumbled after that.
"They just made some great plays at crucial times and they got one over on us," Texas A&M defensive end Myles Garrett said.
THE TAKEAWAY
MISSISSIPPI: Patterson showed why he was the No. 1 rated dual-threat quarterback recruit by Rivals last year, and should make Ole Miss fans excited about his potential for next season. But first he'll look to get the Rebels a win over Vanderbilt next week to make them bowl eligible for the fifth straight season.
TEXAS A&M: Hubenak couldn't make plays in the second half and the Aggie struggled with tackling yet again. He'll have to improve if Texas A&M hopes to beat LSU in two weeks and salvage this season that started out with six straight wins before the Aggies dropped three of their last four games.
INJURY REPORT
TEXAS A&M: LB Armani Watts was injured in the first quarter and didn't return. Watts had to be helped off the field and wasn't able to put any pressure on his right leg. Texas A&M coach Kevin Sumlin did not give an update on his condition.
KEY NUMBERS
Ole Miss outgained A&M 490 to 342 yards and piled up 30 first downs to just 13 by the Aggies. Texas A&M converted just six of its 14 third-down attempts and was 0 for 2 on fourth-down tries.
"Those two fourth down opportunities ended up costing us," Sumlin said. "The ability to get either three points on either one of those, or a touchdown, in a game like that is a big deal."
POLL IMPLICATIONS
TEXAS A&M: The Aggies will certainly fall a few spots after losing to an unranked opponent. However they might not tumble that far since three teams ahead of them in the poll also lost on Saturday as well as a handful of teams below them.
UP NEXT
MISSISSIPPI: The Rebels visit Vanderbilt next Saturday.
TEXAS A&M: The Aggies take a break from SEC play by hosting Texas-San Antonio next Saturday before wrapping up the regular season against LSU on Thanksgiving night.