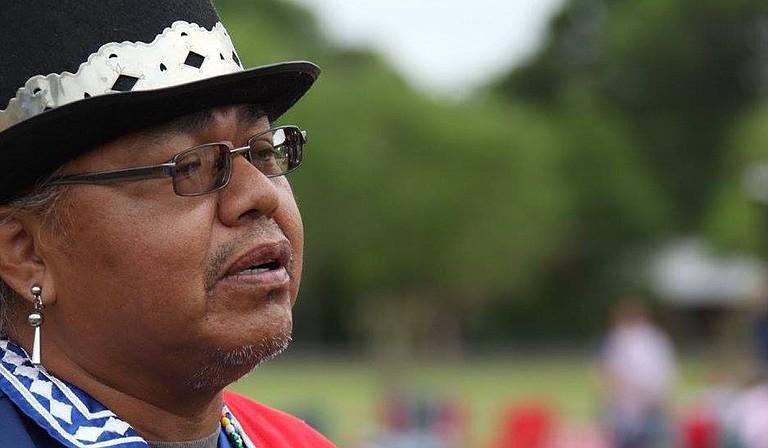 Growing up in Choctaw, Miss., William Dan Isaac often pondered the differences between his way of life on the Mississippi Band of Choctaw Indians reservation and the way that people lived in what he considered the "outside world." After graduating from Choctaw Central High School, he went into the U.S. Air Force and says he experienced many different cultures while there. He says people were interested in his culture and would tell him that it's rare to see a Native American in the air force. After he left in 1991, he began researching and learning more about his culture. Even now, at 48 years old, he continues to learn and spread his knowledge of Choctaw culture with others. One way that he is doing that is through organizing events such as the Native American Heritage Festival, which takes place Saturday, Nov. 5, in Clinton.
Isaac says he sees a need to strengthen the sense of community within the Choctaw nation but also to grant others a glimpse inside the culture, including through events like the festival.
"It definitely broadens people's perspective of what the Native's culture is about, who we are, what we stand for, and all of the customs and traditions," he says. "I want to put a spotlight on traditions that we grew up with and beliefs, and especially the values."
The festival, which coincides with Native American Heritage Month this year, offers educational demonstrations and interactive experiences to teach attendees about Mississippi's Choctaw tribe and also showcases the tribe's Veterans Day Parade on Nov. 10 and the Veterans Powwow on Nov. 11 and 12.
At the festival, the Mystic Winds Choctaw Social Dancers and the Mystic Winds Inter-Tribal Dancers will perform and share information about their customs and traditions. The Southern Pine Drum Group will demonstrate the drumming style commonly heard at powwows, which are Native American community gatherings.
Isaac says that getting to present his culture in Mississippi is an exciting experience for him and the groups involved this year, as they are usually asked to do events outside the state. But it's important to share it with fellow Mississippians, as well, he says.
"A lot of people, even from Clinton, Mississippi, to Choctaw, Mississippi, don't know that we're there," he says. "They may know there's a casino there, but as far as anything else Choctaw, they really may not have been exposed to the culture. They may only know the stereotypes."
Even outside his work on the Native American Heritage Festival, Isaac is helping to improve his home state. For the last 15 years, he has worked as a substance-abuse counselor and a residential counselor of the Choctaw Housing Authority the United States Department of Housing and Development and in October, he accepted a position on the board of the Natchez Trace Parkway Commissioners. He says the tribe has been working on that for a few years because it felt that the board needs input from Native Americans. He hopes to eventually become someone like a tribal historian that people can go to and have an influence in how the culture is taught on and off the reservation..
The Native American Heritage Festival is from 10 a.m. to 3 p.m., Saturday, Nov. 5, at the Clinton Visitor Center (1300 Pinehaven Road, Clinton, 601-924-2221). The event is free and open to the public. For more information, visit clintonms.org.