JACKSON — Jackson's upcoming participation with the federal Violence Reduction Network will open up the capital city to new resources, both monetary and otherwise, federal liaison and former St. Louis Police Chief Dan Isom said during a visit Thursday.
"I've had an opportunity to meet with Chief Vance and his commanders, to do ride-alongs in the city and get a better understanding of what's happening in Jackson," Isom said. "We start with more of an exploration process, where we are trying to figure out what you are doing and how we can wrap our resources around what you are already doing here today."
Jackson Police Chief Lee Vance and Mayor Tony Yarber visited Little Rock a little over a month ago at the invitation of the Justice Department to join the VRN, a network of 15 cities including New Orleans and Little Rock, connected by the federal government in an effort share resources and techniques to curb violent crime.
"One of the best parts about it is we have been given a liaison," Vance said, introducing Isom to the media at a press conference before the weekly Comstat meeting In the police headquarters downtown. "He has been assigned to Jackson as we navigate our way through the huge maze that can be the federal government."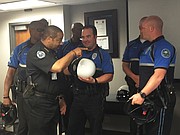 Vance said he recognizes that violent crime in the city is a problem and welcomed the assistance, even as Jackson had suffered its 55th homicide just west of Fondren earlier that same day.
"We acknowledge that, for a city our size, our violent crime numbers are too high, and this administration is committed to finding every possible solution that we can to save lives and persuade the citizens in our city to find other ways to resolve violence than gun violence," Vance said.
However, even Isom could not be specific about what form that help would tak, but said that there were several paths to explore during the two-year partnership.
"We started with meeting with the commanders, thinking about what their goals, their needs are," Isom said. "It could be training. It could be technical assistance, grant writing, a number of different areas that we believe at least at this point, that we might be able to help in."
Jackson reported 44 homicides in 2015, and the number of homicides has jumped to 55 year-to-date so far in 2016.
Homicide West of Fondren
The City of Jackson's 55th homicide victim is Kristin Bennett, 18, shot to death several times in the passenger seat of a white Pontiac Grand Prix around noon yesterday, a police report states. The driver of the vehicle, Wyvonia Bell, 19, survived a gunshot wound to the arm.
The shooting occurred in the 200 block of Gaddis Street just west of Fondren. A patrolling motorcycle officer heard the gunshots and responded to the scene, police say.
"During the course of the investigation, it was learned that the occupants of the vehicle were traveling in the area when an unknown suspect(s) fired multiple rounds into the vehicle. The vehicle came to a rest on Gaddis Street Investigators were able to locate evidence on Dunbar Street believed to be linked to this incident," the release from the police states. "It was alleged the victims were possibly being followed in the area by two females occupying a silver vehicle just prior to the shooting."
The release described the suspect as "a black male standing in the street armed with a gun."
Later that day, JPD released the name of the suspect, through their Twitter account, as Marsalis Townsend, 21, for charges of alleged murder, aggravated assault and shooting in an occupied vehicle. He is, as of Friday morning, still wanted and considered armed and dangerous. Police have not provided a suspected motive.
Email city reporter Tim Summers Jr. at [email protected]. See more local news at jfp.ms/localnews.