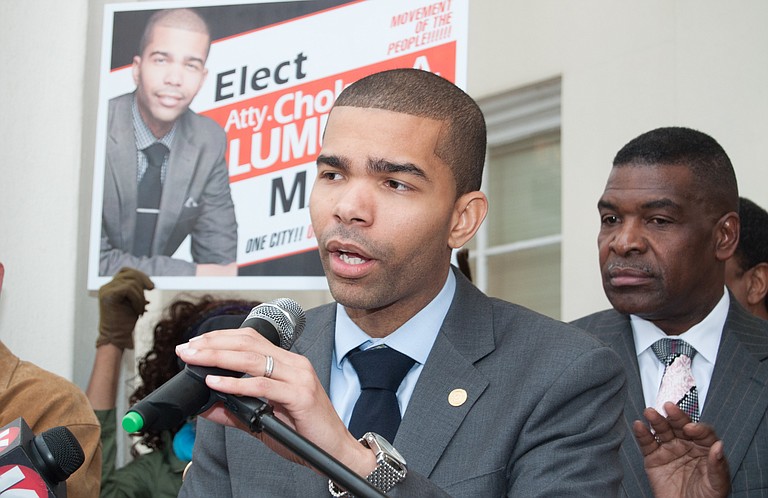 JACKSON — Attorney Chokwe Antar Lumumba is announcing his candidacy for mayor at 3 p.m. Thursday using a "Restoring the Vision: One City! One Aim! One Destiny!" theme. The announcement will on the steps of Jackson City Hall.
Lumumba ran unsuccessfully in 2014 against now-Mayor Tony Yarber in a special election to succeed his father, Chokwe Lumumba, who died suddenly while in office.
"My position has been that I wasn't going to run for the sake of running," Lumumba said in a phone interview on Wednesday. "After the last time a number of people came to me and asked me if I was going to run again, and my consistent position was that I would run if it was necessary."
"And it appears necessary," Lumumba said.
Recently, revelations about the City's budget position, including necessary dips into the ordinance-mandated fund reserve, have led to questions from the public concerning the state of city government. A small group of protesters gathered outside City Hall yesterday right before the City Council meeting to discuss the audit of the city's finances.
The Coalition for Economic Justice members, a spin-off from the community-activist-based Lumumba Center, voiced their "grave concern" over the current leadership.
"We are here today to express grave concern that weak leadership inside of city hall serve as fodder for further attacks by the state, " spokeswoman Iya 'Falola H. Omobola said yesterday.
Lumumba said that while he supported the demonstration, that it was not related to or connected directly to his announcement.
"I am not a leader of that organization," Lumumba said, "but I am a member of that organization. So those people are expressing their sincere discontent."
"Its not a political ploy. It has nothing to do with my impending candidacy. It has everything to do with the state of the city and the state of their lives," he added.
"If there was ever a time where you could justify or understand people's discontent, the time would be now. To suggest that people are doing it for political reasons is disrespectful to everything that they see in their lives."
Robert Graham, Hinds County District 1 Supervisor, has announced his own candidacy for mayor, describing himself as a Jackson native that wants to unify the city.
"You are going to have to have a candidate that can unify Jackson, that embraces cultural diversity," Graham said during a phone interview Thursday. "That wants to make sure that people know that this is not a black city or a white city. This is the capital city."
He also said that he wants to bring those that have moved out of the city back.
"We need to make sure that people that have left Jackson know that you have somebody that will be in charge that wants you to come back. That will ask them to come back, black and white," Graham said, adding that he wanted to bring businesses back.
"My job would be to unify the city, not just to talk about it."
Graham said that as a police officer and past employee of the city, he wants to being a unique perspective to the mayoral office.
"I am the only candidate that would be in the race that has actually worked for the City of Jackson," Graham said.
"If citizens allow me to be their next mayor then they are going to get a little Kane Ditto, a little of Dale Danks, a little of Harvey Johnson, a little of Frank Melton, all wrapped up into one big bow, that's who I am going to be," Graham said.
Mayor Tony Yarber's term ends the middle of 2017.
Email City Reporter Tim Summers Jr. at [email protected]