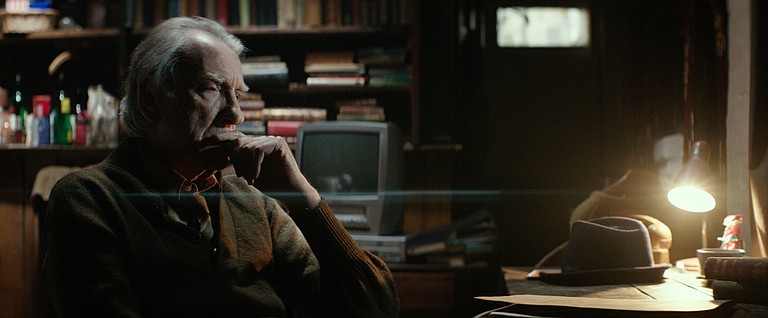 Wednesday, March 30, 2016
London-based filmmaker Mark Lobatto has made some impressive strides in his movie career thus far, and not only because he has worked as the personal assistant to major Hollywood directors, including Jonathan Liebesman on "Wrath of the Titans" and Lilly and Lana Wachowski on "Jupiter Ascending."
While much of Lobatto's work in the industry has been in the blockbuster realm, both projects that he has written and directed have focused less on big-budget spectacle and more on telling earnest, character-centered stories. His latest work, "Blue Borsalino," will be featured in Crossroads Film Festival on Saturday, April 2, at 3:20 p.m. in the "Triumph of the Human Spirit" film block.
"You meet Ernie Child, who is a retired private investigator, and he's got a call from a nurse in a hospital, and his first and only client has woken up from a coma," Lobatto says of the project.
"The story is all about him revisiting his past and meeting her and trying to work out what happened on that fateful night all these decades ago so that they can maybe try to move on with their lives in some way."
The writer-director was first drawn to the idea of writing about an older character, Ernie, and a moment in his past that changed his identity forever.
However, Lobatto says, "Ideas are funny things." While writing, he developed the film's noir edge and, more importantly, its second central character, Jean Delaware, who awakes from a decades-long coma. Olivier Award-nominated Margot Leicester plays the role of Jean, and actor David Warner, best known for films such as "Tron," "The Omen" and "Titanic," as well as successful TV shows such as "Wallander," "Penny Dreadful" and "Ripper Street," plays the character Ernie.
"Character wise, I find it quite intriguing," Lobatto says. "The more experience a person has in their life—so the older you are, in theory—the more you've gone through. I just think that sort of comes to the table with a whole palette of potential painful memories and things like that to draw upon. It's a rich starting point, really, to have somebody sort of in their later years."
Because "Blue Borsalino" also tells a story in Ernie's and Jean's past, Lobatto and casting director Emma Gunnery had to find actors to portray younger iterations of the characters, which meant considering more than just physical appearance. After casting Warner, Lobatto says, the trick became finding someone who could match the elder actor's nuances while also portraying a more optimistic Ernie. For this, Lobatto chose actor Bart Edwards, who starred in his previous short film, "Silent Treatment."
Lobatto says he viewed "Silent Treatment," which also starred actress Lily James of "Downton Abbey" and "Cinderella" fame, as a more compact story, a vignette of a moment between two people that's strength was in its characters' struggle to communicate.
He says: "That's what drew me to that, whereas this one, I wanted it to be more of a way to explore a more diverse story, something that can dip into more than one time period, but beyond that, maybe sort of allow me and other departments to bring in a kind of richness of texture and production design and music."
While Lobatto does plan to develop a feature-length film in the future, he has been proud of his short film work, and both have performed well.
"Blue Borsalino" is already scooping up accolades, including its selection as the best short film and a finalist for the Crossroad Award at the Victoria TX Independent Film Festival, which took place March 17-20. Some people make the assumption that the length of a short film makes for easier storytelling, he says, but there's a unique challenge and delicate balance to the format.
"In a way, there's something tricky about the economy of words and space and time you've got to play with, to explore things," Lobatto says. "Sometimes, less is more, and sometimes, just a person in their space can tell you an awful lot about their environment and surroundings and the person they are now."
Crossroads Film Festival is March 31 through April 3 at Malco Grandview Cinema (221 Grandview Blvd., Madison). For more information and a full schedule, visit crossroadsfilmfestival.com.
More like this story