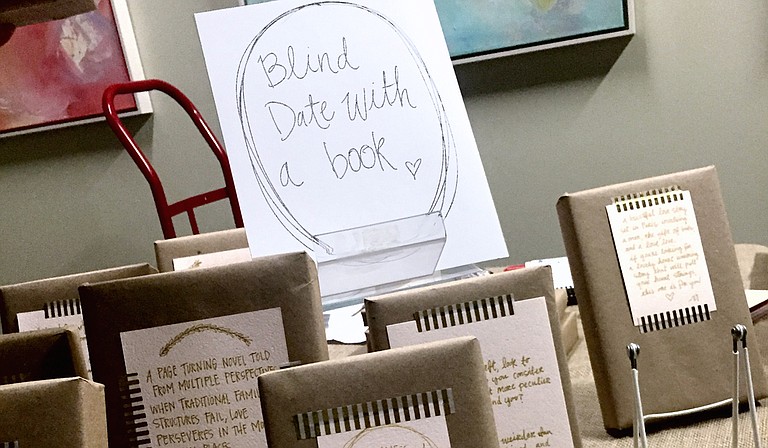 Wednesday, March 30, 2016
I'm violating a self-imposed rule as I write this. It's currently pre-dawn—4:32 a.m., to be precise—and I'm staring at a bright computer screen. I finally implemented the rule after reading over and over again about how screen time interferes with sleep patterns. In the pursuit of a sound night's sleep, if and when I wake up during the night these days, I slather on a face mask, start a load of laundry, and either clean something around the house or read.
While the stack of news, fashion, culture, travel, and food and wine magazines that sits on my dresser provides ample material, this week I find myself actually happy to wake during the night because I'm engaged in a novel that I found thanks to a fun local art event and a creative idea.
One February evening after work, I headed out to the Art Lovers' Soiree, an annual event to connect lovers of art with local artists' works. It's held at the Dickies Building in downtown Jackson each year, and artists fill the space on the first-level of the building as well as the Fischer Galleries space upstairs with their works. There are wine and fellowship and some musicians and lots of art that's really affordable.
And also, in keeping with the theme of creative stimulation and love, Lemuria Books had set up a station at which they were doing a "Blind Date With a Book." Staff members had selected books they had read and love and wrapped them in plain brown paper. On the front, a small card offered a description of what was inside, but you wouldn't get to find out the title or author of the book unless you purchased it.
After perusing the selections, I decided to take the plunge. When I opened my purchase, I found that my book date was a signed copy of "The High Mountains of Portugal" by Yann Martel. I don't know which Lemuria staff member gets credit for being my literary matchmaker, but that person did a great job; the read fulfills on the promise that the description on the paper bag made. I'm only a third of the way through, as the book is divided into three parts—three interlocking tales. I'm devouring the quirks, the vivid descriptions that are both funny and touching, and can't wait to see how the journeys it follows will turn out.
And then, thanks to another cool and creative idea, I can share it with someone else. One day last week, I took a turn down a different street than usual on my way home and discovered a new Little Free Library in the neighborhood. I'm a big fan of these and frequent several around Belhaven and Fondren, so I was excited to find a new one.
For the uninitiated, Little Free Libraries are just what the name says—free book exchanges. Folks build a little house, essentially, in their yard. If you have a book to share, you leave one; if you want a book to read, you take one. Whoever builds the libraries gets to personalize them.
The one at the Eudora Welty House is a replica of the house; the one in the yard of a couple who are both professors at Millsaps is colorful and artistic; the newest one I spotted looks like a farmhouse. And in seeing what books are inside, I feel like I get a sense of who lives in the neighborhood, too. I also find things that I might not otherwise read or books I've wanted to read but never bought.
So, when I finish this one, I may pass it on ... or because it's a signed a signed copy, I may keep it and share something else. Either way, I'm grateful for the gift of reading, to live in a community that promotes it, and for having something other than screen time to lull me back to sleep.
For more information on how to build your own Little Free Library or to join the movement, visit littlefreelibrary.org.