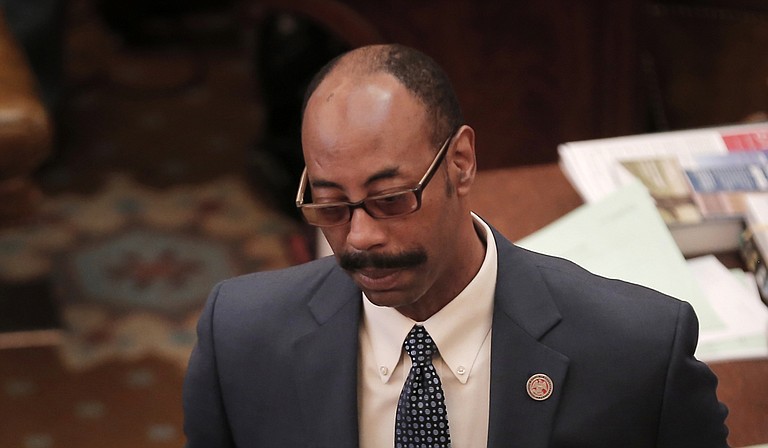 An earlier version of this story stated that Rep. Dana Criswell is from Southaven. He is actually from Olive Branch. We apologize for the error.
Rep. Gregory Holloway, Sr., D-Hazlehurst, believes that public schools are a place where children achieve great academic success. That's why, he says, when he was chairman of the Education Improvement Subcommittee, he did the research that helped mold the Parent Involvement and Accountability Act, which would "grade" parents in C, D or F districts on their involvement in their children's education.
"We traveled extensively out of the state," Holloway told the Jackson Free Press. "We went to high-performing and low-performing schools. We wanted to see what the high-performing schools were doing that the low-performing schools didn't do. We found out that parental involvement was very evident in high-performing schools, and low at low-performing schools."
Holloway's bill received some flack from his fellow representatives. Rep. Dana Criswell, R-Olive Branch, was especially critical. Saying that teachers were, technically, his employees, Criswell said he doesn't believe they should have the "right" to "grade" parents.
But Holloway was steadfast, maintaining that the bill doesn't give actual grades—just a report of "satisfactory," "unsatisfactory" or "needs improvement"—but just to increase communication.
"This bill was not about teachers," Holloway said. "It's about parental involvement and accountability. There are forms children come home with, and if the parent never checks the backpack to see if there are forms, to see if they have homework to do, see if they're physically, mentally (and) socially prepared each day to go to school to learn—we're trying to put teachers and parents together to find out problems."
But an amendment to the bill, authored by Rep. Omeria Scott, D-Laurel, adds a whole new dimension of responsibilities not just to parents and teachers, but also to students. Should the bill become law, teachers would be required to teach children cursive, mandate nightly and weekend homework assignments, and assign monthly book reports per subject—all to students required to dress in school uniforms, among other stipulations.
Holloway doesn't support the amendment, which he says would just add additional responsibilities and duties to the teachers. Scott's amendment to his bill comprises the bulk of her own Mississippi Save Our Children Act, legislation she has tried to see passed several times since 2005, and which died in committee when it appeared this session. The bill, which describes African American children as "out of control" and complains that their parents do not know how to handle them, prescribes the methods added to HB 4 as a way to fix the black community.
"Traditionally, heretofore, she's been trying to get that passed as a general bill for years," Holloway said. "She found a bill that had the code sections in there that she could attach it onto. She talked to the (House) chairman of education, (Rep.) John Moore (R-Brandon), and talked to me about it the day the bill was going to be presented. At that time, I did not have enough time to go through the whole amendment, which is a bill in itself."
Holloway says the bill has gotten a lot of national attention—mostly support from those who agree with its broad concept. With the control of standards by which to assess parent involvement in the hands of the districts, he says, and a repealer in place intended to gauge the success of the program after three years, Holloway has a lot of faith in its passage, but thinks the amendment distracts from the purpose of the bill.
"There's nothing punitive about it," Holloway says. "It's just a wake-up call for parents, just to say, hey, you need to do better."
But "doing better" might be an oversimplification for some Mississippi parents. With cyclical poverty as a barrier to parental involvement and student achievement, some worry that the bill is unnecessarily judgmental to those parents going through a hard time. But Holloway says it was once his reality, too.
"I think that if you go back, years ago, you could put me in that same category, where my father died 10 days before I was born and I had five brothers and one sister, and we didn't have a silver spoon put in our mouth. But, my mother made sure that we did what we needed to do to be successful at school. What parent cannot take the time out to ask their kid in a run of a day, 24 hours—'Do you have any homework today? Did the teacher send anything home? Are you doing what you're supposed to do?' You don't have to do anything but ask questions. It's nothing to do but communicate with your child."
Co-author of the bill, Rep. Kabir Karriem, D-Columbus, says that should the bill return to the House after the Senate hopefully passes it that he would argue against any changes to the bill that might punish parents for receiving an "unsatisfactory" grade. And though he agrees with some parts of Scott's bill—the part that suggests students should know cursive writing so that they're able to sign their names—he doesn't believe that it should take legislation to make it happen.
"There's no cookie-cutter approach to education, and I think once the state recognizes that, the better off we will be," Karriem said in an interview with the Jackson Free Press. "Each district has its own issues to face to make educating conducive to that district. This is just a small step in asking parents to participate in what they (educators) are doing."
Sierra Mannie is an education reporting fellow for the Jackson Free Press and the Hechinger Report. Email her at [email protected]
press.com. For more education stories visit jfp.ms/education.