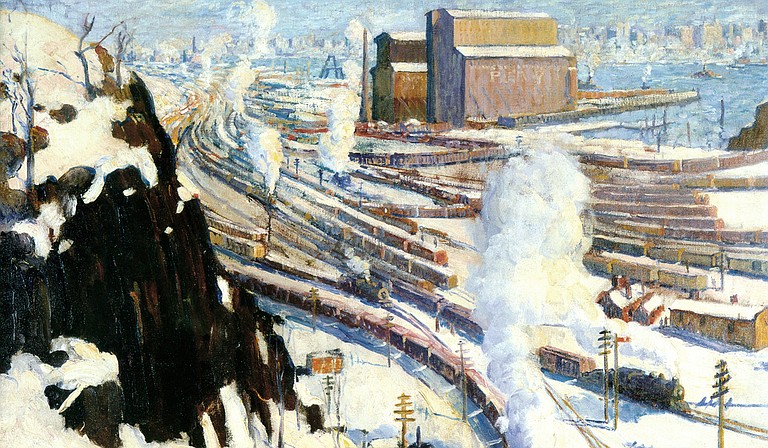 In one of modern artist Leon Kroll's most famous works, "Terminal Yards," plumes of smoke travel up into the air from a train yard. Snow blankets the tracks and ground. A dark mountain accented with snow hovers above the moving locomotives.
Though it may not seem like much at first, the piece, which Kroll created for the 1913 International Exhibition of Modern Art (now known as the Armory Show), was a part of the growing Modern Art movement in the early 1900s. With advances in photography and other technology, artists in that time period had to adapt. They began venturing beyond the depiction of exactly what they saw. While Kroll's work was based more in traditional painting than some of his abstract peers, Mississippi Museum of Art's marketing director, Julian Rankin says, Kroll's variety of modern art still flipped the art world on its head.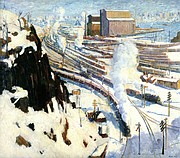 Kroll was an American painter known for his figurative art—modern art that retains a strong real-world point of reference—who helped catapult the world of modern art to where it is today. Born in 1884, he was an important figure in the U.S.'s modern art movement, which took off following the 1913 International Exhibition of Modern Art, now known as the Armory Show, in New York City. The event helped cement NYC as the hub of modern art.
"Terminal Yards" comes to the Mississippi Museum of Art from the Flint Institute of Art in Michigan. as part of the "Leon Kroll's Terminal Yards and Works by Artists of the Armory Show. The Kroll exhibit, which opened Saturday, Feb. 27, is one of those moments.
The Kroll exhibit will be one of several modern art shows the museum will feature this year. This exhibit, which is free to the public, will be smaller and include modern artists, such as Arthur B. Davies, Robert Henri and George Bellows. Rankin says this will contextualize some of the upcoming MMA exhibits, including the traveling art show, "When Modern Was Contemporary: Selections from the Roy R. Neuberger Collection," which will be on display from April 9 through Oct. 30. This show will display 52 different modern artists who surfaced after 1913.
"The Leon Kroll exhibit is all about showing the beginning of American Modernism through the people who were involved with putting on the Armory Show in 1913," Rankin says. "This helped ignite decades to follow of modern art."
Experimentation, Abstract Expressionism and other styles of painting were the center of the modern-art movement. This brought about a shock factor for people during that time. Exhibit attendees will be able to understand this and become more knowledgeable of what modern art meant. Rankin says one reason for the show is to give visitors a timeline or a continuum of the works that were made in the early days of modern art, from 1913 and up to the 1960s.
"For them to actually see a piece that was in the show—for us to be able to make that happen—is a very powerful thing for visitors to experience," he says.
Rankin says MMA's mission is to strike a balance between Mississippi art and other important pieces from around the world. The museum wants its visitors to have the opportunity to celebrate Mississippi and other artists' work.
"People know what modern art is, and some know the names of artists, but often times they are not familiar with the stories," Rankin says. "We want to bring our visitors into the story. The Leon Kroll exhibit will tell the beginning of those stories. This show will set the stage and open it up for our big modern show later on."
"Leon Kroll's Terminal Yards and Artists from the Armory Show" runs through Sept. 4. For more information, visit 
msmuseumart.org.