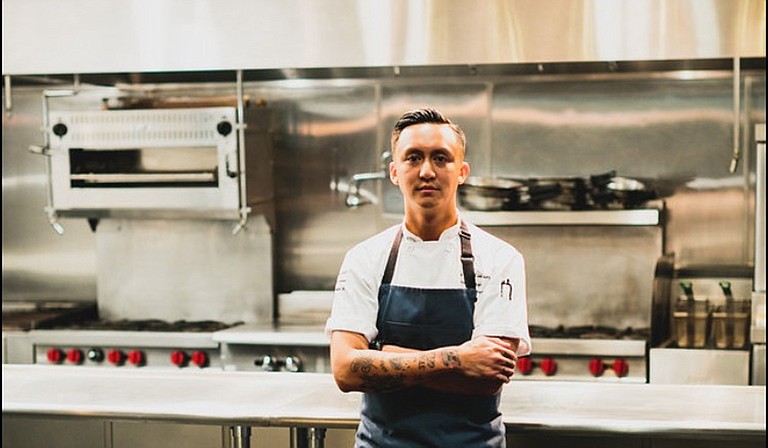 On June 28, Saltine Oyster Bar is hosting its fourth guest-chef dinner since the restaurant's opening.
Jesse Houston first got the idea for this dinner when he went to Ironside Fish & Oyster Bar in San Diego, Calif., to do a guest-chef dinner earlier this year. While there, chef Jason McLeod took him to a nine-chef, nine-course beer dinner that paired dishes with AleSmith Brewing Company beers.
"It was literally, I think, the best meal I've ever had in my life," Houston says. "It was definitely by far the best beer dinner I've ever experienced, just being super well thought out, super well executed. Every little detail balanced and paired beautifully."
One of the chefs at that beer dinner, Phillip Esteban, attended Houston's dinner at Ironside. Houston visited his restaurant, The Cork and Craft, which has a brewery and a winery. There, he met Abnormal Beer Company's brewmaster, Derek Gallanosa. He also visited Mike Arquines at Mostra Coffee, who was one of the chefs at the beer dinner.
"It was really mind-blowing what they're doing with coffee," Houston says.
For example, Aquines, a chef-turned-coffee roaster, ages coffee in bourbon barrels that once held imperial stouts, which Houston says gives the coffee different flavors. Aquines is also the creator of The LAB: Dining Sessions, which is a series of pop-up beer dinners. He has also been working with Esteban.
Houston is pairing with Aquines, Esteban and Gallanosa for Saltine's beer dinner on June 28, which he says will be like nothing Jackson has ever seen.
The menu includes dishes such as oysters with coffee, vanilla and cream paired with a Lucky Town Brewing Co. Saltine Stout; scallops with Zaba, honeydew melon, fennel, sudachi and Hokkaido milk bread with Southern Prohibition Brewing Crowd Control Imperial IPA; and moulard duck with saffron veloute, endive, garlic and a maple-coffee demi-glaze paired with Lucky Town Brewing Co. Hot Coffee and Mostra Coffee.
"There won't be anything like it probably ever again, in Jackson, and there definitely hasn't been anything like it do date," Houston says.
The beer dinner is at Saltine Oyster Bar (622 Duling Ave.) on Tuesday, June 28, at 6:30 p.m. The cost is $60 per person, and the beer pairings are $15. For more information, or to make reservations, call 
601-982-2899.