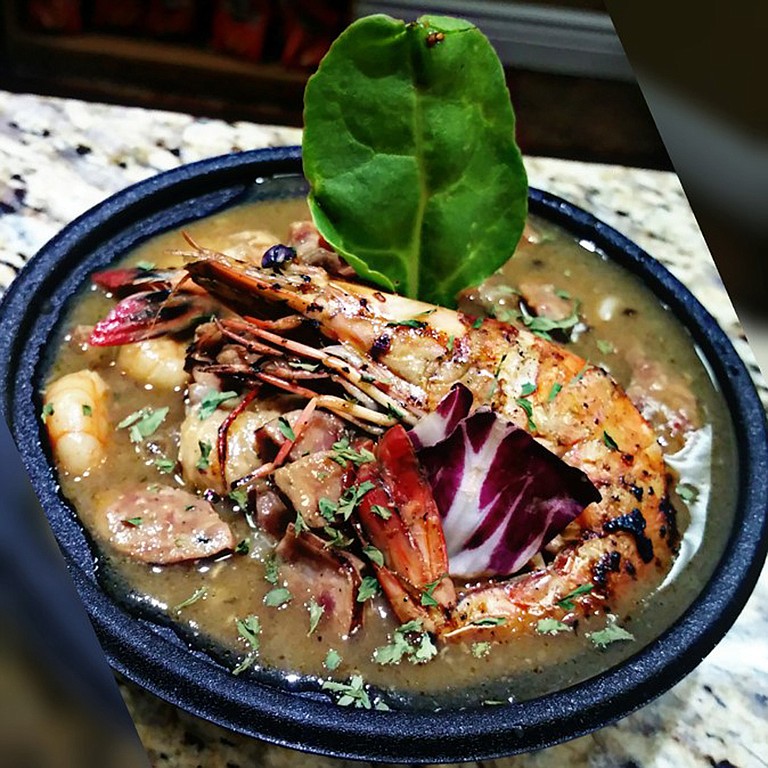 Michael Mosley describes the menu at 1693 Red Zone Grill as multicultural.
"It's New Orleans-style, but I threw a little twist on it," he says. "Italian, French, Jamaican—you can find a lot of everything in there."
After searching for a job in the sociology field fresh off graduating from Jackson State University, Mosely decided to try his hand in the restaurant business. He opened a New Orleans-style grill in Jackson and named it 1693 Red Zone Grill, located off Beasley Road next to Quest Fitness Club and Farm Bureau, five months ago. The 29-year-old is the head chef and owner.
Mosely comes from a long line of cooks in his family and has been cooking since he was 13 years old.
"It's a family thing," he says. "I used to sit, and anybody who was cooking in the kitchen, I use to pay attention to that, and I just pick up that stuff easily."
Most of the men in his family were cooks and chefs, so it was always a challenge for him to cook the best dish in the family.
After graduating from JSU in August 2010 with a bachelor's degree in sociology, he left the metro area to move to New Orleans. While there, he began cooking at various restaurants. Within two years, he began running the kitchen of a five-star restaurant.
Mosely moved back to Mississippi two years later because his wife, Kenita Mosely, wanted to finish college at JSU. After cooking at a few restaurants in Jackson, he says he became even more talented with creating dishes with ease.
"I got to a point when I was like, why not try to do my own thing? I've been working on that for a year, and it finally was able to come through," he says. "... I just love cooking, and letting people taste my creations."
Even if an item is not on the menu, Mosely says he will create a dish just to meet his customers' needs.
He says he is here for the love of cooking, not the material value that his gifts bring. "It's not really about the money for me," he says. "I just love their reaction when they first taste it."
The restaurant has pastas, stir-fry dishes, po'boys, wings and pizza. At the moment, his top - selling dishes include grilled cabbage, jerk chicken po'boys, steak and mushroom Alfredo pasta, and Bourbon Street burger.
He hopes to expand to other locations with his business partner, Willie Moore, who runs Quest Fitness next door, with each new location having a new menu. Through commercials, radio, social media and word-of-mouth advertisement, the restaurant has gained local and national popularity.
"A guy ... came in from Brandon, said he's been hearing about this place down there," he says. "People come in from south Jackson. (A few weeks) weeks ago a lady came from Portland. She just Googled a good place to have lunch, and this popped up."
For more information, find 1693 Red Zone Grill (1693 Beasley Road, 769-524-6803) on Facebook and Instagram or visit 1693redzonegrill.com.