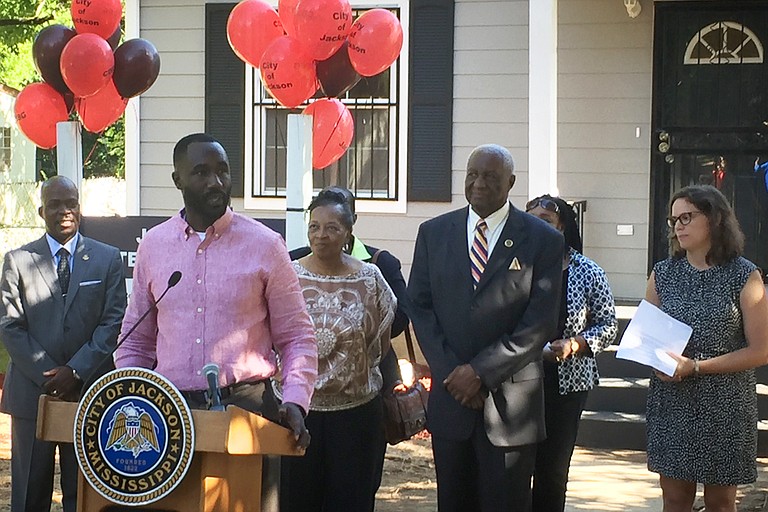 JACKSON — Bobbie Clay of west Jackson received a birthday present that is hard to top: a rehabilitated home.
"I am so excited that I can't hardly talk today," Clay said, standing in front of her Jayne Avenue home. "I would first like to say 'praise the Lord,' and I thank the Lord for the opportunity to see so many people come out and support me."
"I am so nervous, y'all," Clay said. "But I am so thankful."
Mayor Tony Yarber was on hand to congratulate not just Clay on the home, but the parties that worked together to make the Gateway Housing Initiative possible.
"With so much going on around the city, and the state, and the country, I think that today's opportunity to celebrate reinvestment in the community that was once thriving, and a community that has seen so much disinvestment happen," Yarber said. "I think that this is a real good time to pause in the midst of all the trouble and turmoil that we are seeing around the country, even with our neighbors to the west of us, just to celebrate."
Yarber explained that the Gateway project, with a $4.1-million total budget, was an effort between the City of Jackson Department of Housing and Community Development, the U.S. Department of Housing and Urban Development, the local nonprofit Green & Healthy Homes Initiative, and the Mississippi Housing Partnership. Clay's home is one of the nine in this stage of development, and the budget was divided up among the homes.
The Gateway Housing Initiative concentrates investment in the Capitol Street area. This first part of the project focuses on Claiborne Street, Ellis Avenue, and Holland, Houston, Jayne, Macy and Moss streets. The target participants for the program include families and individuals who qualify for housing assistance.
"We said that we wanted to make a significant investment in west Jackson. We wanted to do that to make sure that we were able to touch the lives of people who could feel that impact, immediately, right away, and what better way to do that then through housing," Yarber said.
"Today we are here to celebrate the first of many house rehabilitations, not just rehabilitations, but these are homes that people are actually living in," Yarber said. "What better birthday present than to move into your brand-new, renovated home."
Eric Jefferson, the head of the Planning and Development Department for the City, explained that soon the City would be accepting applications for more housing projects like Clay's.
"So we have this first house that has been completed as a rehab project," Jefferson said. "We have four more that are currently under construction. We hope to complete all nine of these by the end of the year."
"We are really excited about it," Jefferson said. "We think that we are off to a great start."
Jefferson said he was not sure how much of the $4.1 million was spent on Clay's house. The funds, he explained, were federal funds that included a matching element from the City of Jackson. The mayor introduced Donnetta McAdoo, director of community planning and development in HUD's Jackson office, describing her as Jackson's "aunt in church" who on the one hand scolds and on the other sometimes gives a sweet treat for good behavior.
"It's my pleasure to say that it is not only our mission, but it is our passion to partner with the City, the nonprofit organizations that we are privileged to be partnered with," McAdoo said. "We look forward to moving forward with the city."
McAdoo took the mayor's metaphor to explain that HUD's somewhat tumultuous relationship with the Jackson, including issues with Farish Street development.
"As the mayor so graciously said, sometimes it is the role of a loving aunt who will give you the peppermint and say, 'Look alert. Let's not let anything slip through the cracks,'" McAdoo said.
Email city reporter Tim Summers, Jr. at [email protected]. See more local news at jfp.ms/localnews.
CORRECTION: This story has been edited to reflected a correction with the name of nonprofit organization Green & Healthy Homes Initiative. It is not called the Green & Healthier Homes Initiative, as a previous version stated. The Jackson Free Press apologizes for this error.