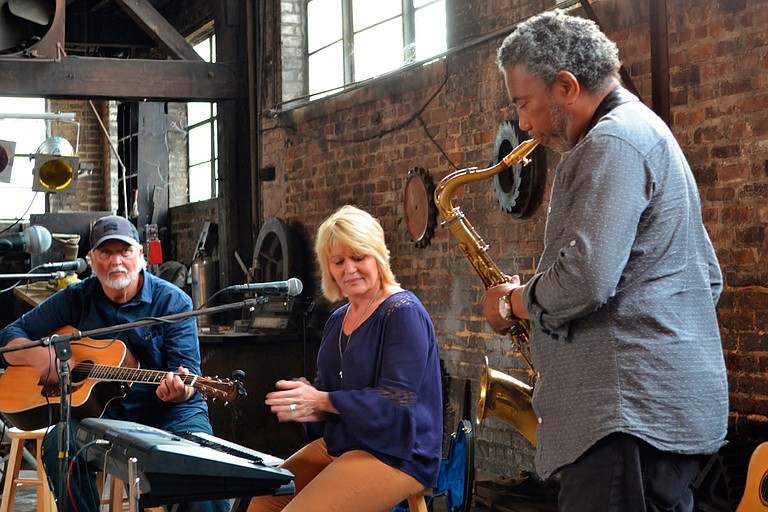 Richelle Putnam works to promote the power of words in her home state, whether it's as the founder of the Mississippi Writers Guild or as the arts project director for The Montgomery Institute, a Meridian-based nonprofit that works to enhance education and development from western Alabama to eastern Mississippi. The latter position gave her the opportunity to create Highway 80 Songwriters Festival in order to educate and increase appreciation for the craft of songwriting.
The idea for the festival began about four years ago through her work at The Montgomery Institute's mayors network luncheon. While there, Putnam spoke with Mike Grayson, mayor of Demopolis, Ala., and the discussion went into ways to foster the creative economy to the region. They landed on the concept of a music festival that would emphasize the songwriters already making original material in our region.
The festival launched in 2013 with one event on the Demopolis City Hall lawn and another in Meridian's Dumont Plaza. Now in its fourth year, the event spans multiple weeks and provides six nights of entertainment in Demopolis, Meridian and Jackson.
"We have grown so tremendously," Putnam says. "The first couple years, we searched for songwriters. This year, they came to us. We got so many applications in from songwriters all over Mississippi and Alabama who wanted to play at the festival."
The 2016 Highway 80 Songwriters Festival began July 2 with performances at Demopolis City Hall and ends with three nights of activities in Meridian, including a grand finale featuring an open-mic session and workshops from "The Voice" finalist Shawna P and the Delta Music Institute's Tricia Walker. Shawna P and Walker will also perform alongside three-time Blues Music Award winner Eden Brent that night.
Jackson hosts the festival for two days, kicking off with performances July 20 at Hal & Mal's. The event continues July 23 at the Arts Center of Mississippi with a songwriting workshop featuring Alphonso Sanders, director of Mississippi Valley State University's B.B. King Recording Studio. Before Sanders performs with Robert Daniels, Sydney Beaumont and Michael Hughes that evening, attendees can participate in an original-music-only open-mic sessions, which caters to all ages and experience levels.
"We're so supportive—and we should be—of other art forms where artists are just starting out, whether it's acting or visual arts, things like that," she says. "They really have a place where they can go and start. ... A songwriter doesn't have that comfort level that other artists do. When you have songwriter events, people know when they come that it's going to be original material, so we hope that will offer a comfortable place where (songwriters) feel like their work is going to be valued and appreciated."
This year, Highway 80's work won't end with the grand finale. When the new school year starts, Putnam will continue coordinating events under the Highway 80 umbrella, partnering with schools and Head Start centers around Mississippi and Alabama to host songwriting workshops for young students.
"We fall so behind in our reading scores and language arts, and one of the reasons is that we have not taught our children to love words and to understand the power of words in their lives," she says. "I think that when we do things like this and use words in a creative way, then children will start looking at words like art on a piece of paper."
The Highway 80 Songwriters Festival comes to Jackson 7-11 p.m., Wednesday, July 20, at Hal & Mal's (200 Commerce St.). The Arts Center of Mississippi (201 E. Pascagoula St.) hosts a songwriting workshop at 2 p.m., open mic at 4:30 p.m. and the Royal Round at 7 p.m., July 23. Find the event on Facebook.