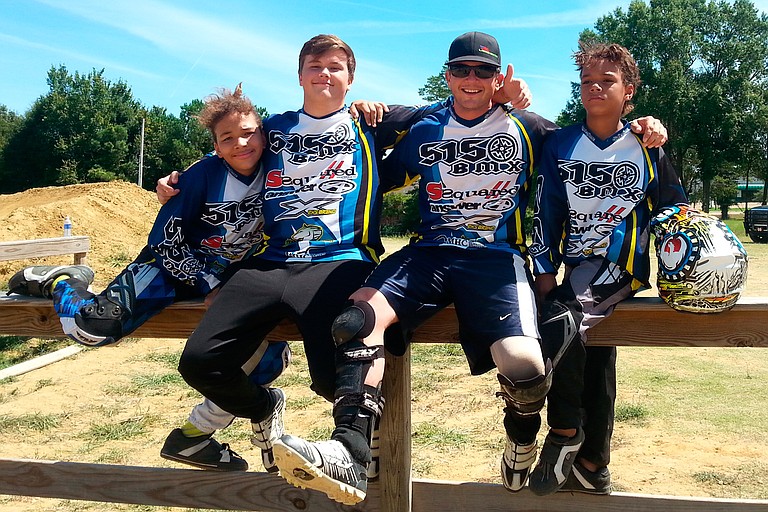 Riders line up at the top of the Magnolia Ridge BMX course and wait for the gate to drop. As soon as the gate drops, the riders fly down the track, making jumps off hills and taking hard turns. Cheers come from the crowd until the race is finished, and the riders congratulate each other on a great run.
Nearly every kid seems to want two things at some point: some type of pet—normally a dog—and a bike. Riding one is one thing that nearly all of us learn to do during our lives.
Kids wanting a bike is what led Brandon resident Emily Goode to BMX racing five years ago.
"My husband (Radley Trigg) had been looking online and wanted to check out a now-closed bike shop (Ride BMX) in Ridgeland at Christmas time," Goode says. "The owner told us about the sport, BMX, and a new track that was going 
to open."

The extreme sport didn't bother Goode, who is a former player in and one of the founders of the Magnolia Roller Vixens. Goode bought bikes for her oldest son, Stone, and a few weeks later, she bought one for her youngest son, Blaze Trigg. When the BMX track opened, she took them.
It's been five years since then, and Stone, 15, was ranked 10th in his district last year. He is not ranked this year because of an injury. Blaze, 11, is currently ranked second in his district.
BMX has become a part of Goode's life. Her family has gone to tracks around the country, including in New Orleans, Baton Rouge and Memphis. While she enjoys going to other tracks, the Magnolia Ridge BMX track (338 NE Madison Drive, Ridgeland) is home, she says.
The Ridgeland track has tripled its rider count in the last two years and currently has more than 100 active members."The family atmosphere and friendly environment help retain new riders for the club," Goode says.
Magnolia Ridge is a USA BMX-sanctioned track and a 501c3 nonprofit. Parents do most of the work, volunteering to get the track ready for events, keeping track of scoring, working concession stands and more. A Parent-Rider Association runs the track and has monthly meetings, as they work by committee, and the organization has a president, Bart Bartran, and a vice president, Brock Hollis. Bartran helps decide what is spent on the track and repairs the track might need.
The track is open nearly all year long with a brief window of closing time from December to March.
It doesn't take much to get started in the sport, Goode says.
"All anyone needs is a bike with a 20-inch wheel, long-sleeve shirt, long pants and any approved bike helmet," Goode says. She says that the first time a lot of kids race, they show up with a lower-costbike. As they get into the sport, riders will normally advance their bike over time.
The first time a new rider comes out to Magnolia Ridge, he or she can race for free on a one-day USA BMX membership. But some costs are involved. An annual membership to USA BMX costs $60 and covers entry card, number and insurance. Riders can also get a seven-day trial membership for $20 and a 30-day trial membership for $30 if they still aren't sure about BMX.
In the sport, riders are broken up by age and skill levels, which are novice, intermediate and expert classes. A racer has to win 10 motos (what BMX races are called) to move from novice to intermediate and win 20 to move from intermediate to expert.
When racers line up at the start, they will race through obstacles such as hills and sharp corners, but the track has flat areas to build up speed.
Magnolia Ridge has lights, so motos can be held at night during the hot summer months.
The motos consist of up to eight riders. Racers compete in three, with the top riders moving on until the final race of eight riders, which is called the main event.
The USA BMX website says those who play more traditional sports such as football, basketball and soccer suffer more injuries than those who compete in BMX.
Magnolia Ridge hosted a Gold Cup Qualifier from June 24 to June 26 at the track. More than 200 riders from across the southern region competed during the event, and the club signed up 30 new members.
"Billy McFarland, (the) track manager, did a great job getting the track ready for this major event," Goode says.
At Magnolia Ridge, races are held on Saturday nights during the summer, and cost $12 for single-point races and $7 for striders (a child who hasn't mastered riding a pedal bike and instead rides a balance bike). Practice is on Tuesday nights and is $7 for regular riders and $5 for striders.
Everyone is welcome, and spectators always get in free. "BMX is for all ages, from 2 to 82 years old," Goode says.
"Not only does it help keep (my) boys healthy, but it teaches them self-discipline and good sportsmanship."
For more information about Magnolia Ridge, call 601-500-2517, visit magnoliaridgebmx.com or find the track on Facebook. Email sports writer Bryan Flynn at [email protected].